Your portfolio should be your best representation of your work, and how you present yourself and your work to potential clients, existing customers, and strangers alike. Choosing the right portfolio WordPress theme is incredibly important, but it can be difficult to find the right theme and know you're making the right choice.
There are good and bad portfolio WordPress themes, so it's important to pay attention to code quality, long-term support and updates, and ease-of-use and customization, as well as the obvious requirements such as excellent design, responsiveness for tablet and mobile devices, and quality for showing off your work.
Fortunately, we've done the hard work for you, and rounded up 20+ of the best WordPress portfolio themes for 2018.
We've been making WordPress themes for nearly 10 years, and know precisely what to look for, so you can read on with the certainty that we've made the right shortlist choices, and you just need to choose the option which suits your site, brand, and work, the very best.
Enjoy this list, and we hope you'll find the perfect portfolio WordPress theme for your site.
---
1. Inspiro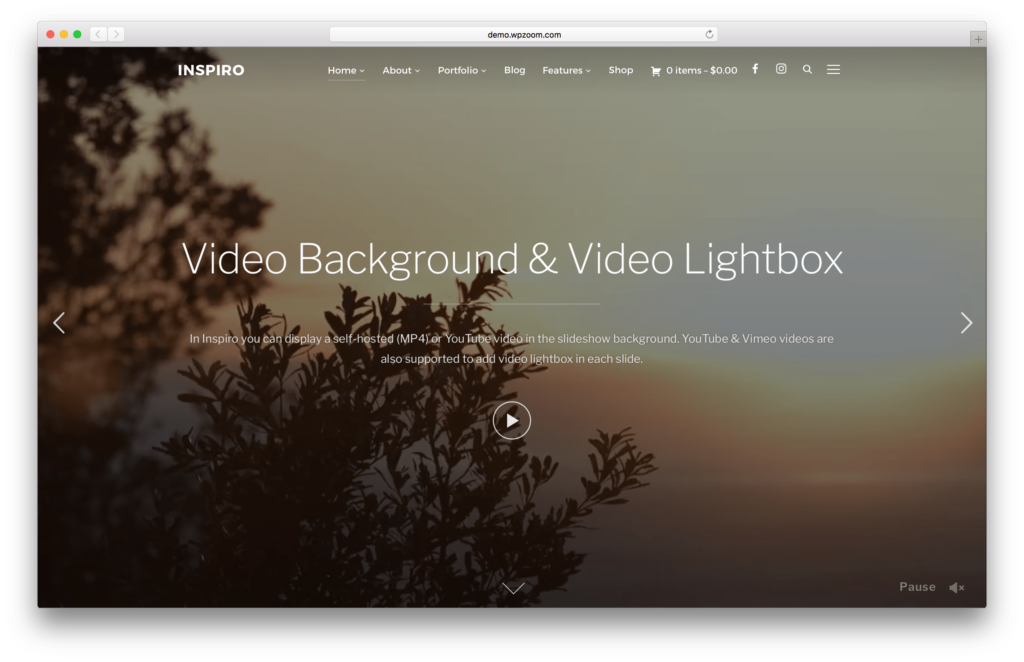 Inspiro is our top portfolio WordPress theme pick, and for good reason: it features a beautiful, modern, and responsive design, which places the emphasis on your work.
This focus on your work makes Inspiro so powerful: you can utilize the big, and bold imagery and videos – including YouTube embeds and self-hosted videos – to show off to potential clients, employers, and friends.
You can easily get the look you want with Inspiro, with multiple pre-built homepage layouts to choose from, page builder integration for drag-and-drop layout building, and professional attention to design detail throughout. You can even sell your work directly from the site, with WooCommerce integration out of the box.
---
2. Angle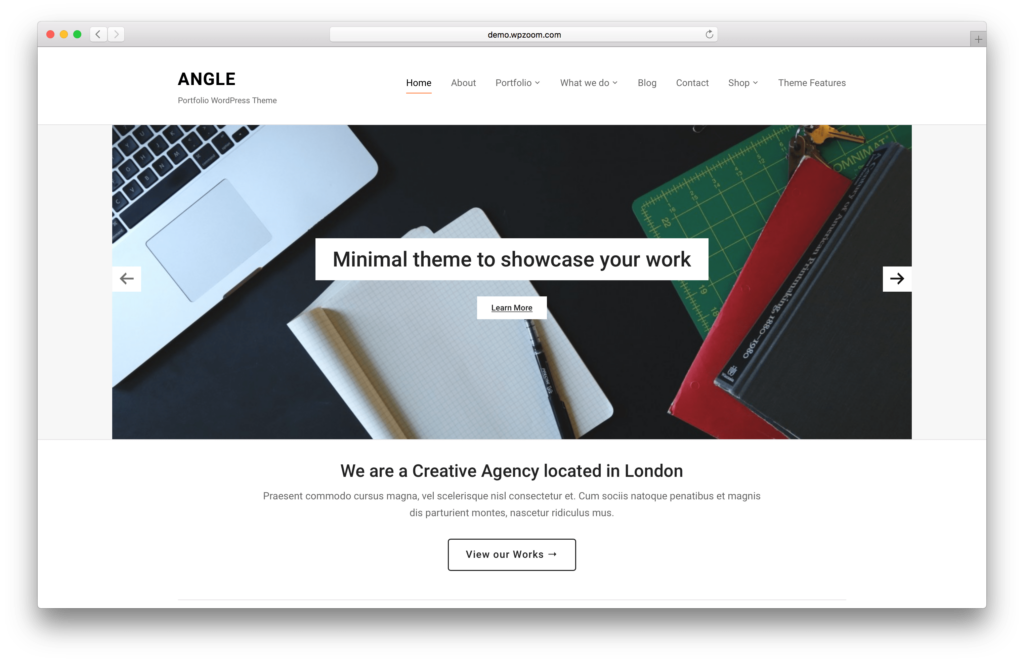 Angle is a minimal portfolio WordPress theme for creatives, with responsive design, clean typography, and the space to show off your work. Clients, prospective employees, and will love how easy it is to see your work, portfolio, and values.
You'll love how easy it is to set up Angle, and then how easy it is to keep your site updated with your very latest work. The widgetized homepage makes getting the look you want easy, and a dedicated portfolio module lets you – or anyone on your team – keep your portfolio fresh. This is an excellent minimal portfolio WordPress theme.
---
3. York Pro
A highly minimal portfolio WordPress theme, York Pro is for creatives needing a bold portfolio which shares a simple message. You won't get extensive customization options, but to some extent that's the beauty of this theme: it does one thing, and it does it really well.
---
4. Reel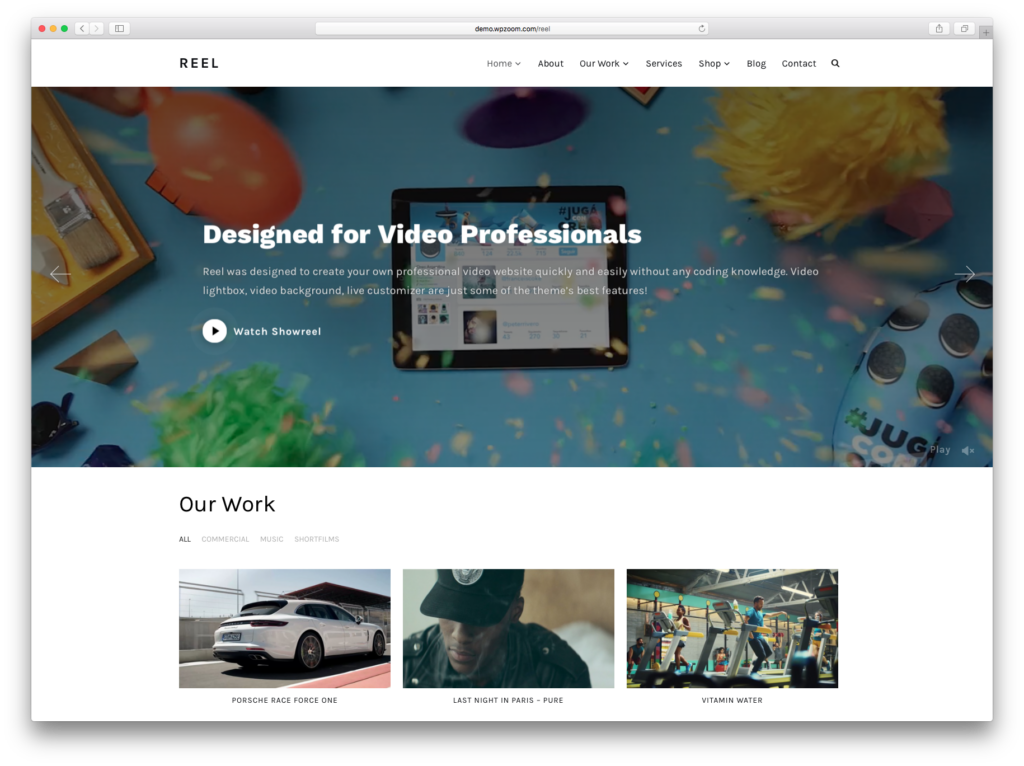 Reel was designed to create your own professional video website quickly and easily without any coding knowledge. Video lightbox, video background, live customizer are just some of the theme's unique features!
---
5. Eclipse
Use Eclipse to enhance your work through a simple, yet very functional website design. Perfect fit for photographers and bloggers who want to make a great impact with a minimalist look.
If you're a photographer or designer, the included Gallery template and, portfolio posts will come in handy, as they allow you to keep your work separate from blog posts. This way, you can run a separate blog on your site – and also have a beautiful gallery page to display your work. As Eclipse is WooCommerce ready you, can even sell your work quickly and easily.
---
6. Meteor
Meteor is a fresh portfolio WordPress theme, which lets you mix and match layouts to get the look you want and need. Plus, the clean and responsive design looks good on any device. Meteor is a good choice for creatives with work to show off.
---
7. Corporate
Corporate is a professional-looking, responsive, multi-purpose theme built for businesses, portfolios, photographers, web apps, or general company sites to promote their services.
---
8. Presence
Presence is an elegant yet powerful WordPress portfolio theme. It includes everything you need to easily create a portfolio website for your business, blog, or online shop.
Presence is a multi purpose theme however due to its flexibility and choice of layout options it's a great choice for portfolio style.  Use the drag and drop page builder to get the look you want and import designs from our pre-built layouts. WooCommerce integration is also included to get your site selling!
---
9. Monet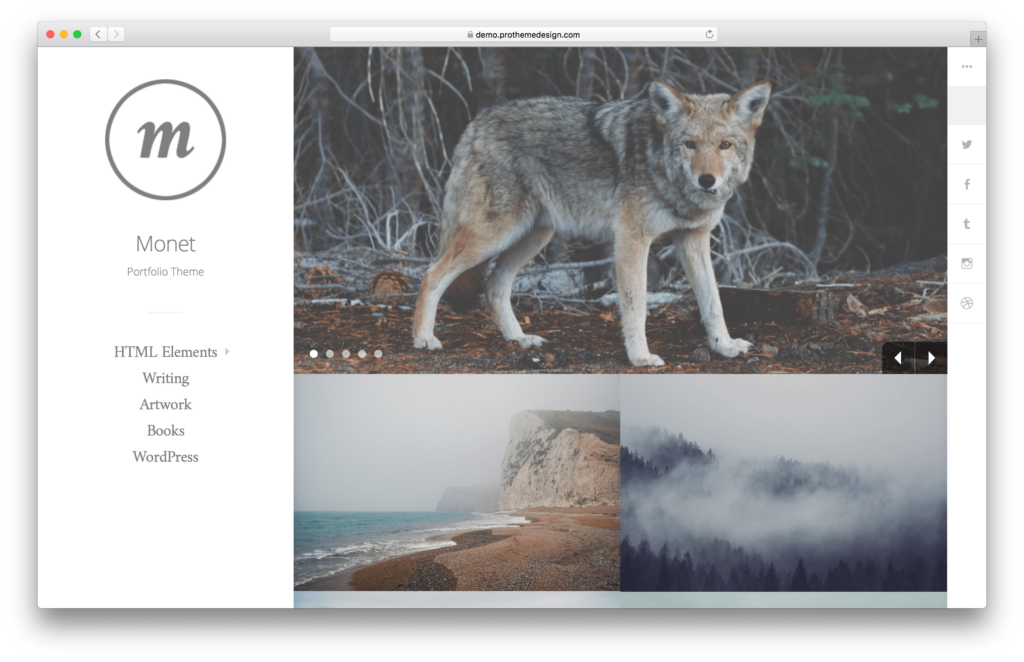 Monet is a portfolio WordPress theme specifically designed for photographers, which strikes a balance between getting the look you want, and customizability. If you've got a body of photographic work to show off, this could be the theme for you.
---
10. Calafate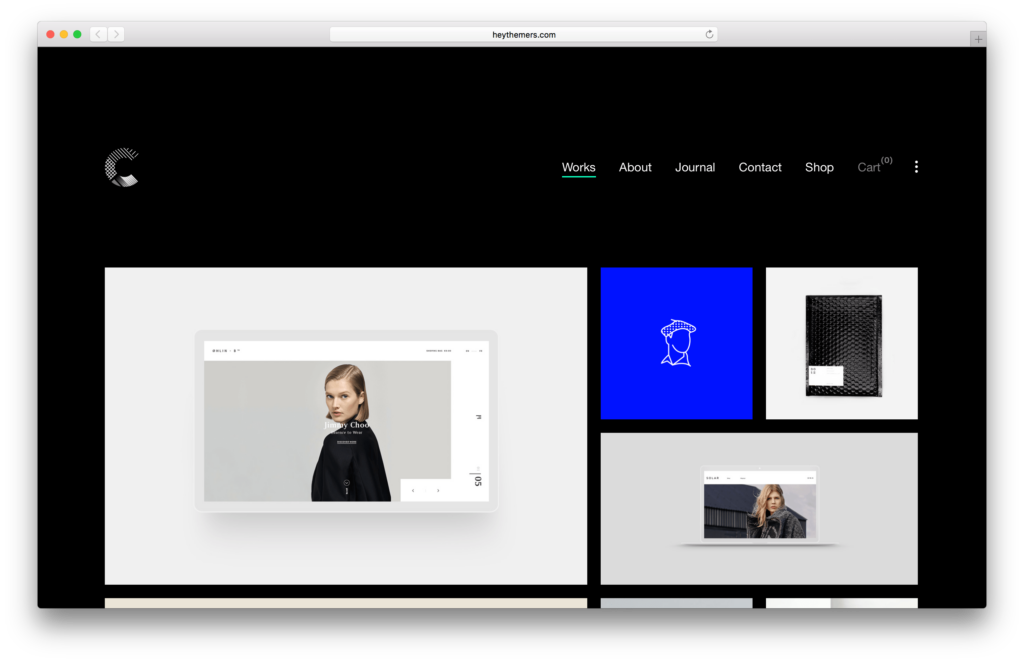 Calafate is a fresh WordPress canvas, with a focus on content first with tools included to help you create something really different and imaginative – you just need to add your best content to bring it to life.
---
11. Oshine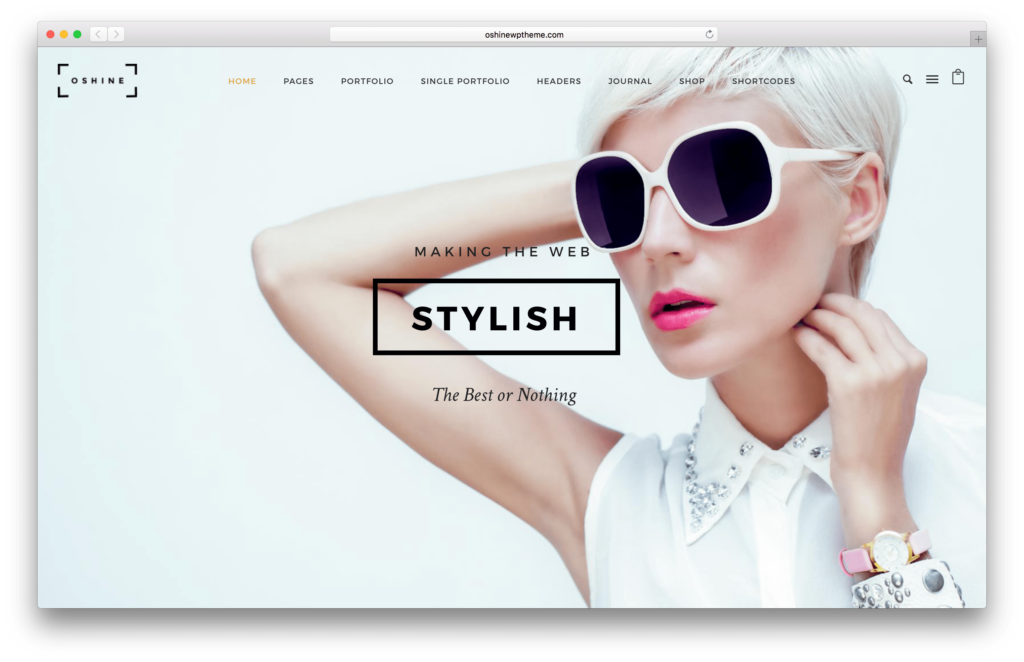 This multifunctional theme is stylish and creative, with a great design, and powerful functionality. Its multiple layout options make it a great choice photographers. You get a page-builder included, which may not lead to the best usability in the long run (this makes it difficult if you change themes!), but at least you'll find setup now easy enough.
---
12. Mark
Probably the most niche portfolio WordPress theme on this list, Mark is a theme designed specifically for logo designers. Logo designers have the unique requirement of needing to show off a very large quantity of work without much commentary, and that's precisely what Mark offers.
You'll find the theme is packed with an impressive array of features, and this could be the theme to get you those extra clients.
---
13. Grand Portfolio
This image-focused theme includes gallery and portfolio modules, which allow creatives including fashion designers, photographers, architects and musicians to display their work beautifully.
---
14. Adios
This is a modern and fresh design driven portfolio theme. The minimal look, with strong typography, is perfect for those who like less fuss.
---
15. Osmos
This theme boasts a clean, minimalist, and highly customizable portfolio friendly design. It is perfect for those who need a high-impact layout to help present captivating content.
---
16. Werkstatt
Werkstatt has a new layout with a minimal, modern design. This portfolio WordPress theme is perfect for agencies, freelancers, illustrators, photographers, and other creative professionals. You can even choose from a range of pre-built portfolio styles, which make your life that little bit easier when deciding your layouts.
---
17. Smoothly
Smoothly is easy to use and a simple but functional portfolio WordPress theme. Included is six PRO demos, each of them with their own color palette, handpicked fonts and images and handcrafted inner pages.
---
18. Portfolio
The innovatively-named Portfolio theme is a portfolio WordPress theme which boasts a fresh and minimalist design to showcase your creative work. You'll get a responsive layout, user-friendly interface, and library of custom widgets.
---
19. PILE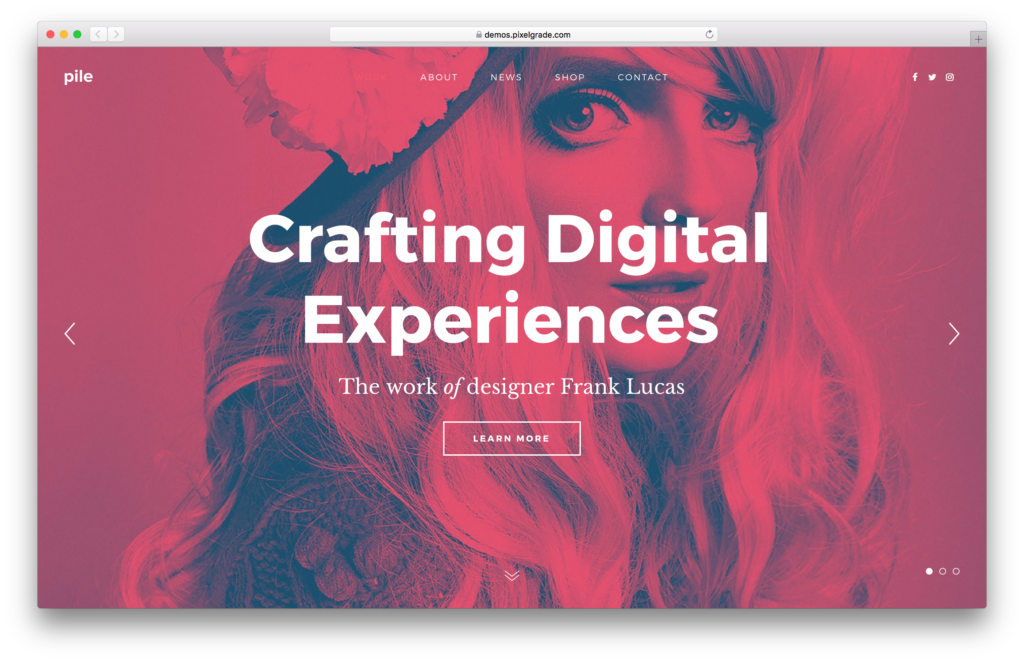 For those who like to be unique and do things a little differently, PILE is perfect. From agencies to art directors, illustrators to photographers, this theme will let you stand out from  the crowd.
---
20. Assemble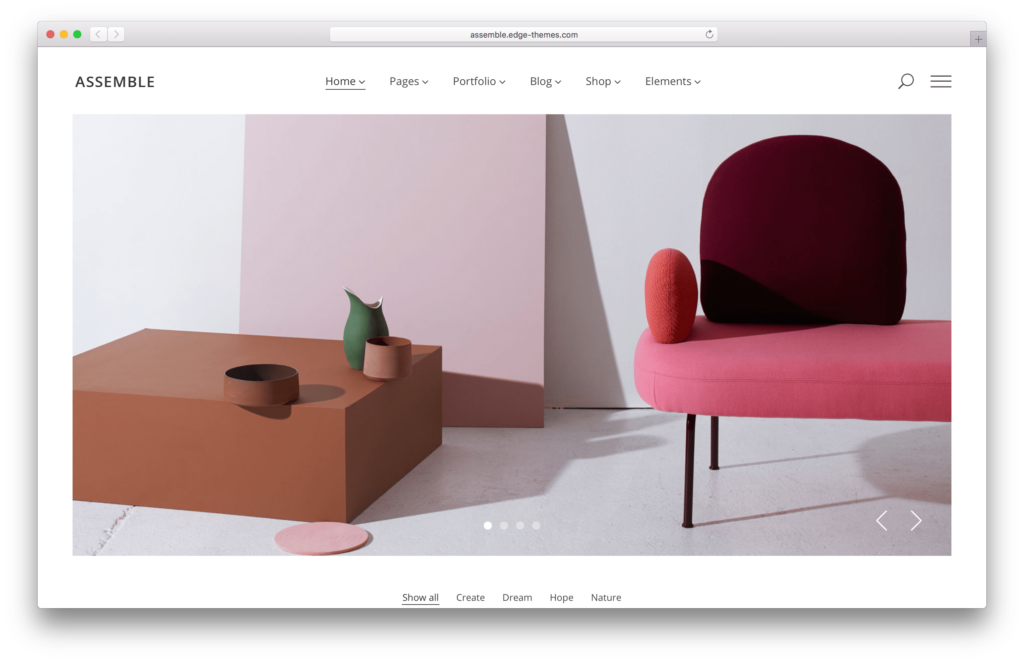 Assemble is clean and contemporary with a wide range of beautiful homepage designs. You can choose between fifteen portfolio layouts to get the perfect style for your work.
---
21. Pitch
Amongst a list of some very modern portfolio themes, Pitch can feel a little 'safe'. But, it is powerful and reliable and still a great theme which was made with creative agencies in mind.
Pitch includes a range of helpful case study templates, a great way to introduce your clients to your business and let them know why you are best at what you do.
---
22. Creative
Creative is a clean portfolio WordPress theme, with very smart typography. If you love the look, you'll love this theme.
---
23. Venture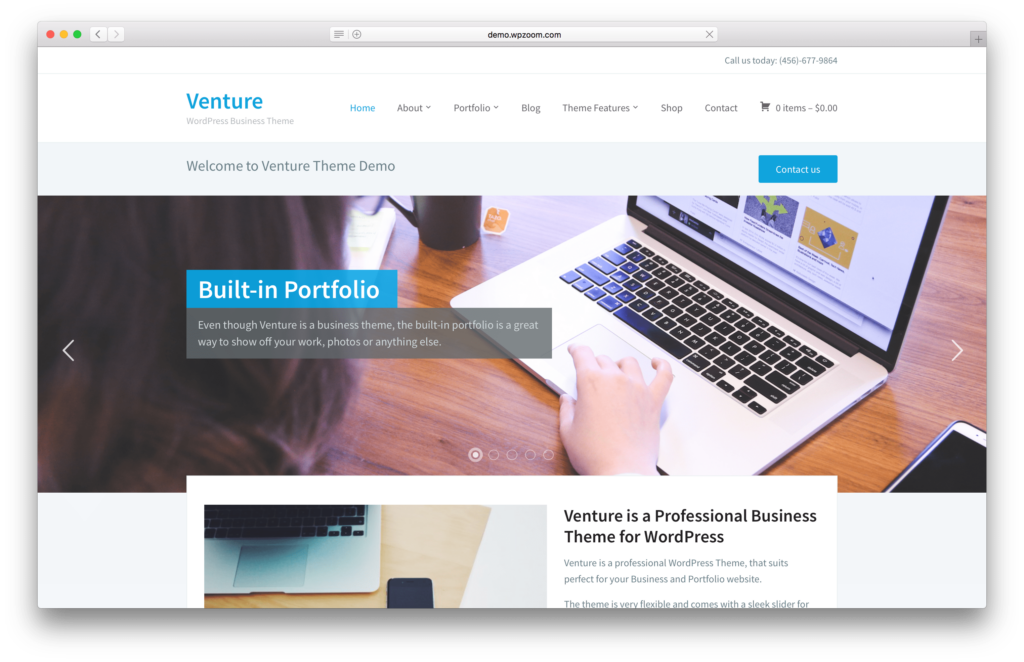 Venture is a flexible and clean business and portfolio WordPress theme. If you want to show off your professionalism to clients and employers, this is perfect for you.
The built-in portfolio module is a great way to display your work. Each portfolio item entry features a simple and elegant design in which you can insert anything you want: images, video, text, slideshows and much more.
---
24. Ambience Pro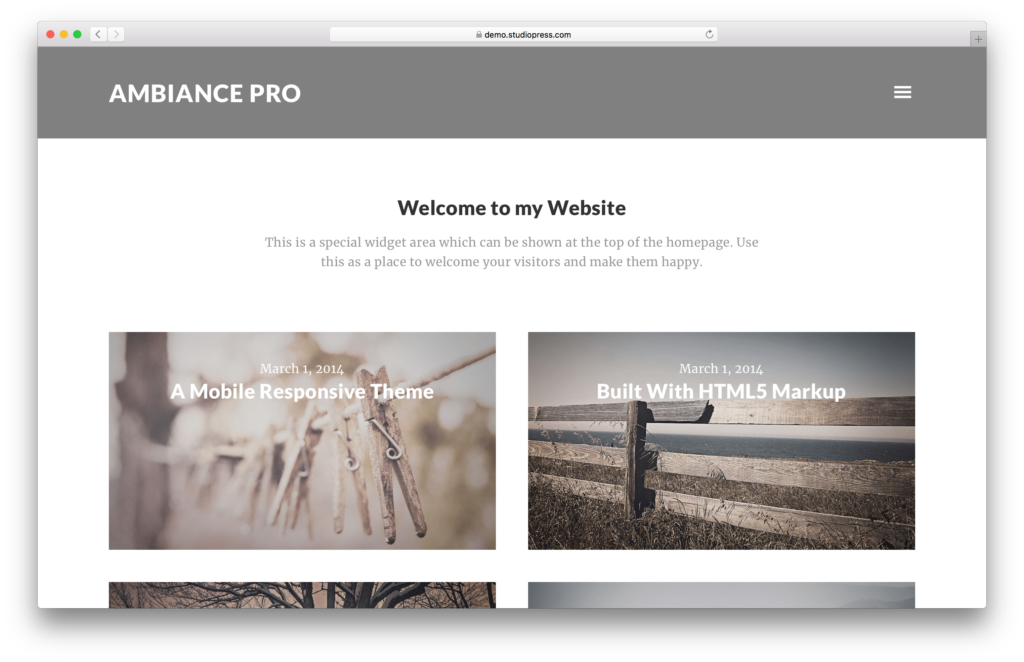 This portfolio theme has a more traditional feel with beautiful layout choices and elegant typography. You'll also get the Genesis framework included, but this does add to the price a little.
---
Choose the right portfolio WordPress theme for you
This roundup should have you excited for making the right choice for your portfolio. Remember to return to first principles when making your final decision: remember the purpose of your site, and choose the theme which best serves this purpose.
For your convenience, we'll reiterate our top pick: Inspiro is, in our opinion, the best portfolio WordPress theme. The fullscreen video opens up a huge array of creative options, and the pre-built templates give you the flexibility to get precisely what you're after. You can see more about Inspiro here.
Which theme are you going with? Share your thoughts in the comments below; we'd love to hear them.