Packed with unique
Video Features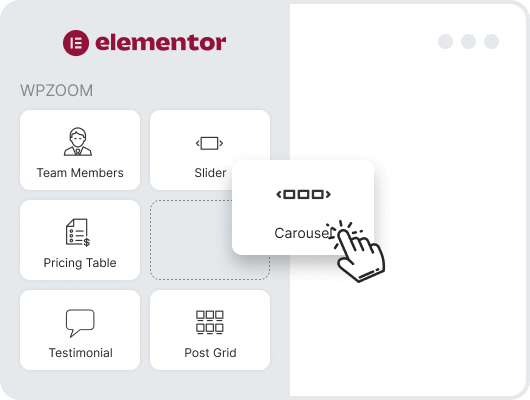 Elementor Integration
Dozens of templates & custom widgets
Inspiro includes multiple Starter Sites with Elementor Templates that you can import to your website.
Video Support
Embed from popular platforms or upload self-hosted videos
Features like Slideshow, Lightbox, or Video Background support video embeds from most popular video platforms and self-hosted videos.
YouTube

Vimeo

Self-hosted
Curated Page Designs for Professionals
Video Professional? Web Agency? We've got you covered.
The theme bundles multiple pre-built pages like About, Services, Contact, etc. You can easily edit these pages using the Elementor page builder.
Portfolio Module to Showcase your Work
Easily create and manage portfolios
Inspiro is perfect for showing off your portfolio, images and videos. The theme includes multiple page templates to display your Portfolio posts and a custom Elementor Portfolio widget.
Starter Sites
Inspiro includes multiple Starter Sites, each featuring a unique design. Below, you can see which designs are included in the theme (all layouts can be easily imported).
---
Lightweight Theme Built for Speed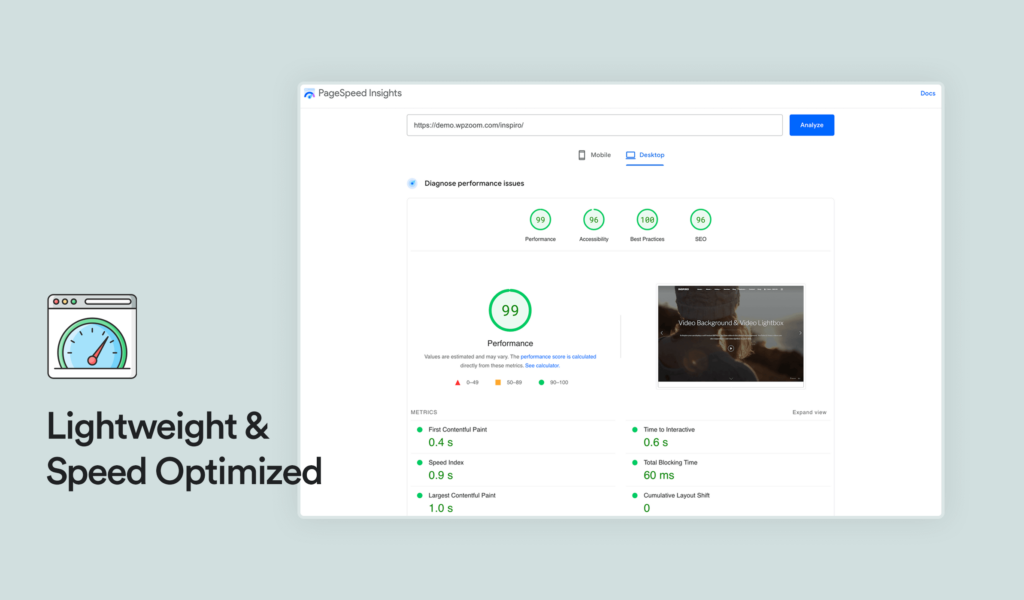 Inspiro is a lightweight & speed-optimized WordPress Theme. This means that the design and coding of the theme are optimized for fast loading times and efficient use of server resources. The theme has been designed and developed with performance in mind and will not cause any impact on the loading speed of the website.
Having a lightweight and speed-optimized theme can be especially important for websites that receive a large amount of traffic, as it can help ensure that the website remains accessible and responsive, even during peak traffic times. It can also be beneficial for search engine optimization (SEO) purposes, as search engines tend to favor websites that load quickly and perform well.
Frequent updates and improvements over time ensure that the theme has been developed using the best coding practices available.
---
Latest Updates:
We regularly update our WordPress themes, including Inspiro. Here's what we've added recently…
Inspiro 7.2
May 11, 2022
Added new styles for Header and Footer layouts in the Customizer
---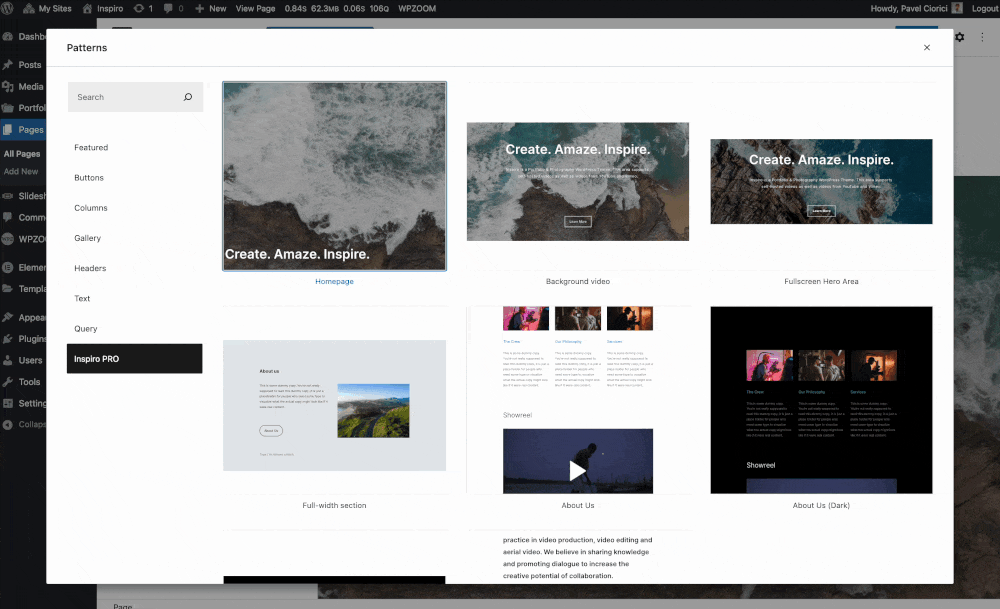 Inspiro 7.1
March, 2022
Added new Block Patterns in Gutenberg
---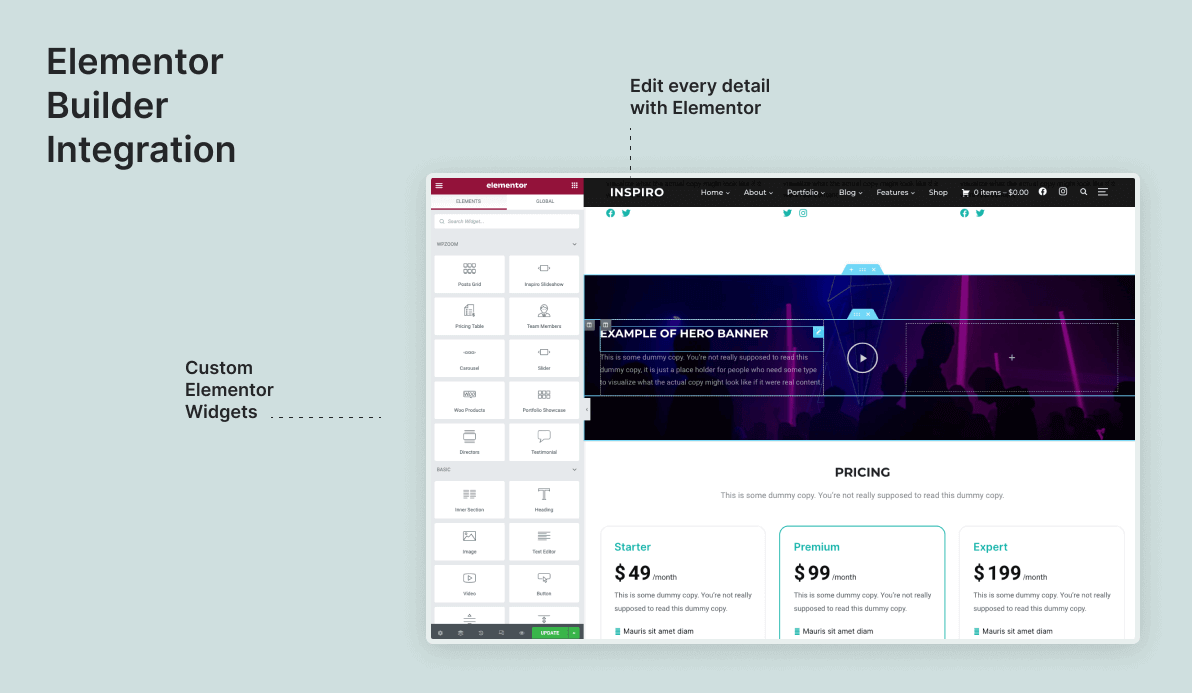 Inspiro 7.0
September, 2021
Added Elementor Integration: 25+ templates, new custom widgets, more customization options
New & Redesigned Demo Content Importer
Multiple improvements & code clean-up to optimize the theme
---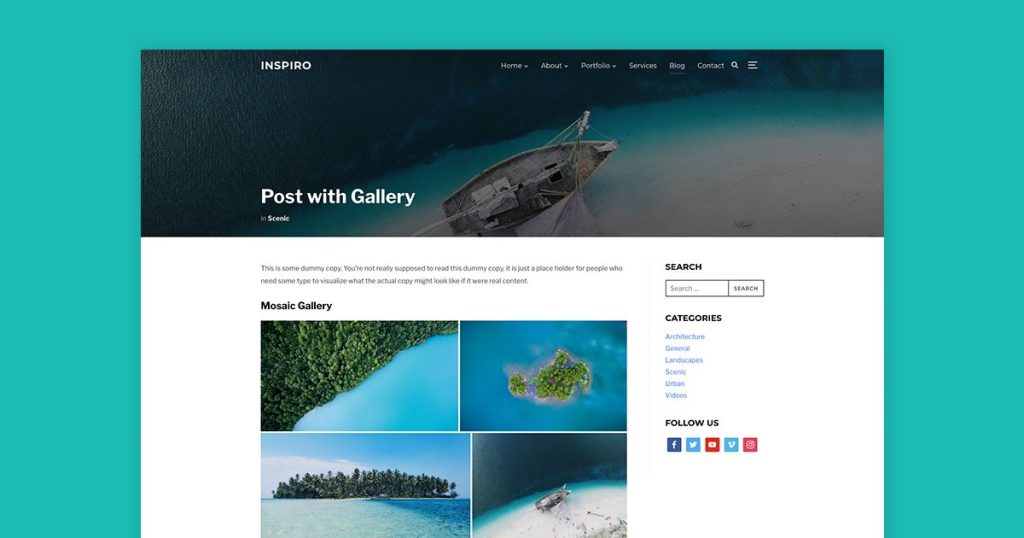 Inspiro 6.7
Inspiro now supports a Sidebar in different sections: Blog posts, Blog page, and Portfolio posts
Added additional details for portfolio items which appear in the sidebar on the right.
New page template: "Sidebar on the Right"
---
Inspiro 6.5
Generate Video Background on Hover in Portfolio from YouTube & Vimeo videos using GIPHY integration.
New option to Sync fonts in the Customizer across the entire theme.
---
Inspiro 6.4
Introducing Style Kits in Customizer: 6 new pre-defined styles that can be easily loaded to change the theme's style.
New Demo Content: Events & Conference
New Page Layouts: Events / Conference and Pricing Page
Added new options in the Customizer: new color options, "letter-spacing" option for fonts
---
Inspiro 6.3
Video Header Background in Pages, Blog Posts and Portfolio Posts. Video Header Demo
New options to make the header area in pages and blog posts fullscreen
---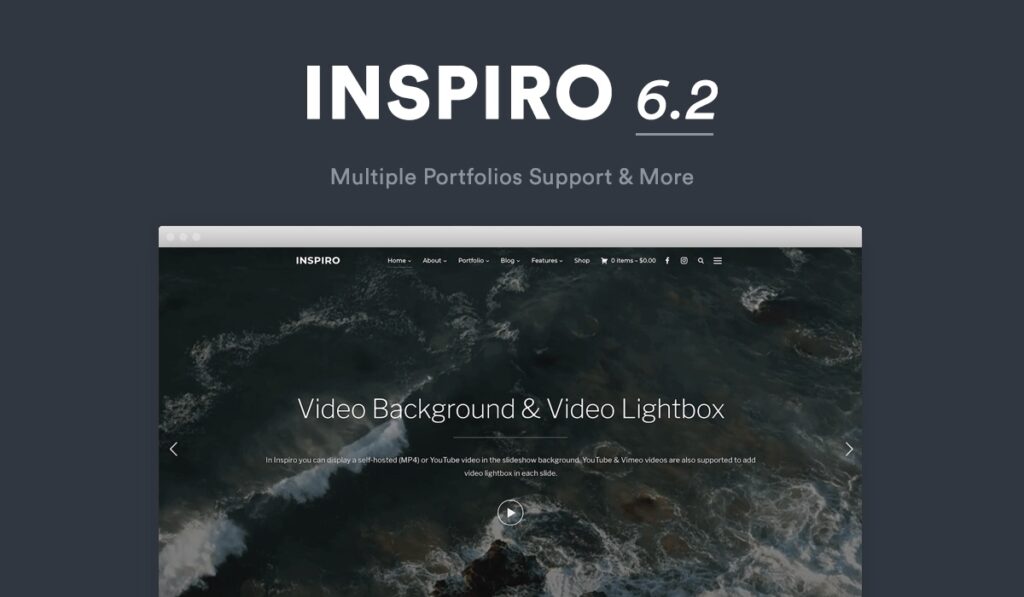 Inspiro 6.2
Multiple Portfolios support
Improvements to Portfolio Showcase widget (load posts dynamically)
Improvements to Portfolio Category pages
Slideshow text can now be edited fully using the new block editor (Gutenberg)
---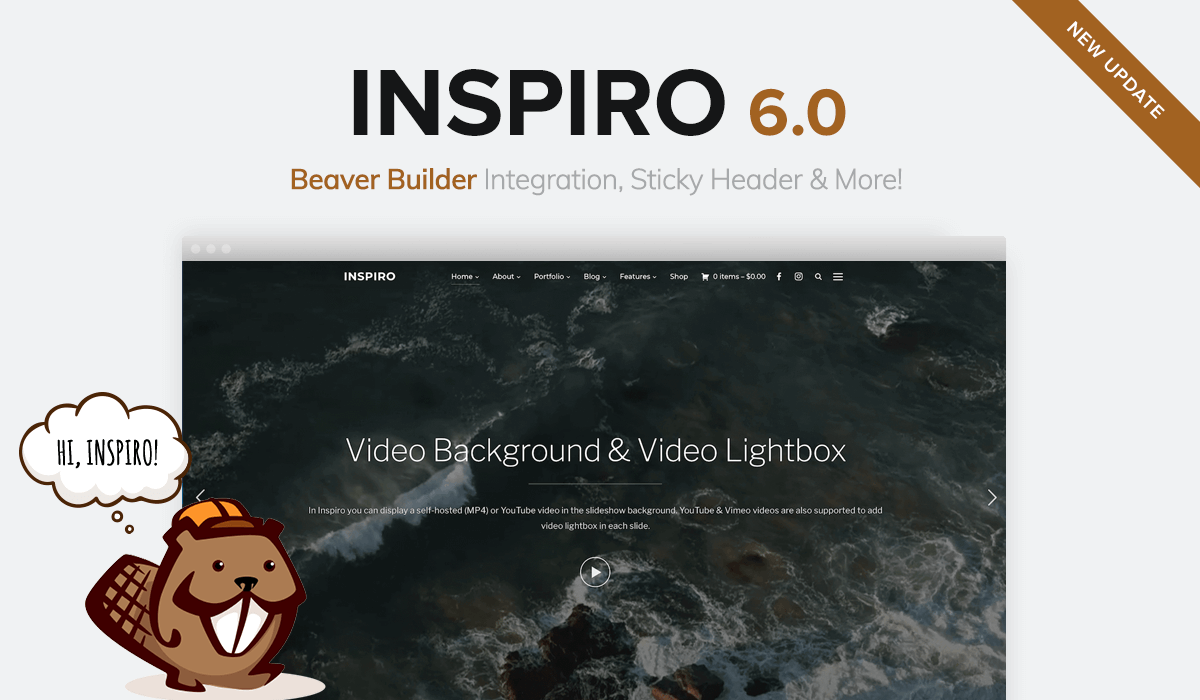 Inspiro 6.0
New Portfolio Template: Clean – view demo
New: Instagram Bar full-width area in the Footer
Sticky Header on Page Scroll
Portfolio Filter (categories) now works on the Homepage Portfolio widget
---
Inspiro 5.1
New feature: Video Autoplay in Background on Posts hovering in Portfolio pages (view demo)
New feature: Slideshow Re-order (see Slideshow > Re-order).
Improvements to Demo Content importer
Added a new 3-column layout in the Blog page (view demo)
---
Style Kits & Events Demo
In the latest update, Inspiro 6.4, we've added a new feature in the Customizer called Style Kits, which will give you access to 6 new theme styles to change the theme's look. A new demo for Events & Conferences websites has been added, too, along with new page builder layouts.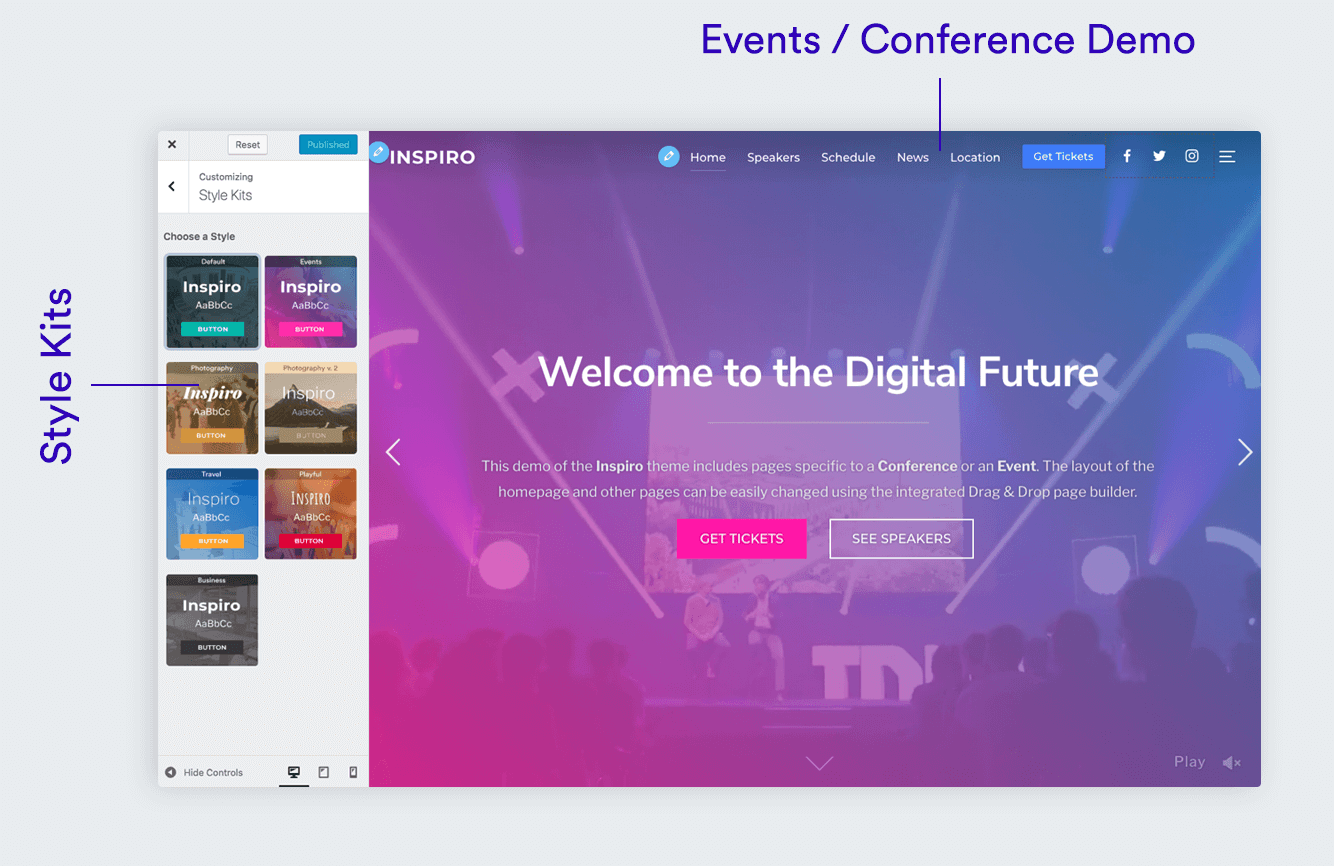 ---
Video Autoplay on Mobile & Tablet Devices
Inspiro is the only WordPress theme with video autoplay support on mobile and tablet devices like iPhone, iPad and other Android devices. Self-hosted and Vimeo videos will play automatically on all devices, not just on computers.
---
Page Builder Integration
One of the most exciting additions to Inspiro is the support for popular drag-and-drop Page Builders like Elementor and Beaver Builder. Install your preferred page builder and enjoy drag-and-drop layout customization. Inspiro is tightly integrated for ease of use.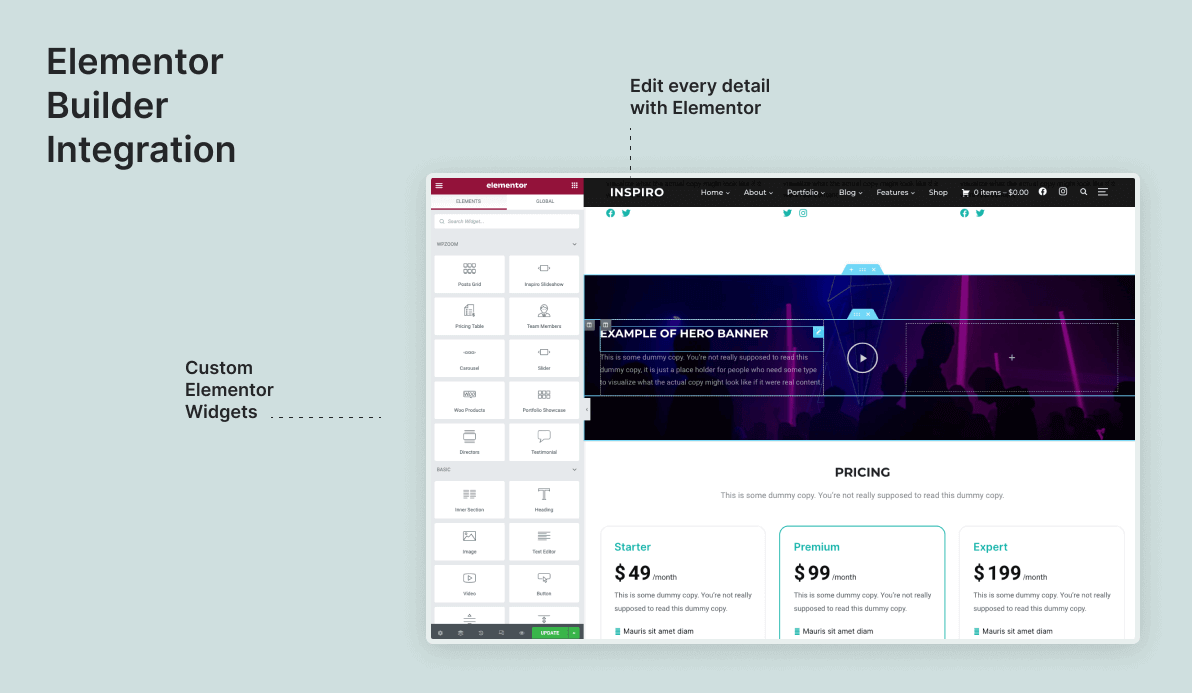 We want to make using the drag and drop Page Builder easy for you, so we've included 20+ pre-built templates, which you can import to Inspiro with just one click. New templates are added with every new major update.
Below you can see a few examples of pages created using Elementor:
---
Responsive Layout
Inspiro boasts a fluid, responsive layout, so your website will display perfectly across mobile devices. Images and galleries scale up and down seamlessly when resizing the browser window. No matter what the resolution or screen size, every detail will look perfect and professional.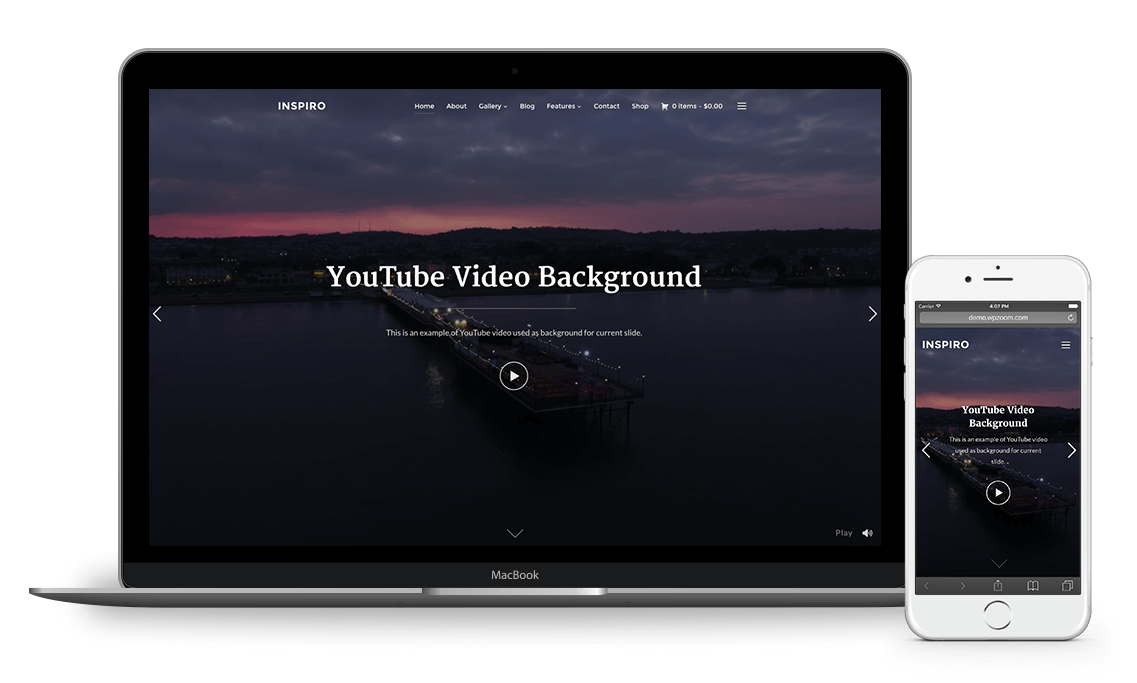 ---
Fullscreen Slideshow with Video Background
The Homepage Slideshow supports YouTube, Vimeo, and self-hosted video backgrounds. Just enter the URL of a YouTube or Vimeo video or upload your self-hosted video, and the theme will do the rest.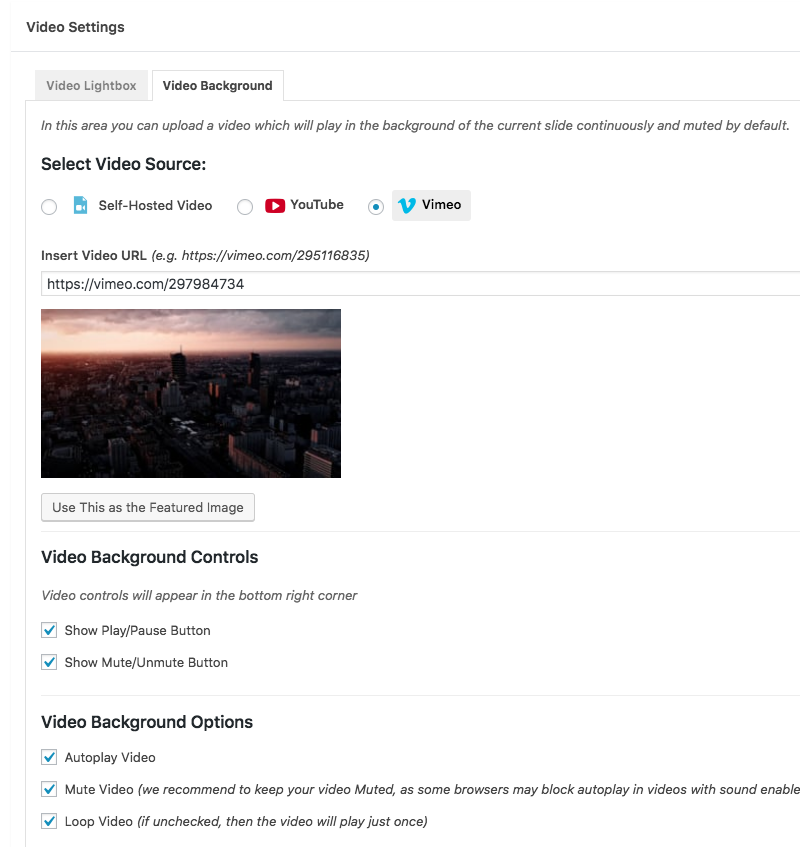 ---
Video Lightbox in Homepage Slideshow
Inspiro comes with a beautiful video lightbox integrated into the homepage slideshow where you can feature YouTube, Vimeo, and self-hosted videos.
This makes this WordPress gallery theme a great choice if you have a video of a product you want to feature on the front page.
---
Video Background when Hovering Portfolio posts
In Inspiro, we've integrated another great feature for video professionals. You can assign a short video to each of your portfolio posts to play when hovering that specific post in the Portfolio gallery. See it live on the demo page.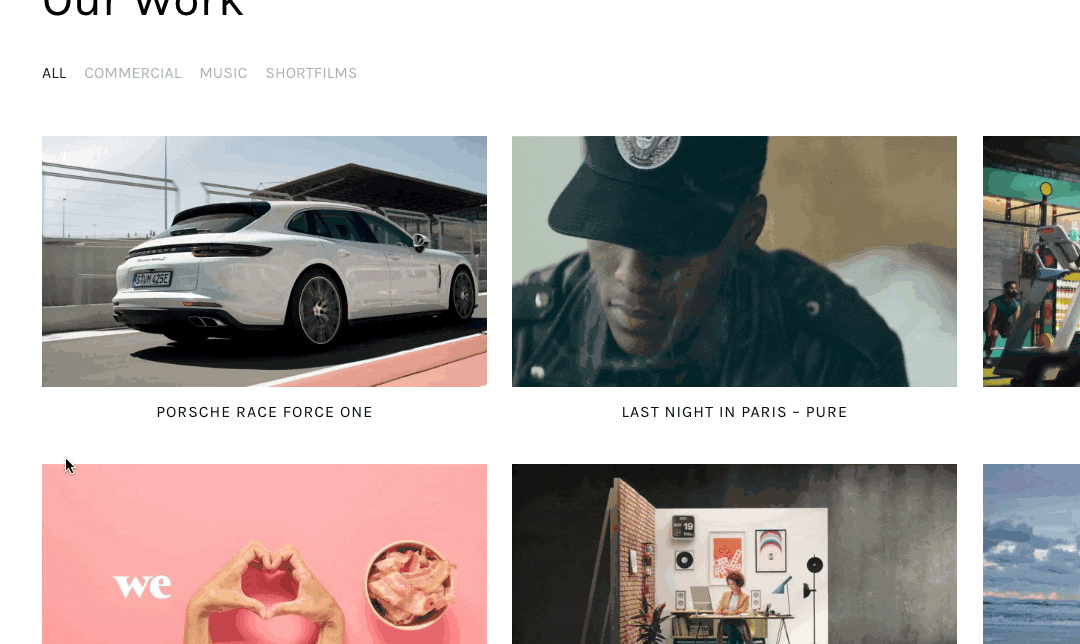 Thanks to a new GIPHY integration that we've added to our theme, it's now possible to use a YouTube or Vimeo link for the video shown on hover in the portfolio, not just self-hosted videos.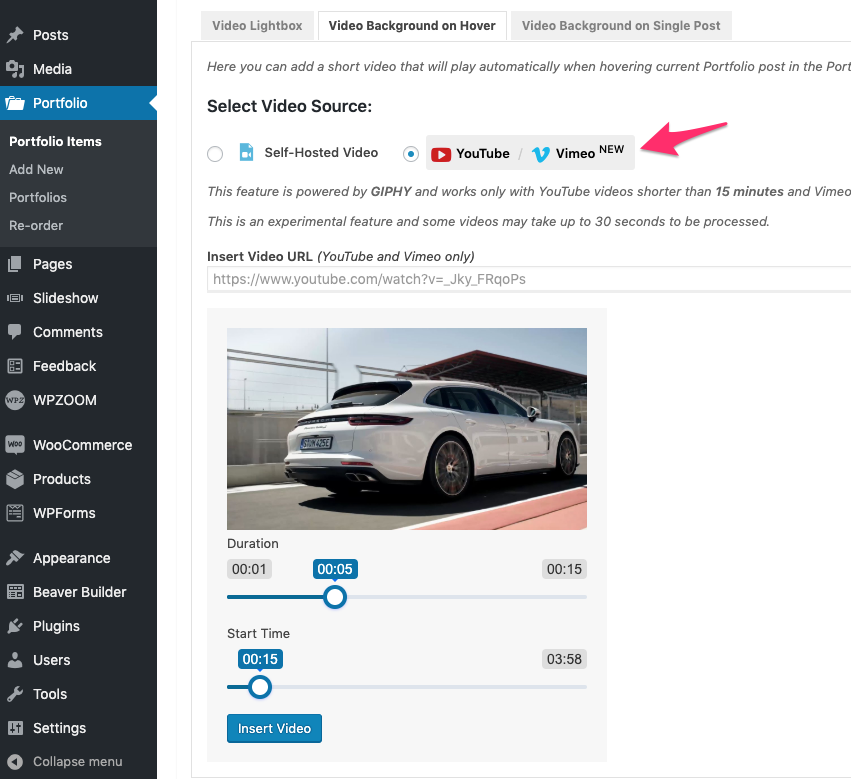 This feature will save you a lot of time, as until now, it has supported only self-hosted videos, meaning that you had to prepare and optimize the MP4 file manually. Well, now everything is done automatically for you.
You can even adjust the duration and the start point for each video.
---
Video Headers in Pages & Posts new
Starting with Inspiro 6.3, you can add video headers in pages, posts, and portfolio posts! You are no longer limited to beautiful video backgrounds just in the homepage slideshow.
---
Customize the Slideshow using the new Block Editor
In Inspiro 6.2, we've added Block Editor support for the Homepage Slideshow caption.
With the new editor, you have more control over text formatting, and you can even insert additional elements, like multiple buttons.
In the above example, we've inserted two buttons in a Column block with two columns.
---
Video & Image Lightbox in Portfolio Posts
You can easily display videos or images in a lightbox in Portfolio Posts everywhere: in the Portfolio archive page, in the Portfolio Showcase widget built for the homepage, in individual Portfolio posts pages.
Lightbox Feature in Portfolio Archive:
Video Lightbox in single Portfolio post:
Attaching a video to be displayed in a lightbox is very simple. You can either enter a link to a YouTube or Vimeo video or use the Self-hosted video option if you have direct links to video files hosted on your website or a dedicated video hosting:
---
Live Customizer
Customize colors and fonts in the theme directly from the Theme Customizer. Thanks to the partial refresh integration, you can instantly see all the changes you make.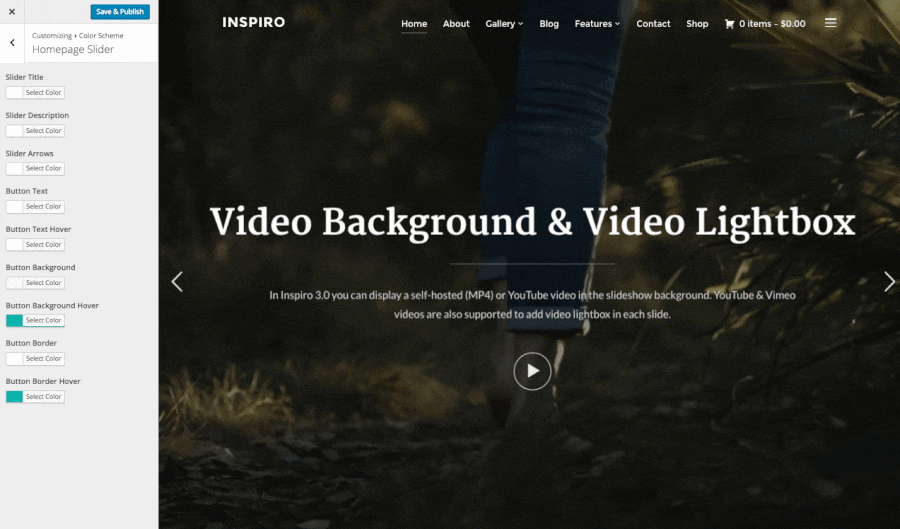 ---
Sliding Sidebar
You can create your sidebar using available widgets. The sliding panel works great on mobile devices, too, and will display at the site navigation.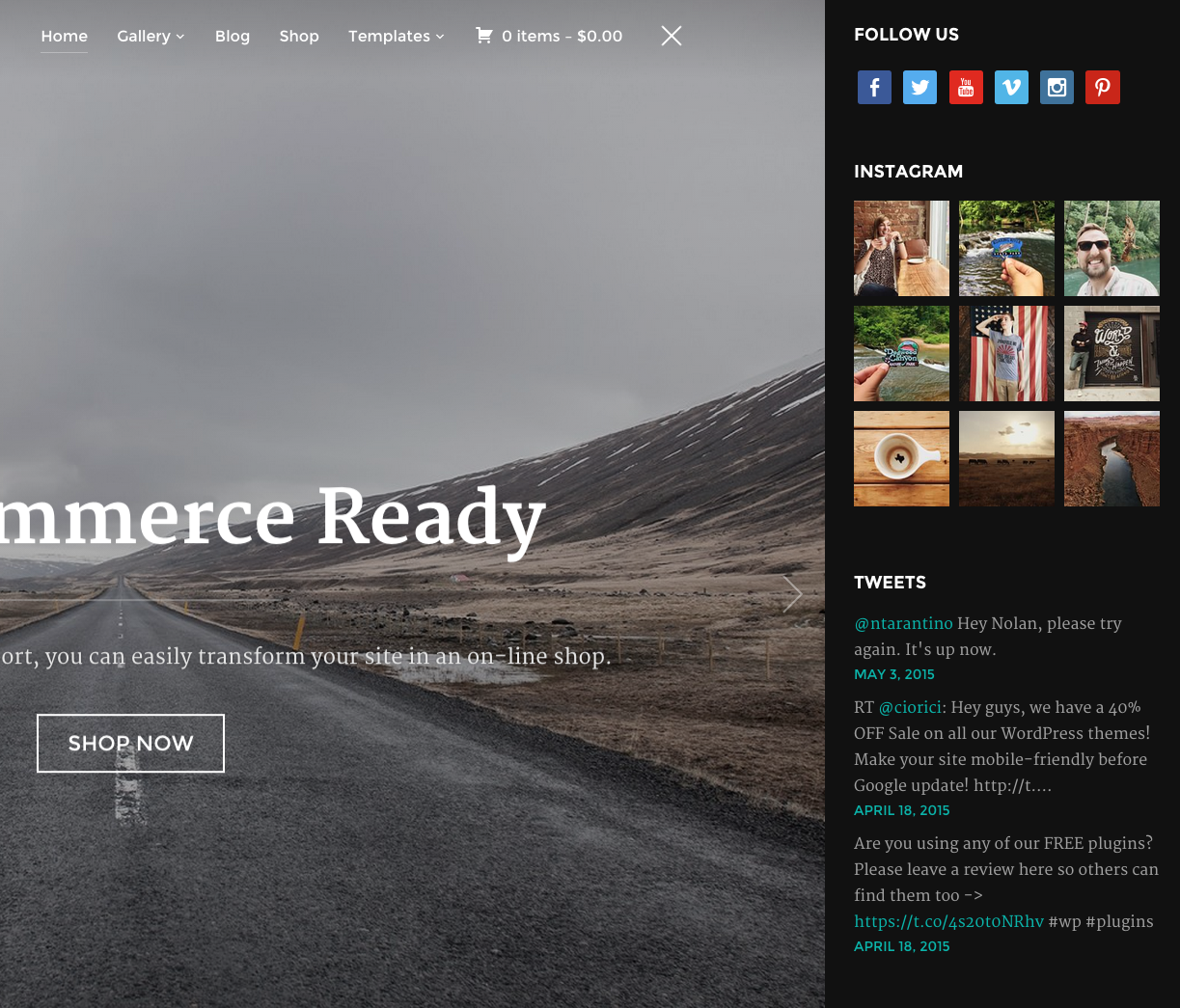 ---
Gallery Module
Using the Gallery feature, you can create separate posts with photos and galleries in different layouts, and have them displayed in a grid layout.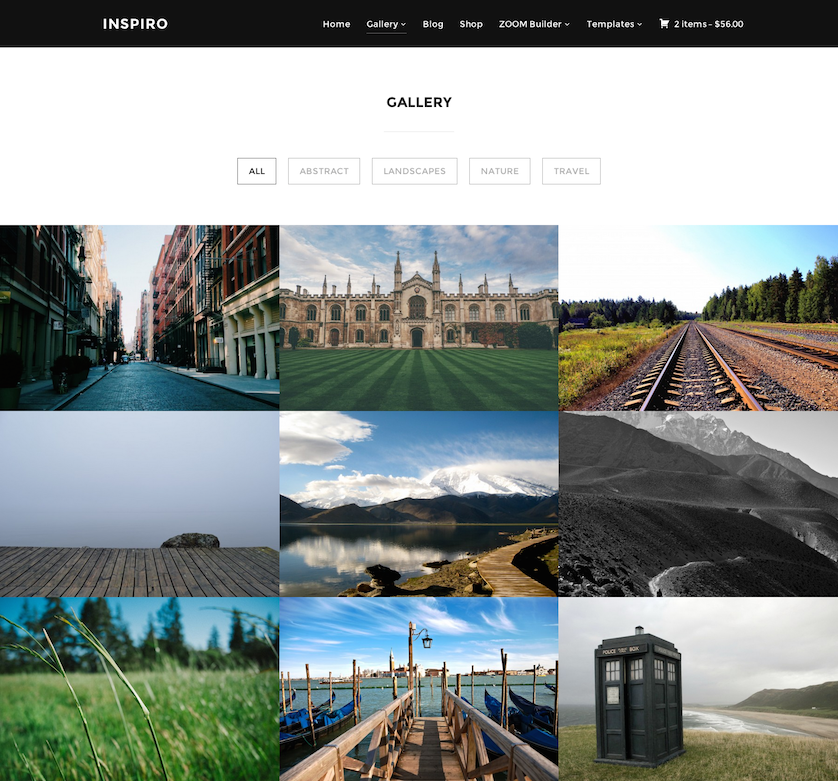 If you have Jetpack plugin installed, enable the Tiled Galleries feature, and you can create beautiful galleries in your posts: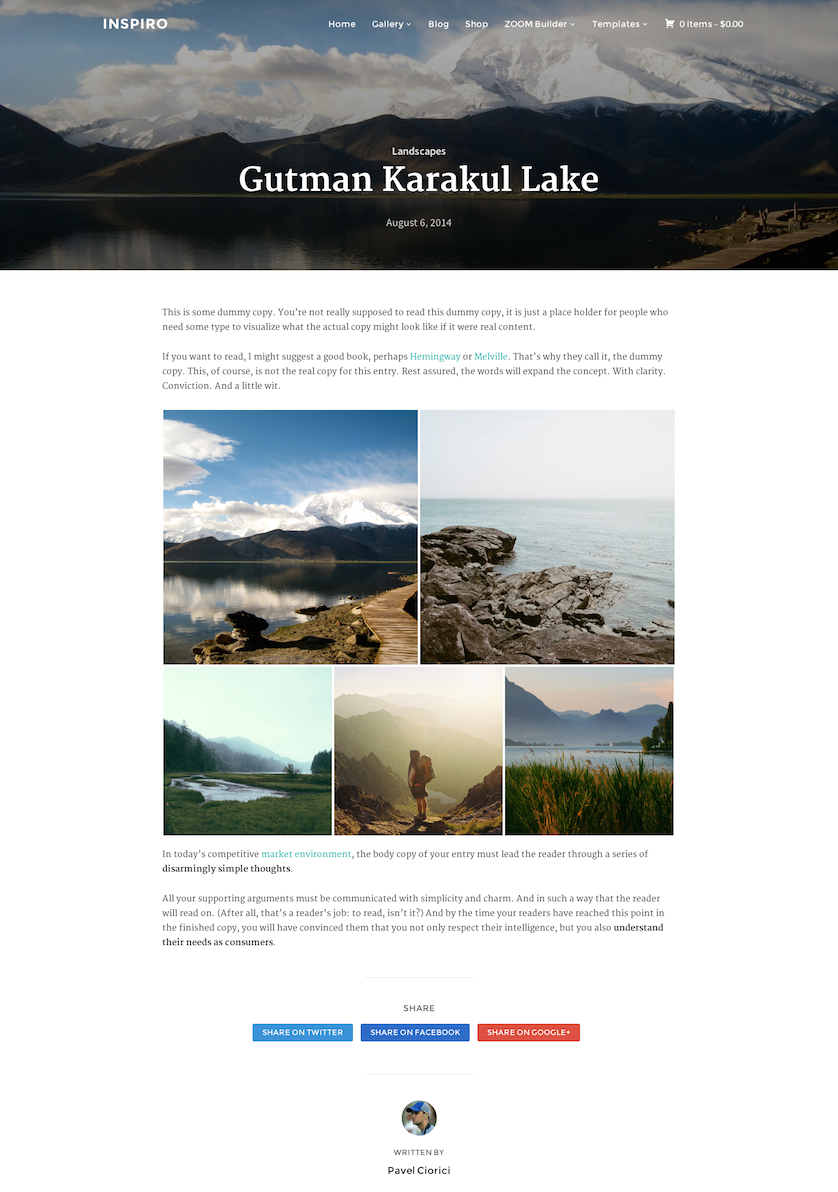 ---
1-Click Demo Content Install
You can replicate the demo page's structure and look by loading the dummy content and widgets with one click.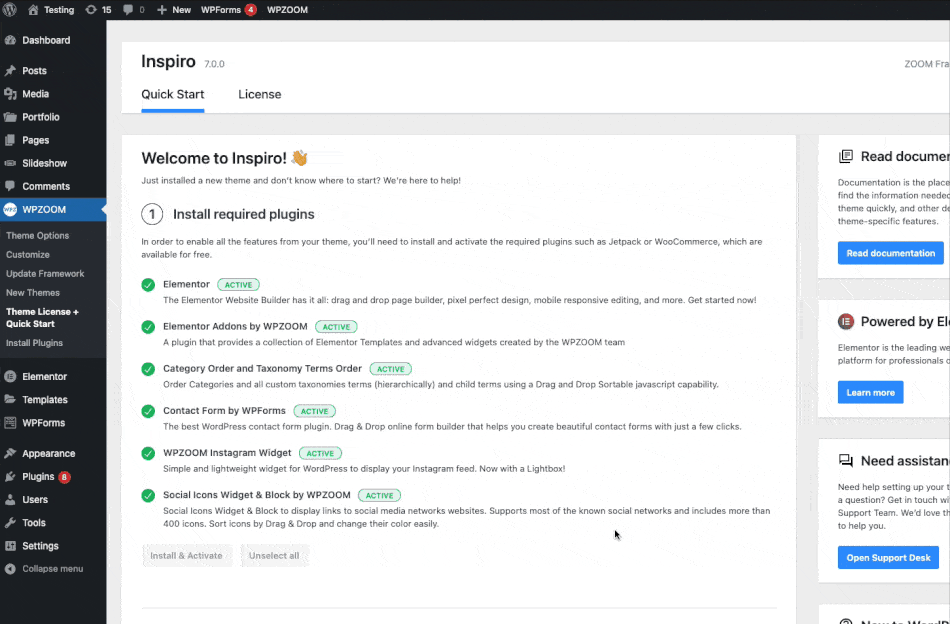 ---
WooCommerce Ready
Need to sell something? With an Inspiro theme, you can build your shop and start selling anything easily! The theme is fully compatible with the WooCommerce plugin.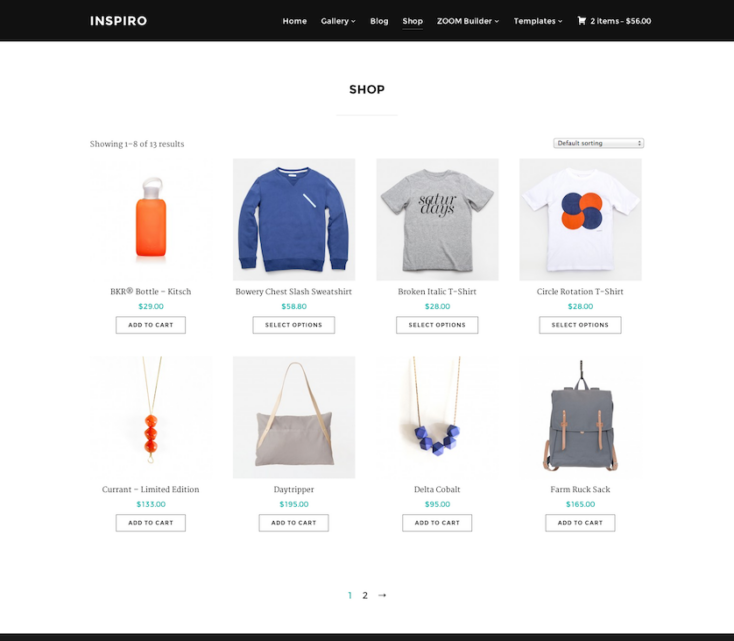 ---
Other Features
Below is a list of other important features available in Inspiro: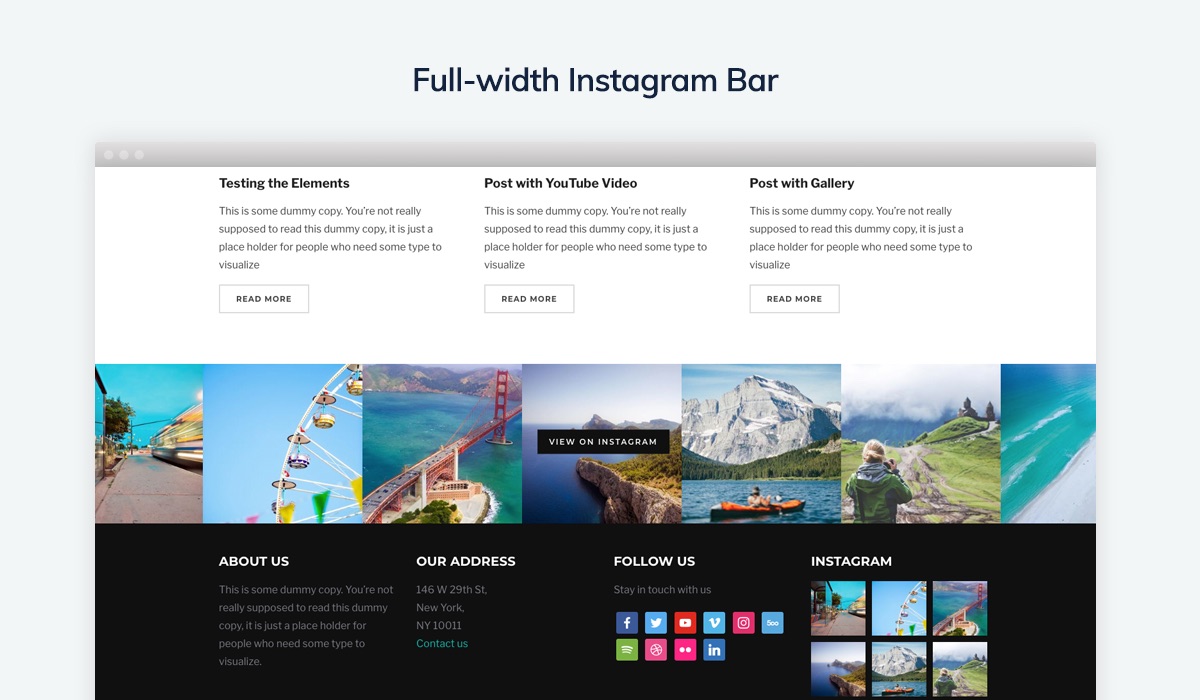 Instagram Bar in Footer – a new widget area is now available, in which you can insert our free Instagram Widget and create a full-width feed of your latest pictures.
Sticky Header – no more need to use additional plugins to give a nice effect to the header menu. It will now stick to the top automatically when scrolling the page.
Portfolio Re-order – you can now change the order of Portfolio Posts in the gallery much easier from the page Portfolio > Re-order.
Video Background on Mobile Devices – Inspiro PRO supports video background on mobile devices. Self-hosted and Vimeo videos will play automatically on your website if your mobile device is not in Low Power Mode.
Images Aspect Ratio – you can change the Featured Image's aspect ratio in different locations to Landscape, Cinematic, Square, or Portrait.
---
Looking for more WordPress themes? Inspiro is on our list of the best portfolio blog WordPress themes.