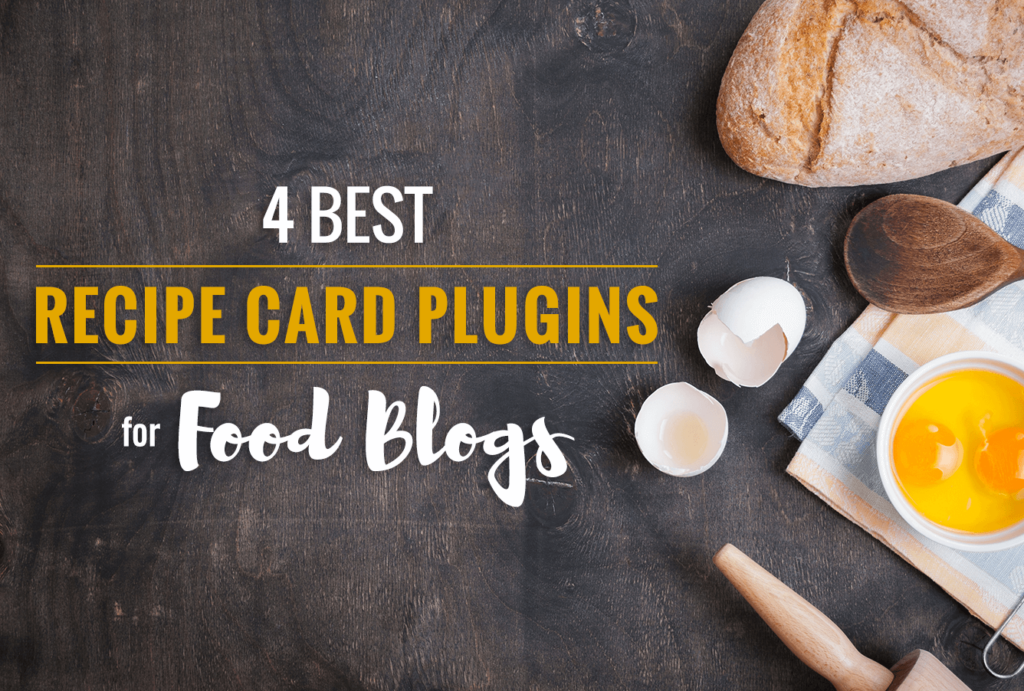 Food blogs are a huge trend among bloggers these days. Most of them are only a search away and you get to discover different cuisines through lots of recipes, from easy-to-prepare to the most sophisticated ones.

Our Foodica theme is one of the food bloggers' favorite and this way we get to interact with lots of interesting food blogs.
This way, we've analyzed what are the trends among these blogs and tried to understand what are the real needs food bloggers have regarding their website.  Besides the basic customization options – colors, typography – and an image friendly theme, it's important how the recipes are structured throughout the posts.
Even though Foodica includes two Ingredients and Directions shortcodes, it seems that the needs of a great cook go way beyond that. That is why, most of the bloggers choose to use different plugins that offer a wider range of customizing options or the recipes like SEO stuff, color options, print buttons and others of this kind.
Scrolling through a bunch of food blogs that use Foodica, we came up with a list of the most popular recipe cards plugins that seem to facilitate the process of adding the ingredients, preparation steps, nutrition facts as well as many other useful options.
Read below to decide which recipe card plugin is more suitable for your existing or future food blog.
---
Recipe Card
Recipe Card lets you create beautiful recipes that readers can print, save and review. It also optimizes your recipes for search engines and generates nutrition facts.
Key features:
SEO Ready & Google Rich Cards compatible
Color & Font Customization
Print Button
Rating & Reviews options
Nutrition Facts
Integrated with WordPress Editor
You can see a live example of the Recipe Card being used on the Yum in Your Tum blog. It blends well with the style of the blog due to the multiple customization features included in the plugin.
---
EasyRecipe
EasyRecipe offers you all the advantages of microdata, without any of the messy coding. It includes lots of options with no geeky details or coding implied. Just add the text, photos and other details of your recipe and it will appear all styled up on your blog.
Key features:
Cory, the editor & head chef of the The Amused Bouche blog decided that the EasyRecipe plugin suits her needs and you can see the result below. Besides, this plugin seems to be very compatible with Foodica.
---
Yummly Rich Recipes
The Yummly Rich Recipes plugin brings your recipes right to your readers' kitchens! With a predefined recipe structure, it is very easy to use in the backend as well as in the front-end of your website. As a bonus, it has an incorporated Yum button for those who want to save your recipes just with one click.
Key features:
This plugin also works well with Foodica and you can style up all of the details of your recipes. A very good example is Natalie's Food & Health blog. She managed to customize this plugin so that it appears as a native Foodica layout. 
The Mariko Presents blog opted for a more clean & minimalist recipe layout, using the same plugin:
---
WP Ultimate Recipe
WP Ultimate Recipe is an user friendly plugin for adding recipes to any of your posts and pages. Make use of its customization options, shortcodes, full responsiveness, servings adjustments, rating option as well as many other features and your recipes will be like freshly got out of the oven. 
Key features:
You can see how Marianne from the Baking In Pink blog made use of these complex of options, generating a very rich recipe. 
---
As you can observe from the above examples, all of the plugins are perfectly compatible with Foodica, which is one more reason to start a food blog. If you've already started this journey, we hope these plugins will help you optimize your website as well as your visitors' experience. Let us know which one is your favorite in the comments below.
Happy blogging and bon appétit!
For more WordPress tricks, tips and news make sure you like us on Facebook or follow @WPZOOM on Twitter & Instagram.