If you're a video producer or vlogger looking to set up your own video website to showcase your content, you'll most likely need one that reflects your own unique style.
You'll need to think about the gallery options you'd want, color schemes, customizations, and the type of business you're running. You should also consider the different technology you'll need to effectively display your content like mobile-responsiveness, sidebars, custom widgets, video player support, and video effects.
Considering the vast number of WordPress video themes available on the market, separating the wheat from the chaff can be a daunting task.
We've been developing world-class WordPress themes for a decade now and know exactly what sorts of features and functionality you should be on the lookout for. In this post, we'll go over some important factors to keep in mind when selecting the best WordPress video theme for your video website, and then share our handpicked selection of the best WordPress video themes.
Factors to consider when choosing your theme
Here are some of the key points you should consider when choosing the most suitable video theme for your WordPress website. These are also the features we kept in mind when creating our selection of the Best 20+ WordPress video themes:
Responsive layouts. People typically use different devices to browse the web. Since video themes are visually-rich, you need to ensure that your site can seamlessly run across all devices, including desktop, mobile, and tablet.
Customization options. You have to make your site stand out from other video websites. For this reason, it's important that your video theme allows you to customize different elements of your site, like layouts, widgets, and color schemes.
Type of business. Your business requirements will also affect your video theme decision. For instance, if you sell online courses or run a membership site, you'd want to restrict access to some (or all) of your videos so that only paying members can access them. Similarly, if you share video content with your site's viewers, you'd want them to be able to leave comments on your videos.
Integrated features. You want a video theme that offers you important features like WordPress video gallery options, YouTube integration for importing content, video commenting and sharing options, fullscreen video, and membership functionality to place some of your content in a private section. These features may create a make-or-break situation for your final decision.
Note: We recommend going for a theme that's designed specifically for handling video instead of a multipurpose WordPress theme. However, if you only need to embed a handful of videos, you might consider opting for a another of our WordPress themes with video capabilities.
Now that you know what to look for, let's step through some of the best offerings – free and premium – to help you choose the right WordPress video theme for your specific needs.
Best WordPress Video Themes for 2022
Here are the top 15+ WordPress video themes for 2022:
If you're looking to showcase video content or create a business website – you'll have an easy decision to make.
Inspiro PRO offers multiple starter demos for portfolio and business sites. In addition to this, it features a strong Elementor & WooCommerce integration, which allows to build any type of website you want. It also includes a complex Portfolio section in which you can organize and showcase your work anywhere you want.
---
Inspiro is a popular fullscreen WordPress video theme that brings a modern touch and visual appeal to your website. You'll get plenty of space to share video content – whether it's a YouTube, Vimeo, or self-hosted videos.
You can add video backgrounds and create a WordPress video gallery, fullscreen slideshow, and full-width Instagram feed. Inspiro is flexible and fully responsive across tablets, phones, and desktops. You'll be able to use the Style Kits feature to quickly switch between different theme styles. With access to complete documentation, frequent updates, and top-notch support, Inspiro can help you create a robust and engaging video-based website.
---
Reel is easily one of the best WordPress video gallery themes that doesn't require any coding skills to use. You'll be able to create responsive, visually appealing, and professional-looking video sites in no time.
It supports WooCommerce which means that'll you can also sell products straight from your e-commerce site. You can take advantage of its visual customizer to select the colors and Google Fonts which go with your particular style and branding. You also get access to advanced features such as video autoplay in the background and a slideshow gradient editor.
---
VideoBox is a beautiful video theme plugin designed specifically for anyone who wants to self-host their video content. It's easy to use and lets you quickly embed video from popular sites – like YouTube and Vimeo – simply by inserting the URL of the video. The theme automatically generates video thumbnails for your posts.
It provides a flexible and responsive layout allowing your pages to run smoothly across all devices. Floating video on page scroll feature lets viewers keep watching the video while they browse your website. You can easily customize its theme elements, colors, and fonts to match your requirements.
---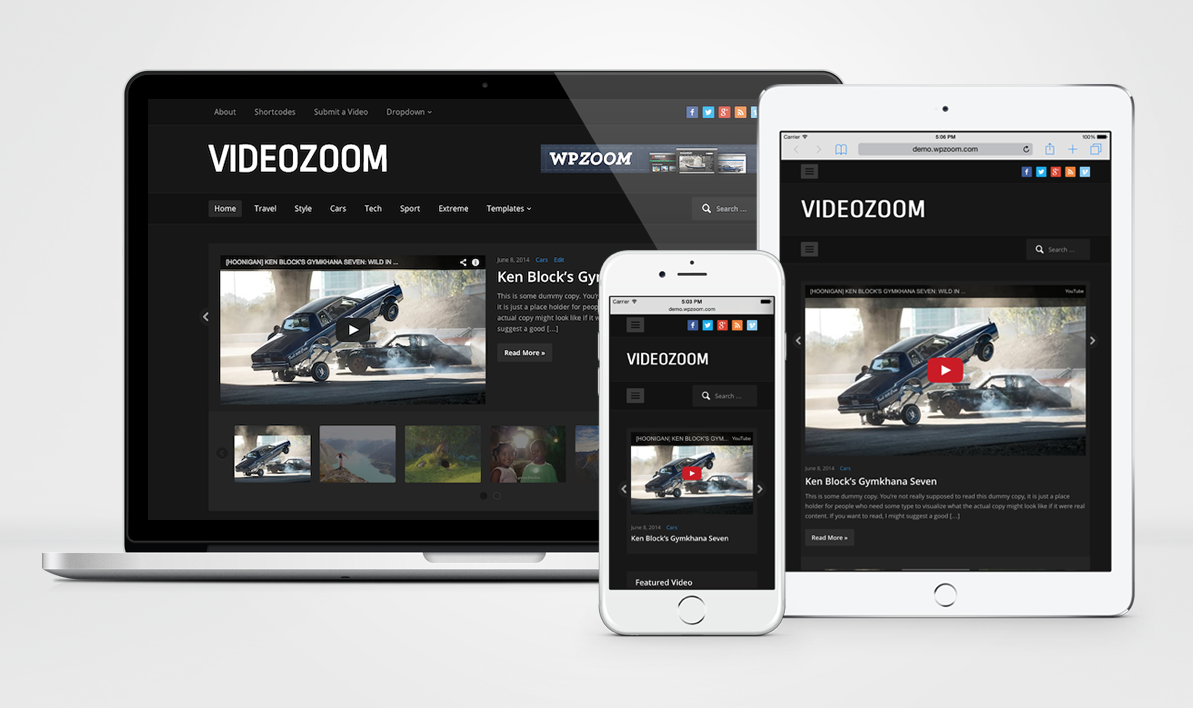 Videozoom 4.0's layout comes with a fully-responsive design out of the box that's ideal for showcasing videos. Whether you're looking to self-host or embed videos from other sites, this theme has got you covered.
You'll be able to automatically generate video thumbnails of embedded videos for each post. The one-click demo feature makes it easy to replace demo content with your own without feeling overwhelmed. You also get a fluid video slider that enables you to showcase videos from across the web including YouTube, Vimeo, Facebook Video, Instagram Video, and more.
---

Vlog is a modern WordPress video gallery theme designed especially for blogs, online magazines, and videography websites. It makes it easy for users to create a beautiful and professional looking website.
It allows you to embed videos from popular video streaming sites like YouTube, Vimeo, DailyMotion, and Twitch as well as letting you self-host videos.
Plus, you'll be able to quickly import your videos and video playlists from YouTube and Vimeo. You can also get access to some unique features such as watch later and cinema mode.
---
Video is a beautiful WordPress video gallery theme that comes with an intuitive front-end video submission feature enabling registered users to share their video content. They'll be able to embed videos from the streaming site of their choice or upload their videos directly to your website. This is great for anyone who's looking to involve user-generated content on their website.
Every element of this powerful theme is fully customizable and can be adjusted to match your particular style and branding. You can also move larger elements around the layout using the drag and drop tool.
---
VideoTouch offers a toned-down and simple design layout but one that's equipped with high-quality aesthetics. As a WordPress video gallery theme, it can help you effectively showcase your products.
Built on the Twitter Bootstrap framework, it comes with a clean and innovative design that can adapt to all of your video site requirements. With VideoTouch, your website will be fully responsive across all devices. You can also choose to include sidebars and custom widgets or eliminate them from your layout altogether.
---
Betube is a popular HTML5-based WordPress video theme that offers a responsive design layout for your website. It comes with trendy and beautiful page templates that add elegance and charm to your video content.
You'll be able to choose from over ten different unique homepage designs to showcase your work. It's also great for anyone who's looking to create an e-commerce store to sell video content or physical products. Betube lets you embed videos from all popular video streaming sites including YouTube, Vimeo, Dailymotion, and Hulu.
---
VideoTube is a simple yet powerful WordPress video theme that's ideal for building a video sharing platform and broadcasting video content across the web.
You can embed videos from different video streaming sites like YouTube, Hulu, Vimeo, and Dailymotion or self-host your own videos. It lets you customize your homepage widgets to seamlessly integrate with your video content. VideoTube also lets you collect reviews from viewers and share your content on social media sites.
---
Videoblog is a minimalistic WordPress video theme that's perfect for anyone looking to start a blog, vlog, or video magazine website. It's designed to deliver beautiful video content via an intuitive, two-column layout.
It lets you highlight your posts on the front page and allows you to feature 5 different video post formats. Although its doesn't offer flashy design features, Videoblog is still a useful solution for users who'd like to keep things simple.
---
VideoStories is a popular WordPress video theme that enables you to do much more than just add videos to your site. It's the perfect option for video marketers or just about anyone looking to start any type of movie website or video review website.
It works seamlessly with Gutenberg giving you access to content blocks for video ideas. VideoStories' design layout includes footer widgets, sidebars, and threaded comments. Plus, its background and menu is fully customizable to match your unique style and branding.
---
Videoly is a simple WordPress video gallery theme that's perfect for setting up your blog or vlog.
You don't need any coding skills to design your website as its built-in page builder lets you easily modify the layout. Videoly's customizer lets you tweak various elements to give a personal touch to your video site.
---
VidoRev is a video magazine theme crafted for membership and WooCommerce sites. This WordPress video gallery theme is ideal if you're looking to showcase products or sell courses online.
It supports API integration with various video streaming sites like YouTube, Twitch, Vimeo, DailyMotion, and Facebook. You'll also be able to display your Instagram feed on your website. VidoRev lets you offer some of the same features as YouTube such as channels, subscriptions, auto next, and autoplay.
---
This video WordPress theme has a more intuitive feel that comes with beautiful layout options and unlimited color schemes.
It lets you integrate with YouTube to keep track of stats like view counts. With four different predefined homepage layouts, you'll be able to enhance the look and feel of your website in no time. Video theme comes SEO ready and optimized for fast loading times.
---
This aptly-named WordPress video theme is build especially for YouTubers, video bloggers, and anyone looking for an easy way to share video tutorials and online lessons. It's a great option if you're looking to monetize video content or sharr videos for fun.
Vlogger is easy-to-use and enables you to add video carousels, slideshows, grids, and playlists to your site's layout with a single click. You can import video from YouTube, DailyMotion, TED, Vimeo, and other embeddable sources or choose to self-host your videos.
---
Swell's layout comes with an innovative video motion background feature on the front page which creates an instant impact on the viewer.
You'll be able to quickly implement slideshows, toggles, tabs, columns, and buttons via its free shortcodes plugin. Swell lets you embed videos from different sources including Vimeo and YouTube. Plus, your site and video content will be fully-responsive and viewable on all devices.
The Best WordPress video theme?
Hopefully, you're in a better position now to choose the theme that best fits your needs. You can always come back to this article before making a final decision to refresh your memory.
Here are our top favorite WordPress themes from this post:
Reel is an intuitive video WordPress theme that lets you add beautiful video backgrounds and customize your website to suit your style and branding. And it's WooCommerce-ready!
VideoBox offers a simplistic design, intuitive layout, and lots of theme options right out of the box including video lightbox, floating video, and automatic video thumbnails.
Inspiro features an elegant design to showcase your video content. It comes with several neat features including fullscreen slideshow with video background, photo gallery module, and custom widgets.
Now you can take things further from here! Let us know your favorite WordPress video themes in the comments.
Still after more themes? Consider the best recipe themes, best portfolio themes, and best photography themes.