Features
Theme Options PanelWith our advanced Theme Options Panel, you can easily change every detail of your theme to best suit your needs.
Responsive & Retina ReadyThe layout of this theme automatically adapts to fit on any screen resolution on desktop and mobile devices (iPhone, iPad).
Visual CustomizerUse the visual customization options to get the colors and fonts which match your style and branding.
WooCommerce SupportInstall the WooCommerce plugin and sell products straight from your website.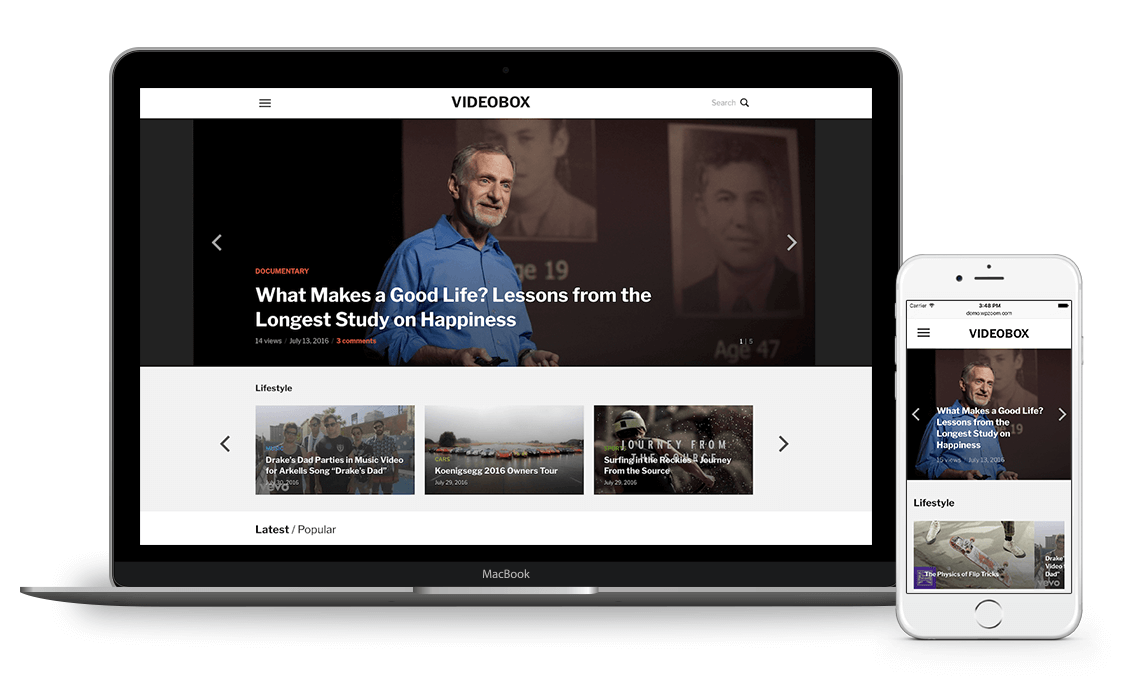 Responsive Layout
VideoBox features a fluid, responsive layout, so your pages will display perfectly across mobile and tablet devices. Videos and images scale seamlessly when resizing the browser window. Every detail of your website will look professional, regardless of what resolution or screen size visitors have.
---
Included Demos
Below are 2 examples of sites you can create using VideoBox theme. All of the layouts shown in the demo can be very easily imported.
---
Latest Updates:
We regularly update all of our WordPress themes, including VideoBox. Here's what we've added recently…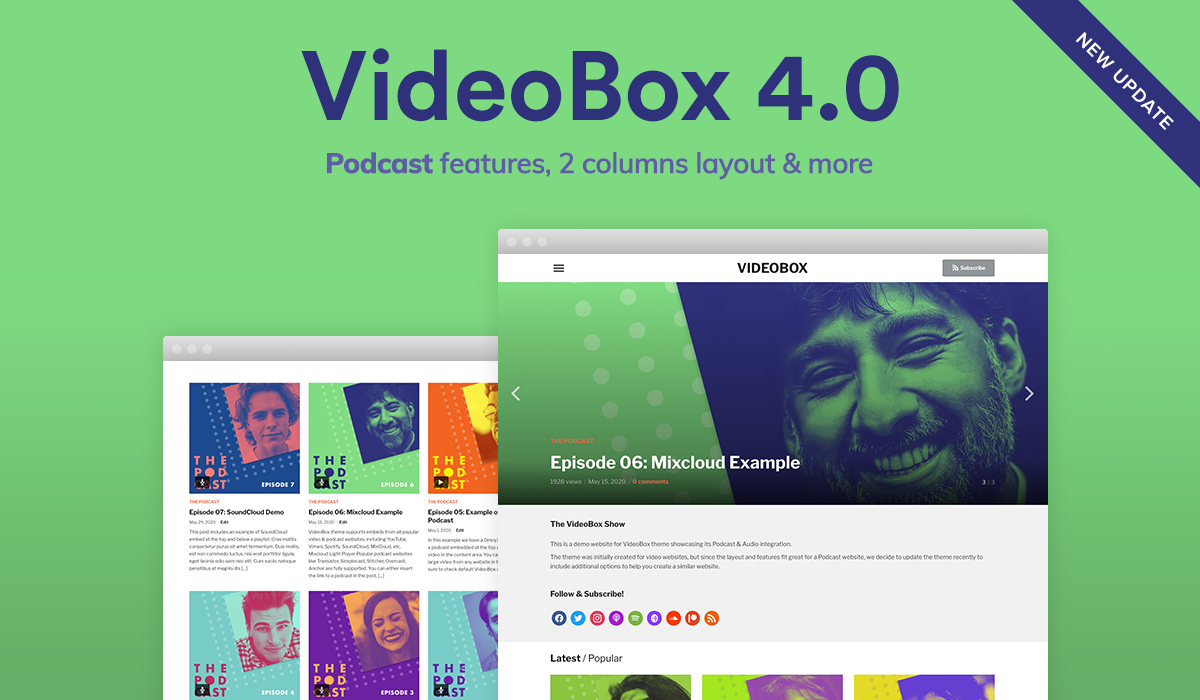 VideoBox 4.0 – Podcast Update
June 18, 2020 (read release notes)
Introducing VideoBox for Podcasts
Added new 2-column layout for posts on homepage and archives
Added new "Square" image size for posts
A new area for Social Icons or a button in the header
---
VideoBox 3.1
February 13, 2019
Added Video Lightbox feature in the Homepage Slider
Added new Page Template so you can built the homepage using a page builder like Beaver Builder and keep the slideshow at the top.
---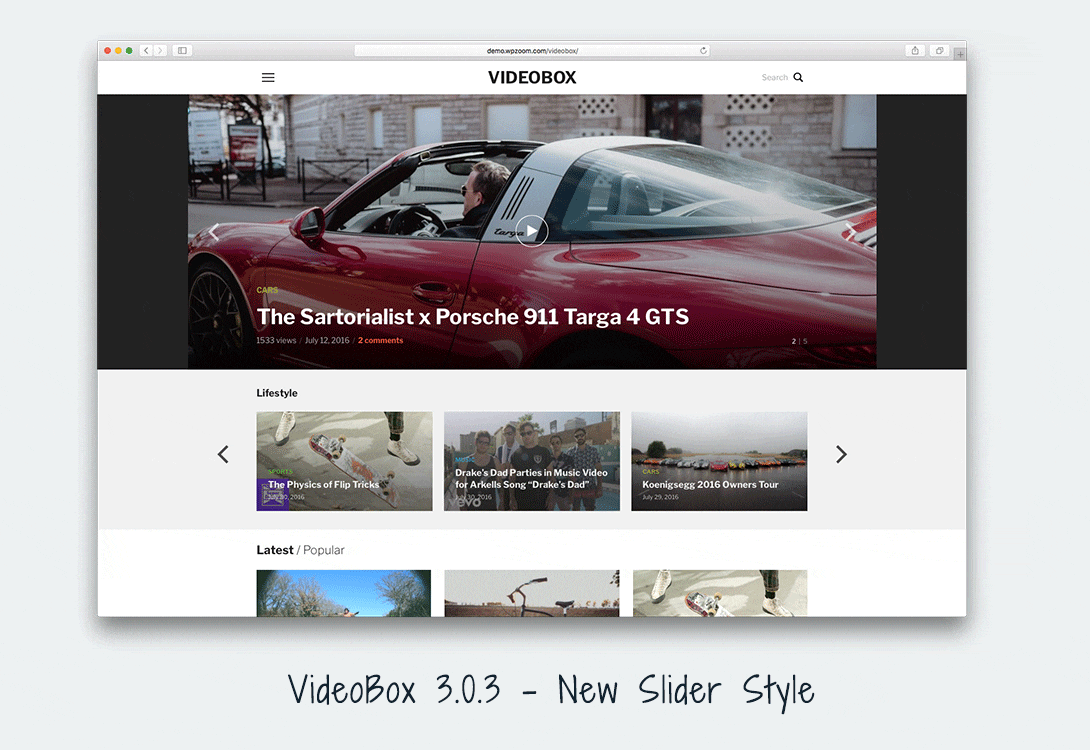 VideoBox 3.0.3
June 25, 2018
Added a new style for Homepage Slider with a fading to black effect. See details in Customizer > Homepage Slider Style
---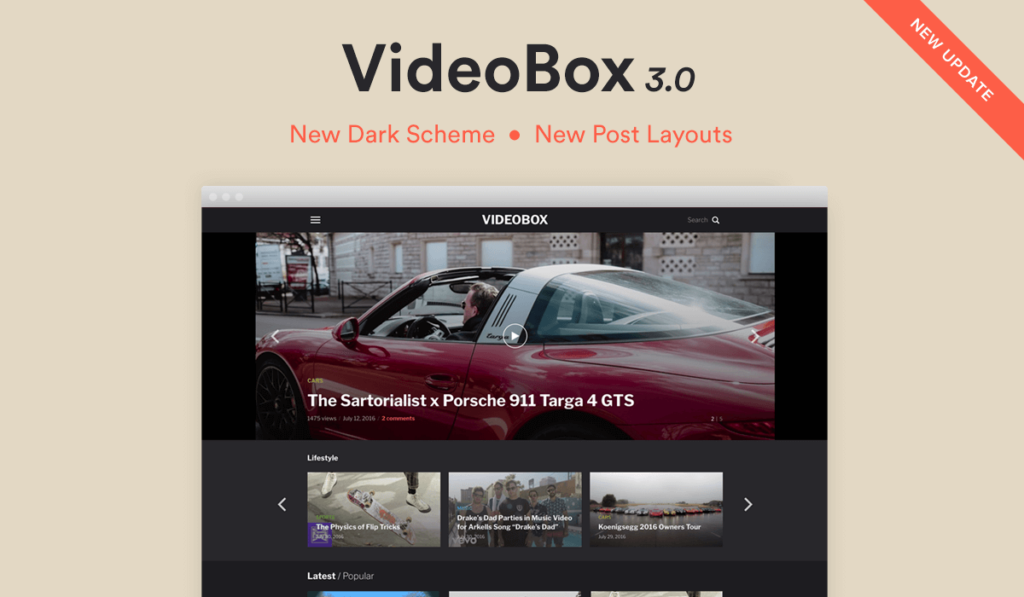 VideoBox 3.0
June 13, 2018 (read release notes)
New Dark Color Scheme (view demo)
New Posts Layouts (change number of columns: 3 or 4)
Improved Typography options in Customizer
---
VideoBox 2.1.0
January 10, 2018 (view details)
Floating Video on Page Scroll
New options for video embeds from YouTube and Vimeo
Easier management of the Featured Posts order
---
VideoBox 2.0
November 13, 2017 (view details)
Self-hosted videos support
oEmbed links support
Automatic video detection in posts
Minor changes for WordPress 4.9 compatibility
---
Supports Video Embeds from 99% Video Sites
VideoBox was designed to support videos from almost any video site. We've tested it with videos from numerous popular video platforms, including: YouTube, Vimeo, Facebook Video, Instagram Video, DailyMotion, Brightcove, Amazon S3, and many others.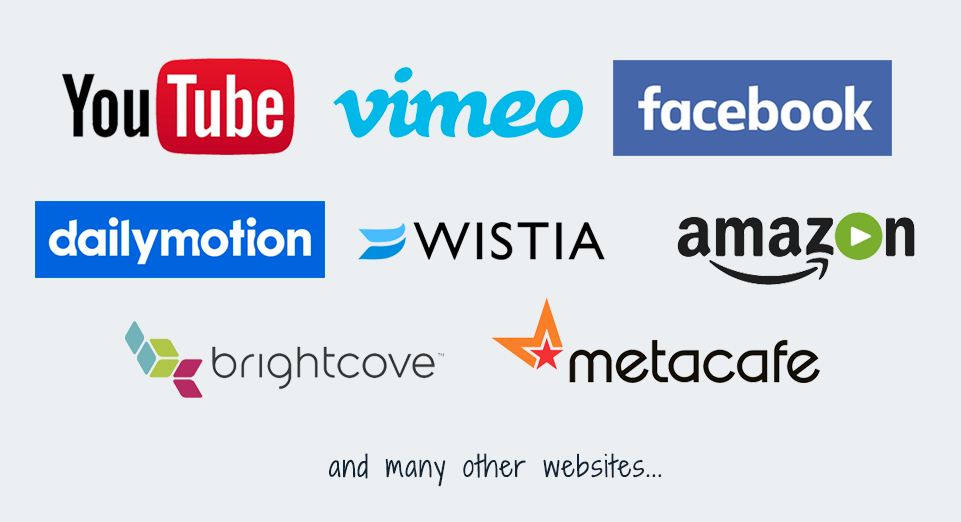 ---
Automatic Video Thumbnails
When you embed videos from YouTube, Vimeo or DailyMotion VideoBox will automatically generate a thumbnail for your post, so you don't have to add manually a Featured Image.
---
Self-hosted Video Support
Starting with VideoBox 2.0 update, you can easily upload videos to your own website and have them played nicely at the top in individual posts: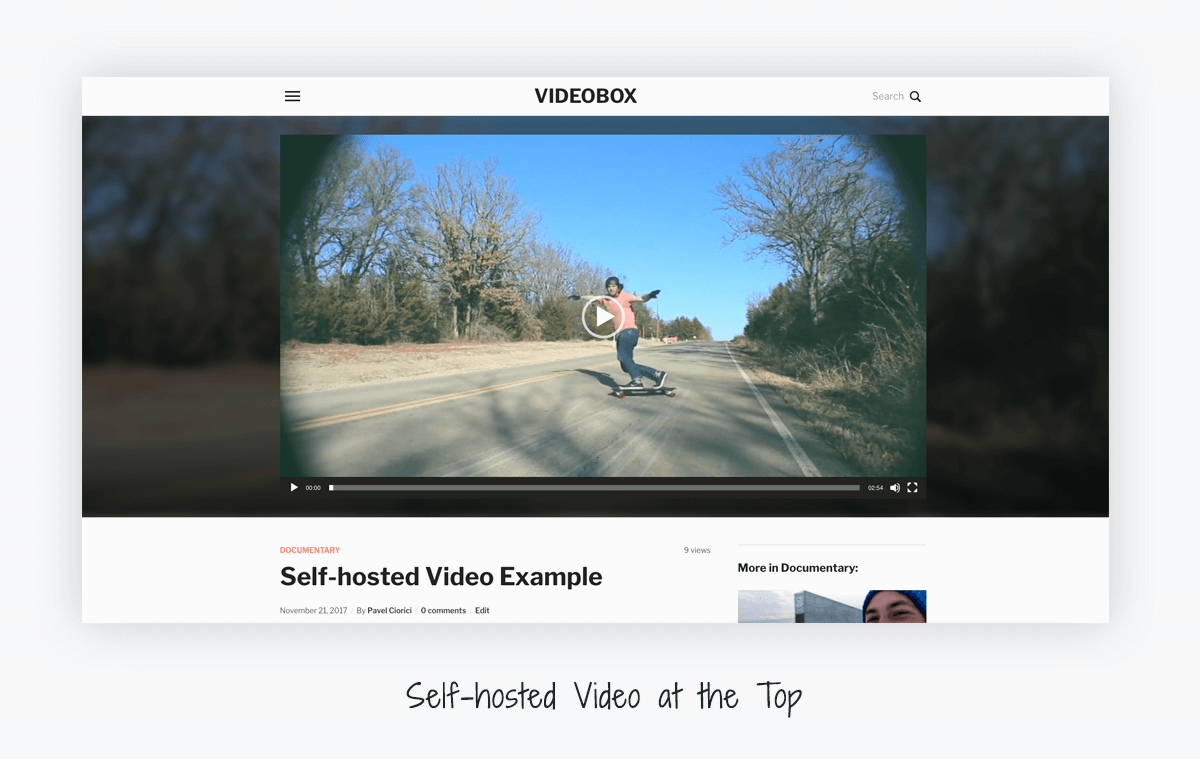 View an example of self-hosted video.
---
Easy-to-use Embedding Options
Embedding a video at the top in posts is very simple. You can embed a video in 3 different ways:
1. Embed Code (iframe)
2. Self-hosted Video
3. Video URL (oEmbed Support)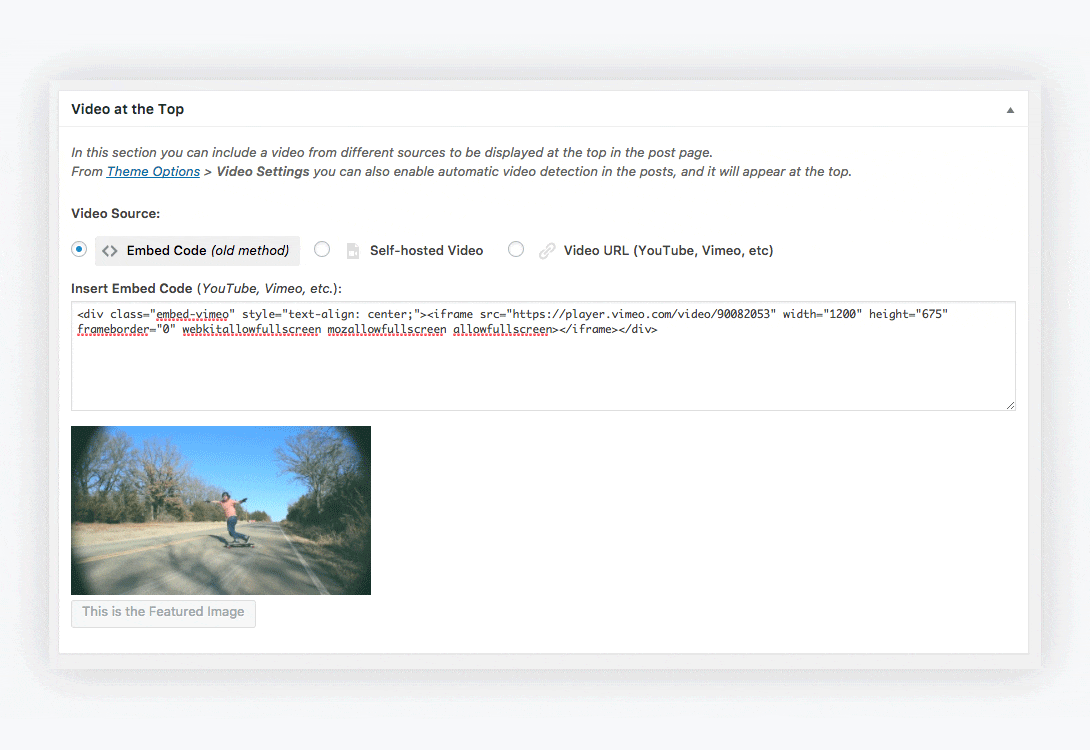 It's very easy to embed a video from popular websites like YouTube or Vimeo, as you can only insert the URL of the video, and the theme will do the rest. This thing is possible thanks to the oEmbed integration, which at the moment supports 34 video websites.
---
Podcast Integration & Audio Player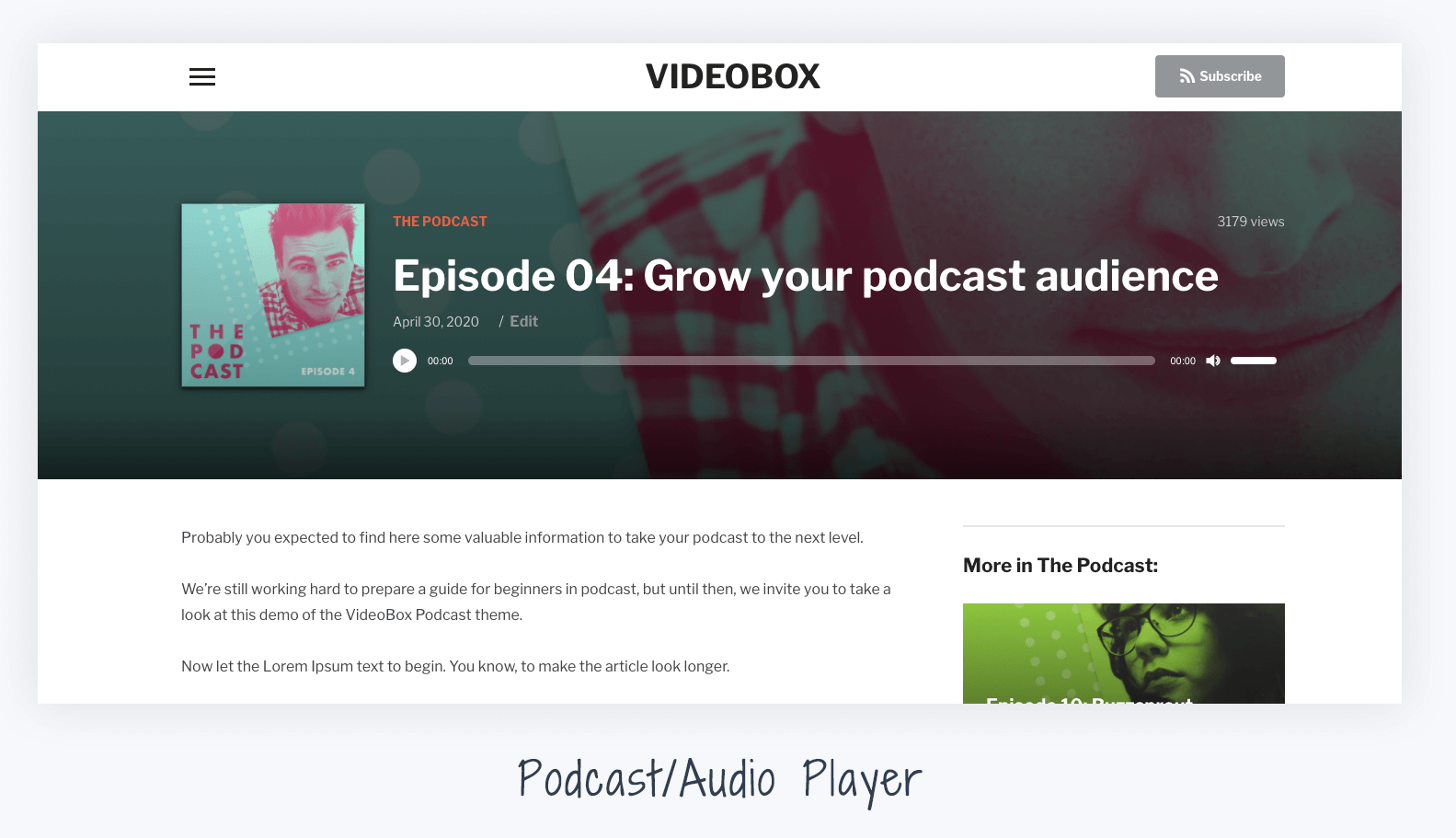 VideoBox 4.0 includes a new audio player through which you can play your audio files. The player features a sleek design that is integrated and built-in with the theme, so no additional plugins are needed.
Simply upload your audio files and the theme will do the rest. The update includes a new interface for Audio files, where you have multiple options, like uploading an audio file: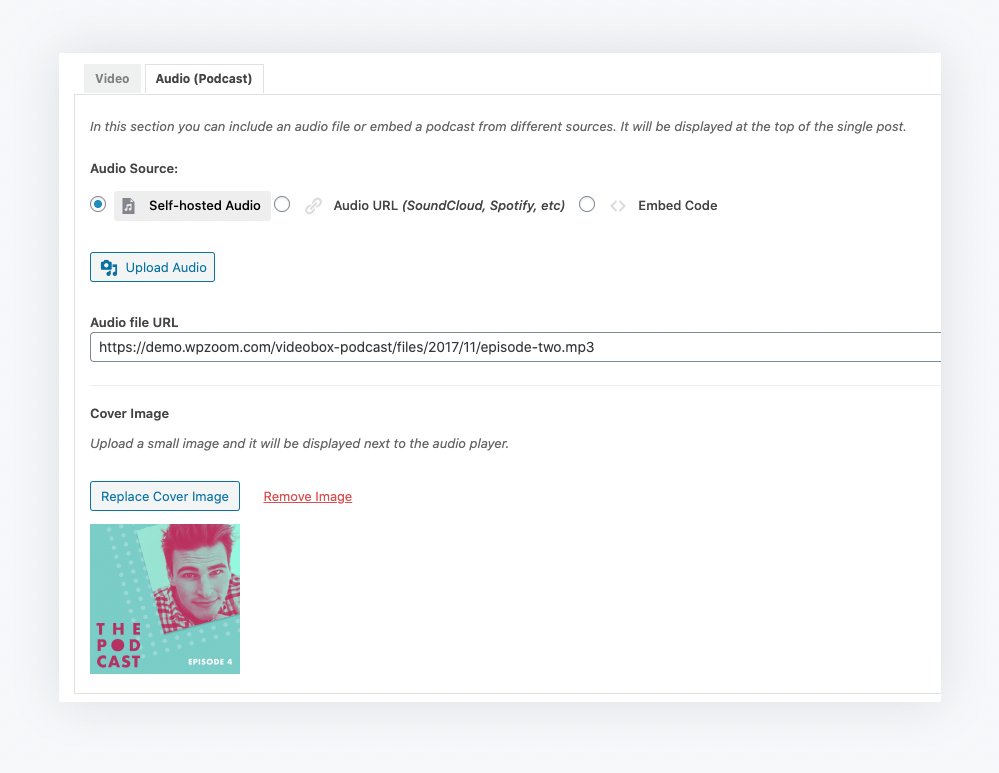 … or embedding a player from a streaming service: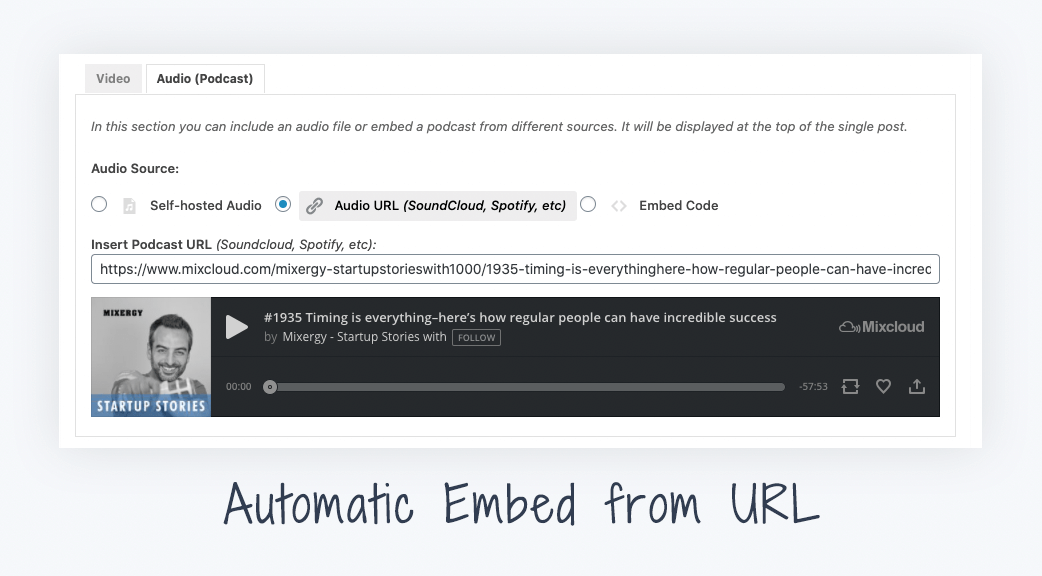 The theme will automatically detect links from popular websites like SoundCloud, Mixcloud, Spotify, Buzzsprout, Radio Public, and many others. For services that are less known and not detected automatically, you can insert the available embed code manually.
Audio and podcast players from popular websites will also look great in the header area, regardless if you're using the built-in player or a third-party service:
---
In VideoBox 4.0 you can also play your podcasts not only on the individual post page but also on the homepage or in archives: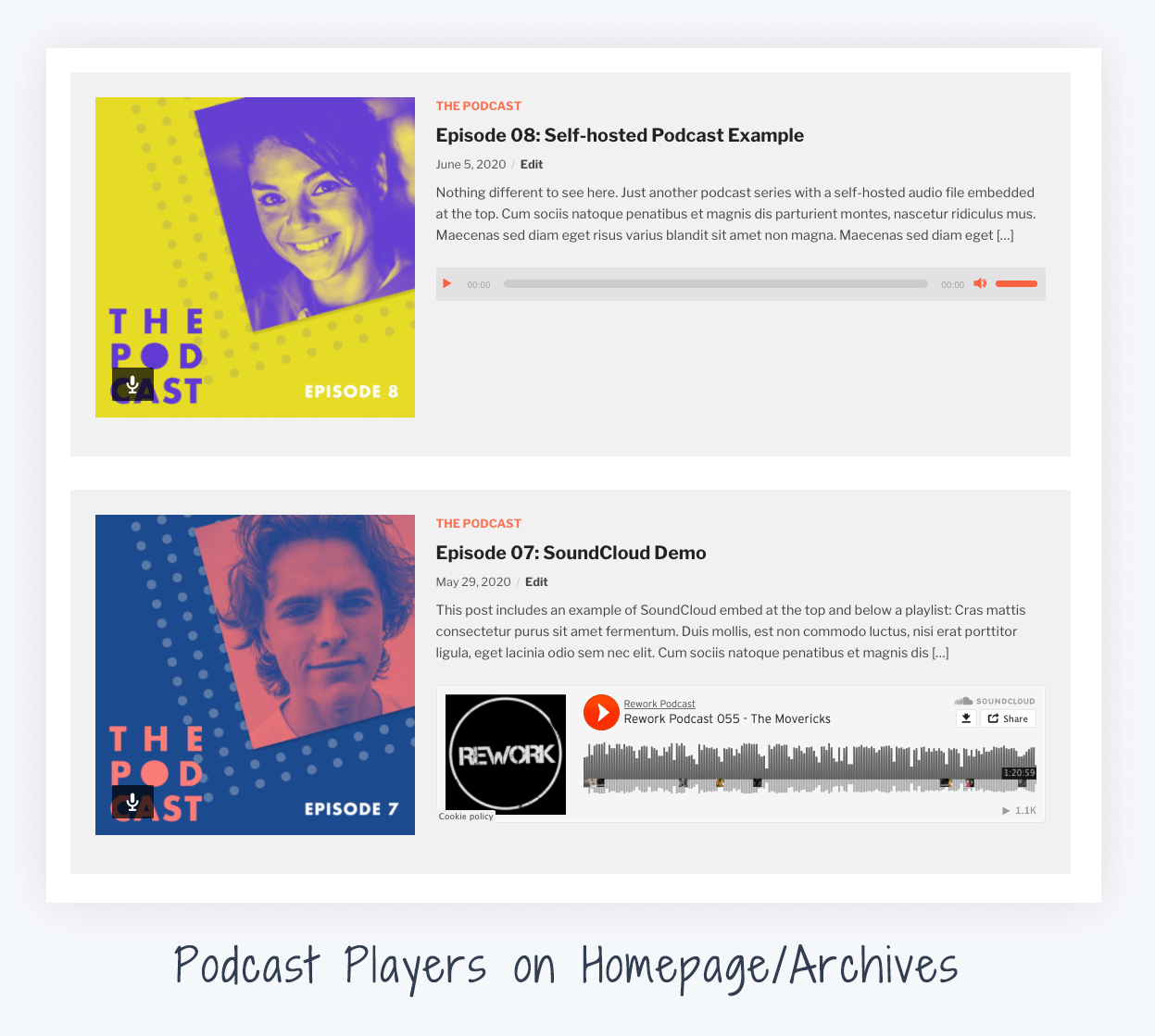 This option is available only when displaying posts in the "List" layout.
---
Automatic Video Detection in Posts
If you have a lot of posts with videos and want to show them at the top, then a new option added in the new version will do the hard work for you. No need to edit each post individually and enter the video URL or embed code manually.
Just go to the Theme Options page and under the Video Settings section you'll find there the following option: Automatically detect first video in posts and display it at the top.
Once you enable it, it will automatically detect first video from all your posts and show it in the featured area from the top.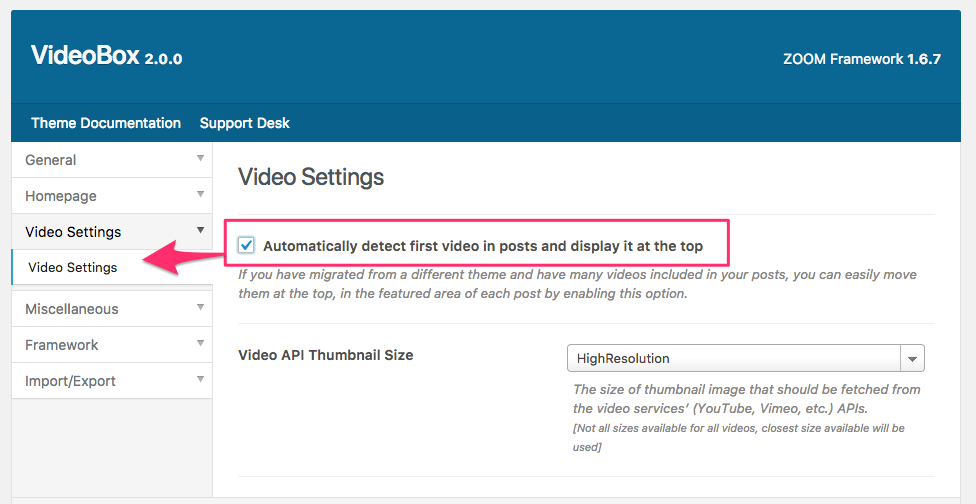 Pretty easy, right?
---
Floating Video on Page Scroll
Just like many popular news websites and even Facebook, with VideoBox now you can have the video from the top in single posts to stay in a corner on your choice when users scroll the page. This feature is supported in the new version by YouTube, Vimeo and DailyMotion videos.
Additional options for this feature can be found in the Theme Options page:
---
Featured Posts Management
Starting with VideoBox 2.1.0 you can see all the Featured Posts on a separate page and change their order by drag & drop. From the same page you remove specific posts to appear in the homepage slideshow.
---
YouTube & Vimeo Embed Options
VideoBox includes options for video player when you embed a video from YouTube or Vimeo.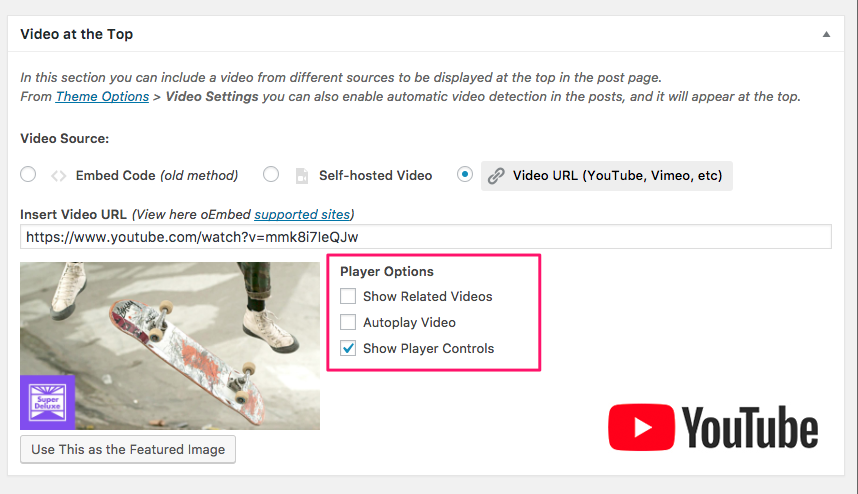 As can be seen from the screenshot above, for YouTube videos you can now hide easier the Related Videos from the end of a video or during the pause. You can also configure each video individually to autoplay when the page is opened.
Vimeo API offers more control for video player, and in the following screenshot you can see available options for each video: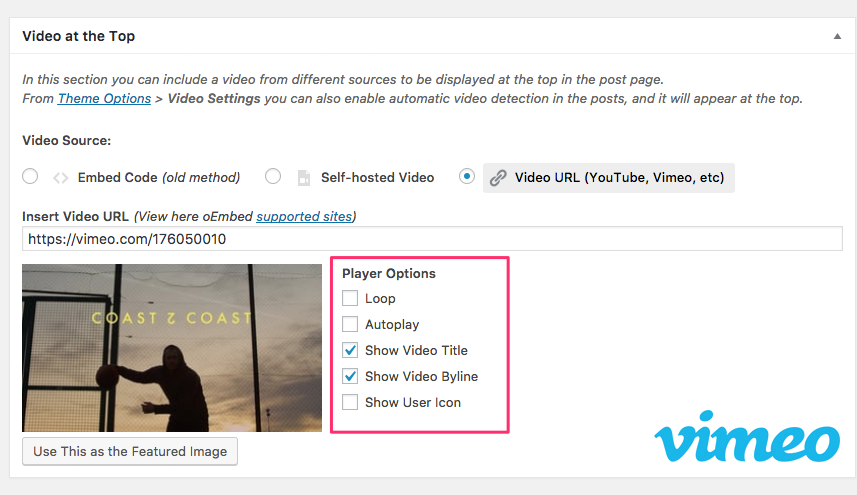 ---
Popular Videos Tab
On the front page you can display a tab with the most popular videos, along with recent posts. The popular tab can be customized, so you can choose which posts to display: posts with the most views or the most comments. You can also choose over which period posts should be displayed – for example: most popular posts from all time, from this year or from this week.
---
Widgetized Homepage
The front page includes multiple widget areas in which you can add any widgets you want, including the built-in ones in the theme with carousels or featured categories.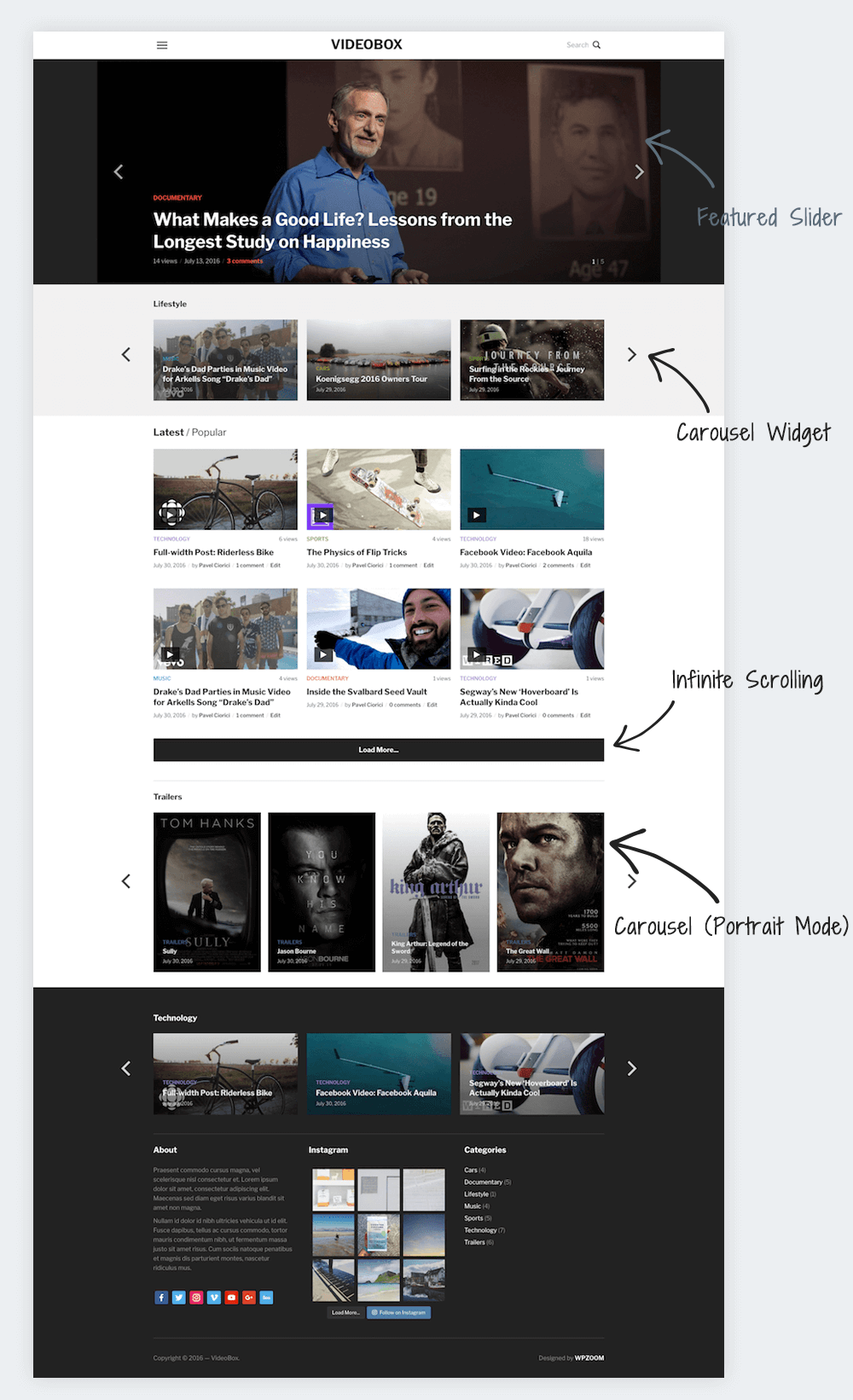 ---
Carousel Widget
VideoBox comes packaged with different custom widgets, including the Carousel Widget, a highly customizable widget that can be placed in different locations. It's great for displaying posts from one or more categories.
This widget includes an option to select the aspect ratio of thumbnails, which makes it to work great with movie posters.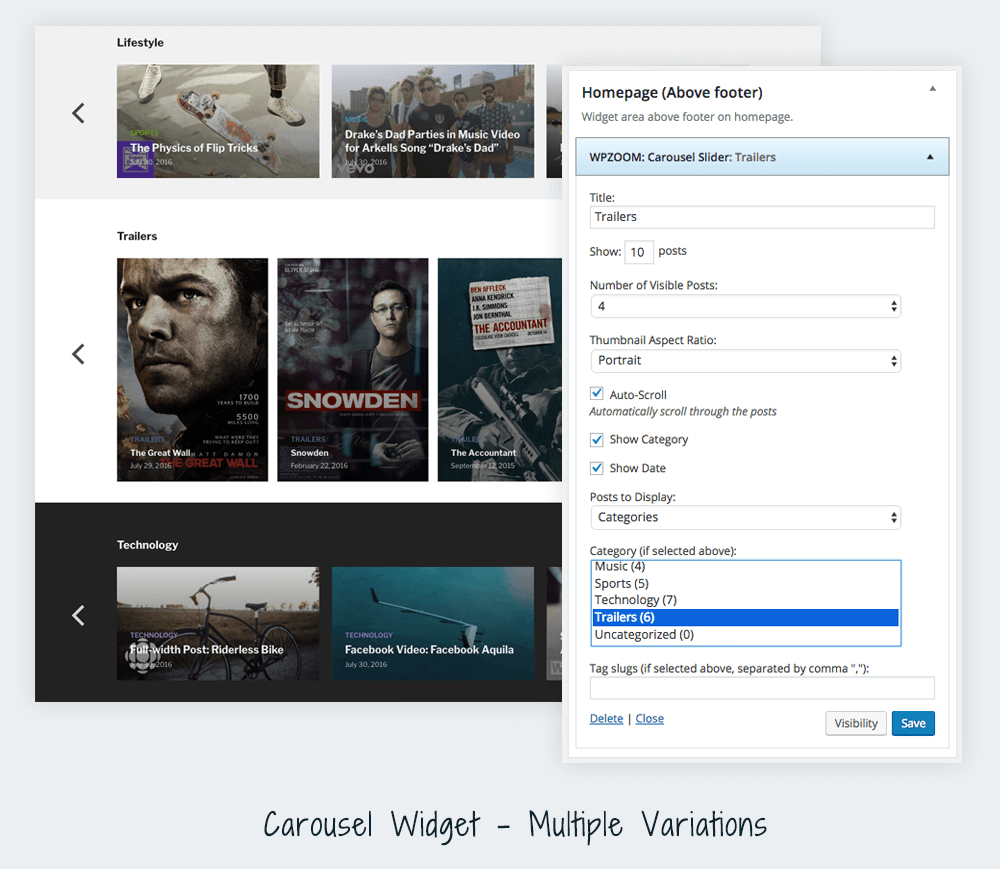 ---
Multiple Header Layouts
Using the Theme Customizer you can easily change the position of elements in the the header, including the direction from which opens the Sidebar Panel. If you're not a fan of the hamburger menu icon, you can easily disable it and display the menu in the header directly.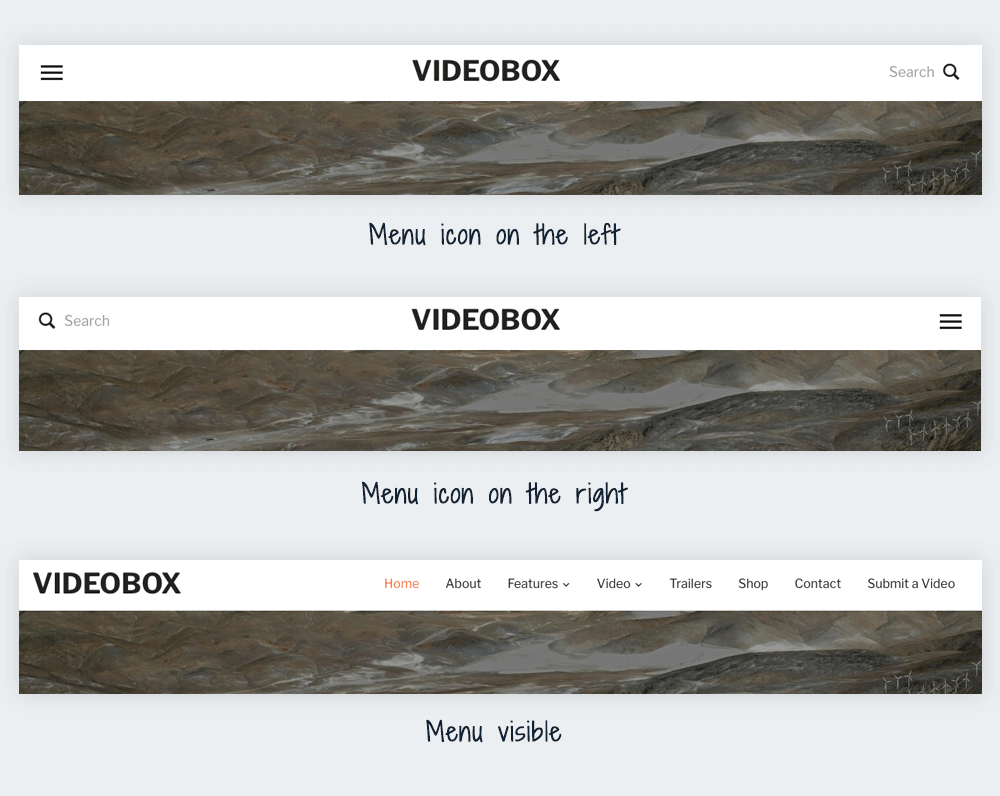 ---
Personalize to Match Your Style
The Live Customizer allows you to make changes to the theme and get an immediate preview. Customize Colors, Fonts, Background, Logo, Menu, Widgets and more, all with a live preview.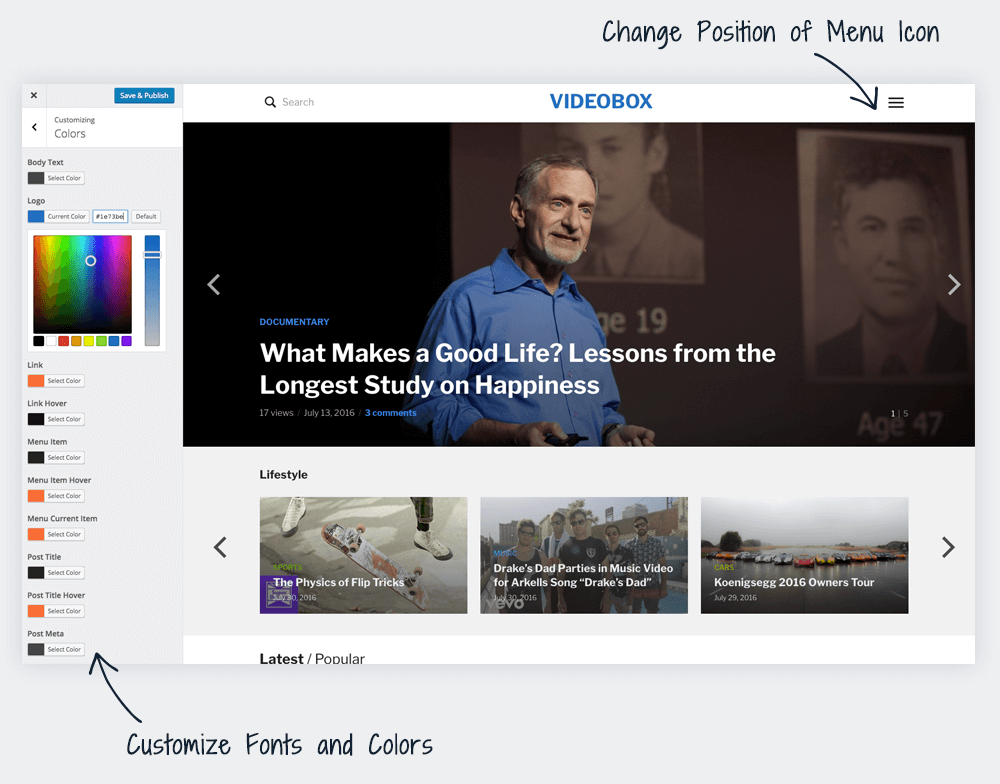 ---
WooCommerce Ready

Selling through your website? VideoBox is fully compatible with the popular free eCommerce plugin WooCommerce.
Build your own shop and start selling easily!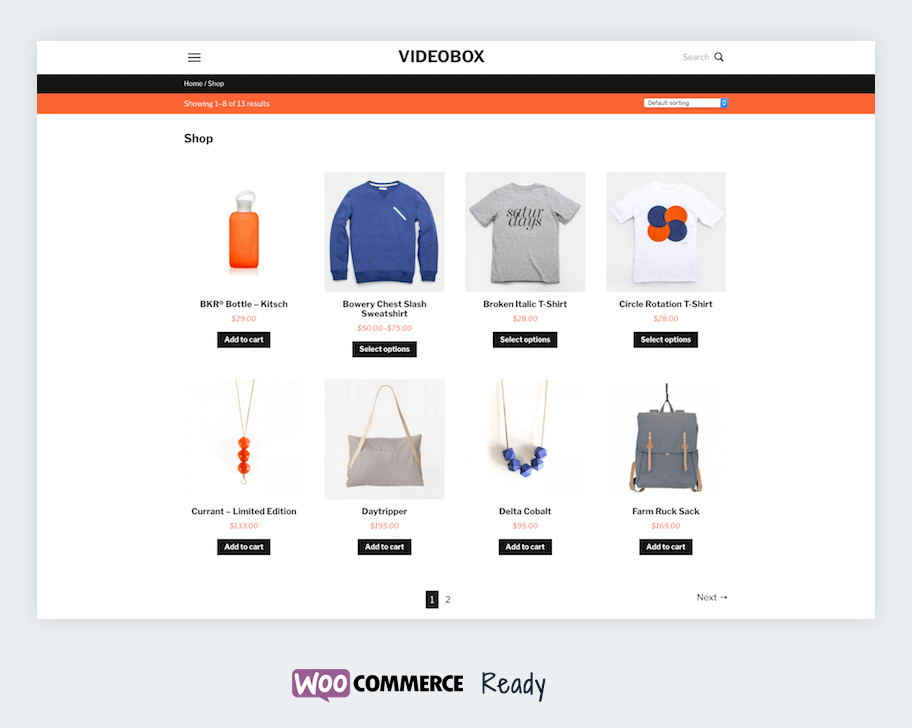 ---
Other Features
VideoBox is packed full of features that will take your website to the next level:
Infinite Scrolling – use regular paginated navigation to show off your videos or switch to infinite scroll to automatically load new posts as you scroll down the page. You can also have more posts load on click.
Featured Image for Categories – you can customize each category page by adding a short description and a featured image. See here an example.