Features
Theme Options PanelWith our advanced Theme Options Panel, you can easily change every detail of your theme to best suit your needs.
Responsive & Retina ReadyThe layout of this theme automatically adapts to fit on any screen resolution on desktop and mobile devices (iPhone, iPad).
Visual CustomizerUse the visual customization options to get the colors and fonts which match your style and branding.
WooCommerce SupportInstall the WooCommerce plugin and sell products straight from your website.
---
Select a Demo
Reel is a hugely flexible WordPress gallery theme. Below are some examples of sites you can create using the theme (all of these layouts can be very easily imported).
---
Latest Updates:
We regularly update all of our WordPress themes, including Reel. Here's what we've added recently…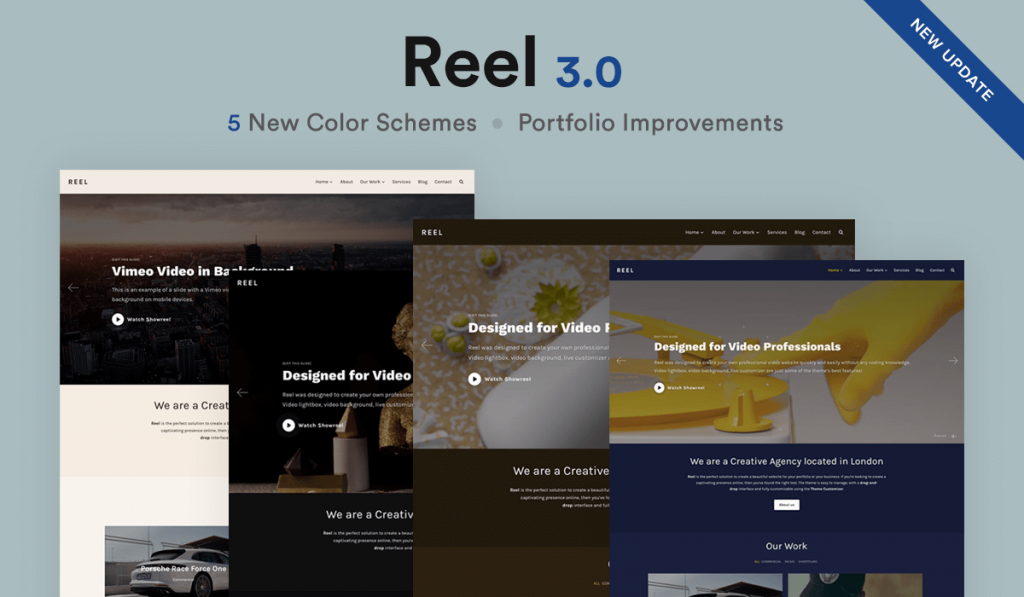 Reel 3.0
5 New Color Schemes + 2 New Theme Styles
Full-width header option
New styles & options for Portfolio Showcase widget
---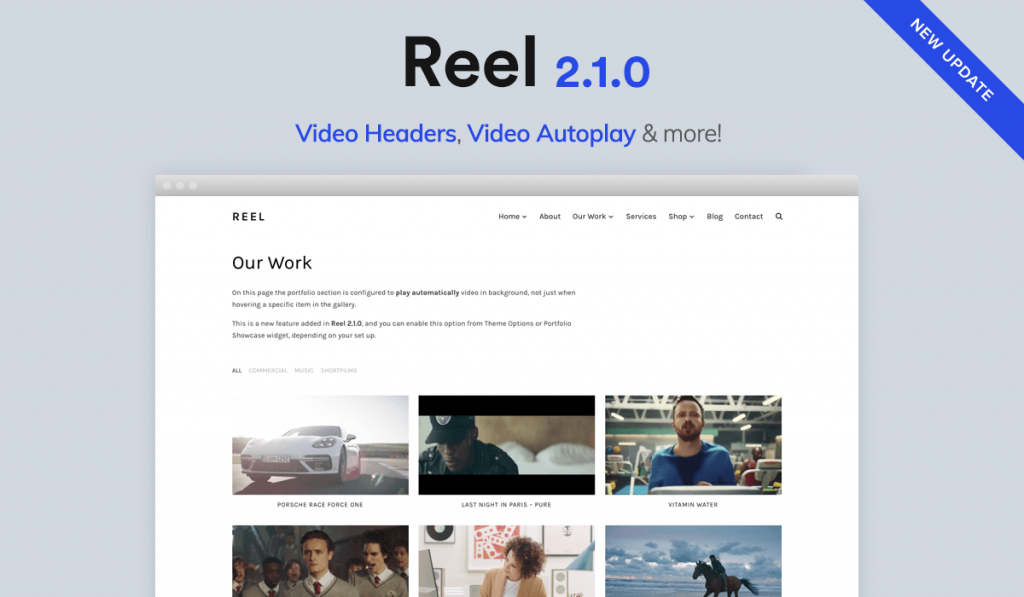 Reel 2.1
Generate Video Background on Hover in Portfolio from YouTube & Vimeo videos using GIPHY integration. More details.
New option to Sync fonts in the Customizer across entire theme.
Video Header Background in Portfolio Posts.
New: Automatically play portfolio background video (not just on hover). Experimental feature.
Added new font and color options in the Customizer
---
Reel 2.0
New: Beaver Builder Integration.
New "Portfolio Showcase" widget which can be used in page builders like Beaver Builder.
New: Added support for Vimeo videos in Video Background in the Slideshow. Works best with Vimeo Plus, Pro and Business accounts.
New: Video Background in Slideshow now works on Mobile devices (you can disable it from Customizer > Homepage Slider).
Homepage Slideshow options moved to Customizer > Homepage Slider.
New feature: Slideshow Gradient editor (see Customizer > Homepage Slider).
New: Video Autoplay in Background on Posts hovering in Portfolio pages.
New option in Theme Options > Portfolio Options: "Open Lightbox by Clicking Entire Thumbnail".
NEW: Added option in Customizer > Header Options to disable the strikethrough hover effect.
Slideshow text can now be edited fully using the new block editor (Gutenberg).
---
Responsive Layout
Reel features a fluid, responsive layout, so your pages will display perfectly across mobile and tablet devices. Every detail of your website will look perfect and professional, regardless of what resolution or screen size visitors have.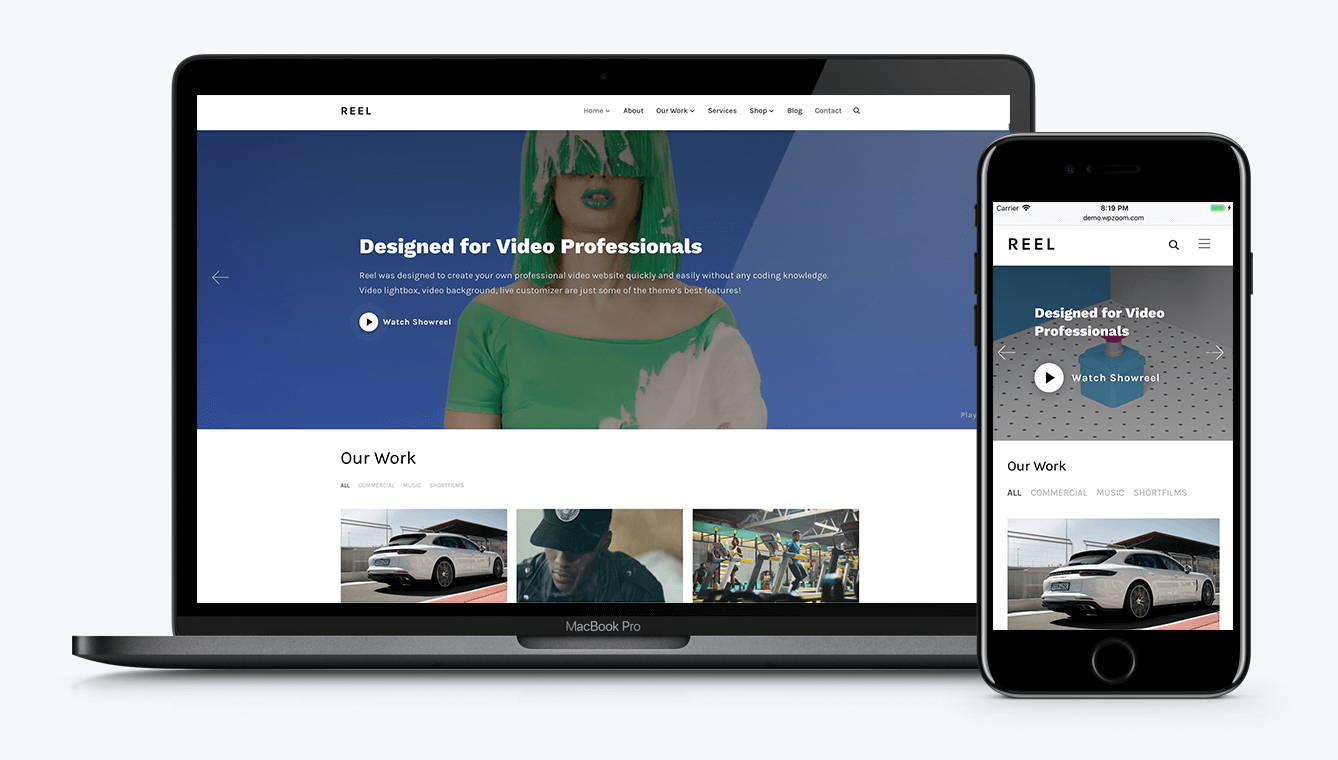 ---
Slideshow with Video Background & Lightbox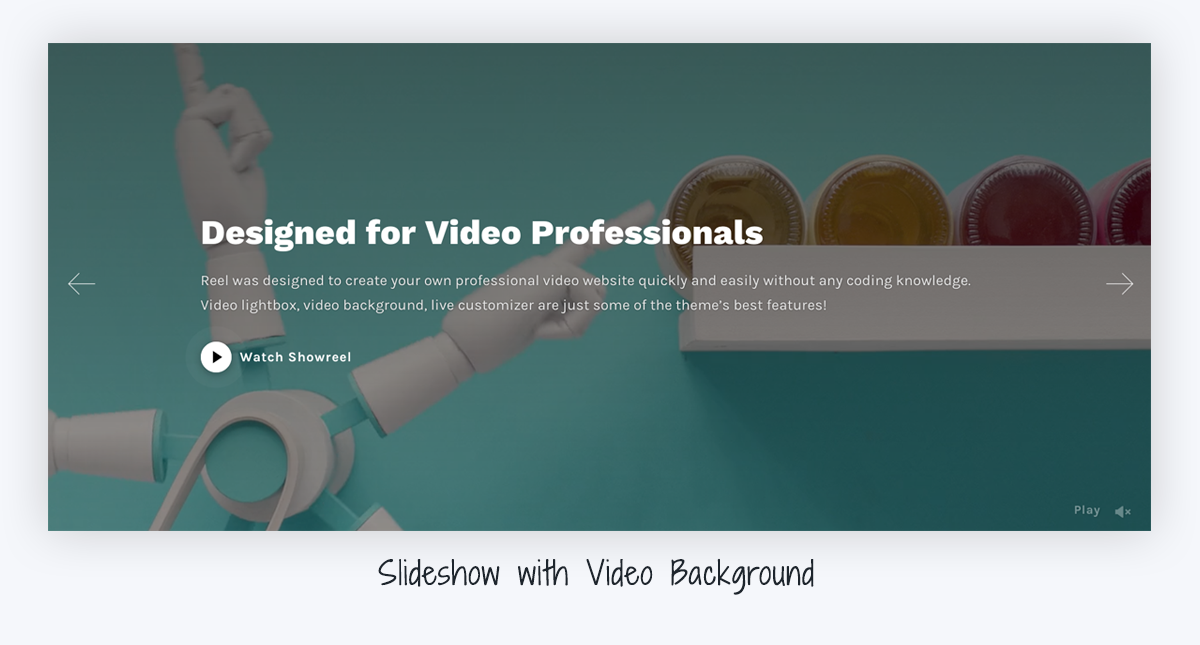 Reel comes packaged with a powerful homepage slideshow that works great with images and videos. It can be also easily converted in a static section instead of a slideshow.
The Slideshow supports Vimeo, YouTube and self-hosted video backgrounds. Just enter the URL of a Vimeo or YouTube video or upload your self-hosted video and the theme will do the rest.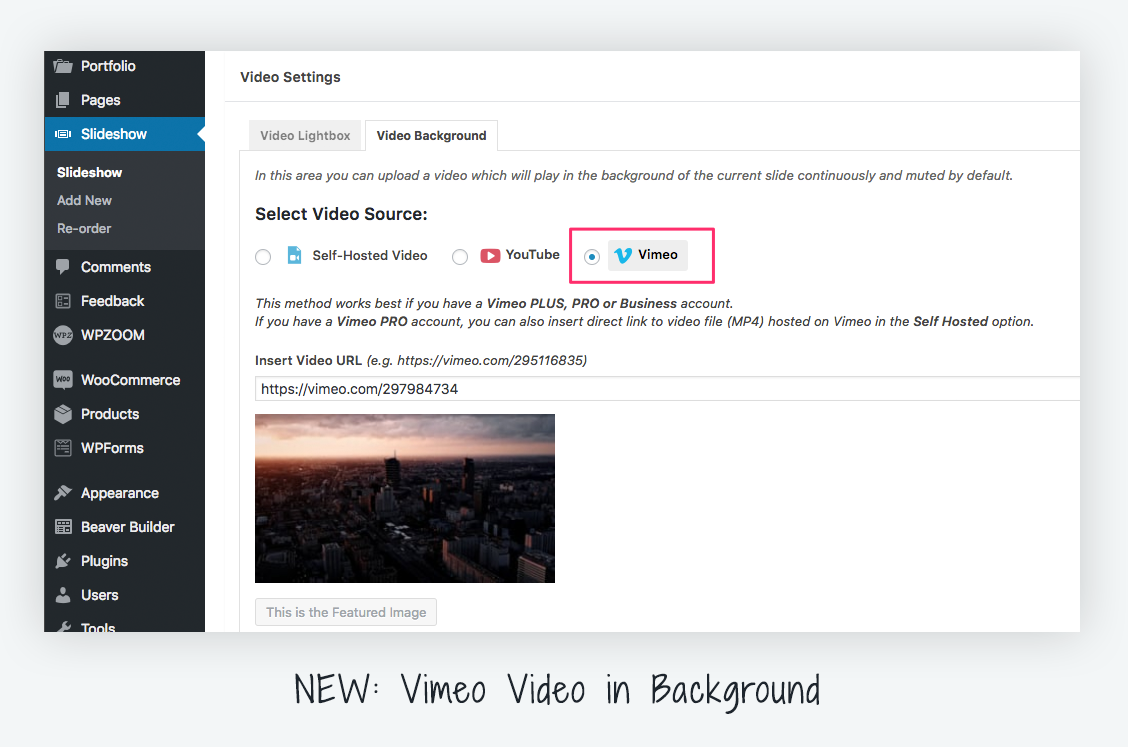 A video lightbox is also integrated in the homepage slideshow where you can feature YouTube, Vimeo or self-hosted videos.
This makes Reel a great theme choice if you have a video of a demo reel or a product that you want to feature on the front page.
---
Video Background on Mobile Devices!
Yes, you're reading it correctly! Reel 2.0 supports a video background on mobile devices. Self-hosted and Vimeo videos will now play automatically on your website, as long as your mobile devices are not in the Low Power Mode.
If you prefer to have an image fallback on mobile devices, there is a new option in the Customizer > Homepage Slider which lets you disable video background on mobile devices: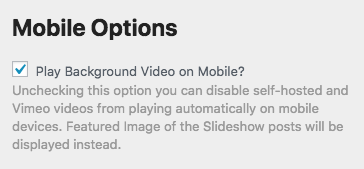 ---
Page Builder Integration
Reel comes with a full fledged drag & drop page builder that allows you to create countless pages using the content and media shortcodes.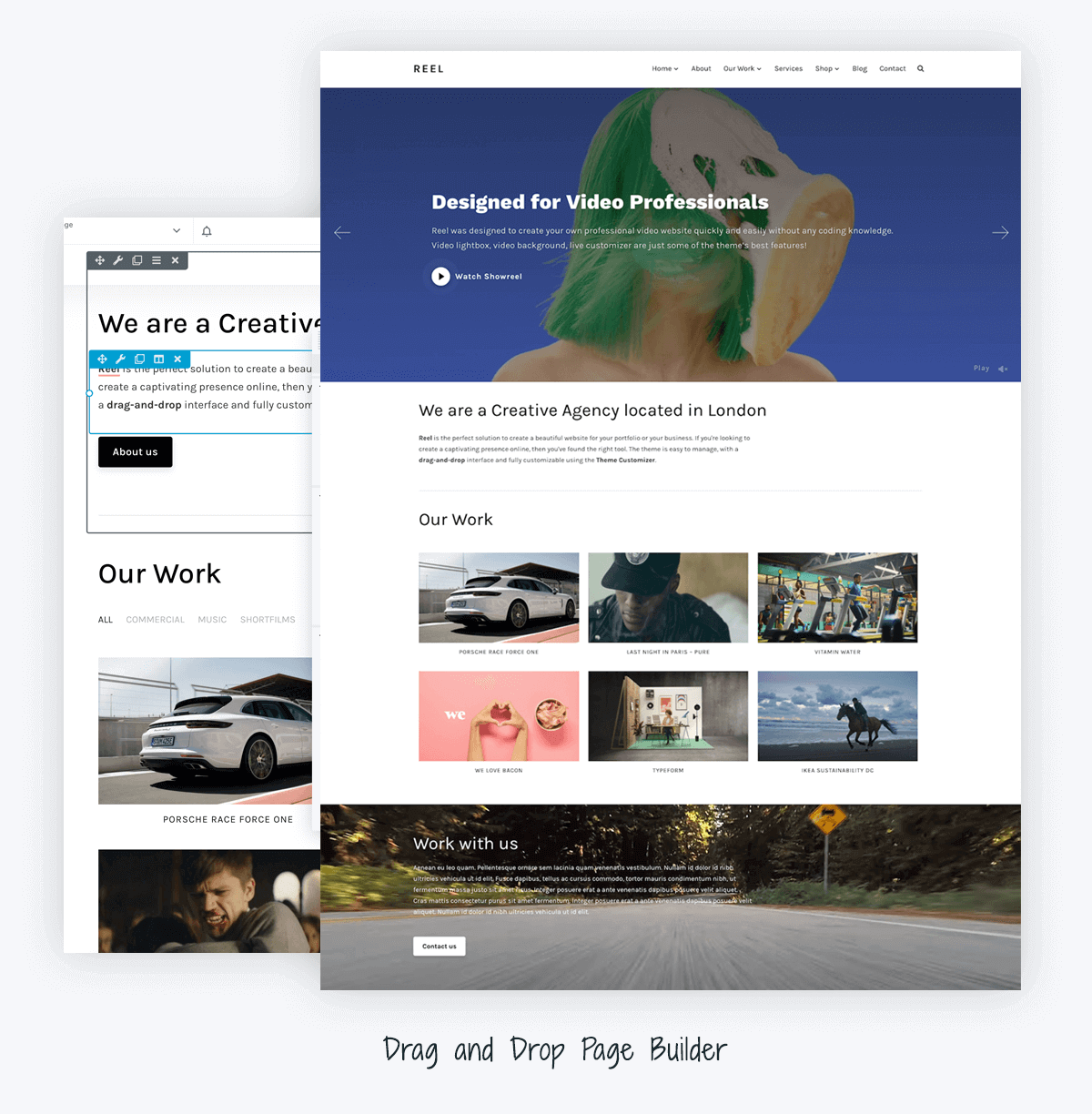 In order to make using the drag and drop Page Builder easy for you, we've included a few pre-built templates which you can import to Reel with just one click.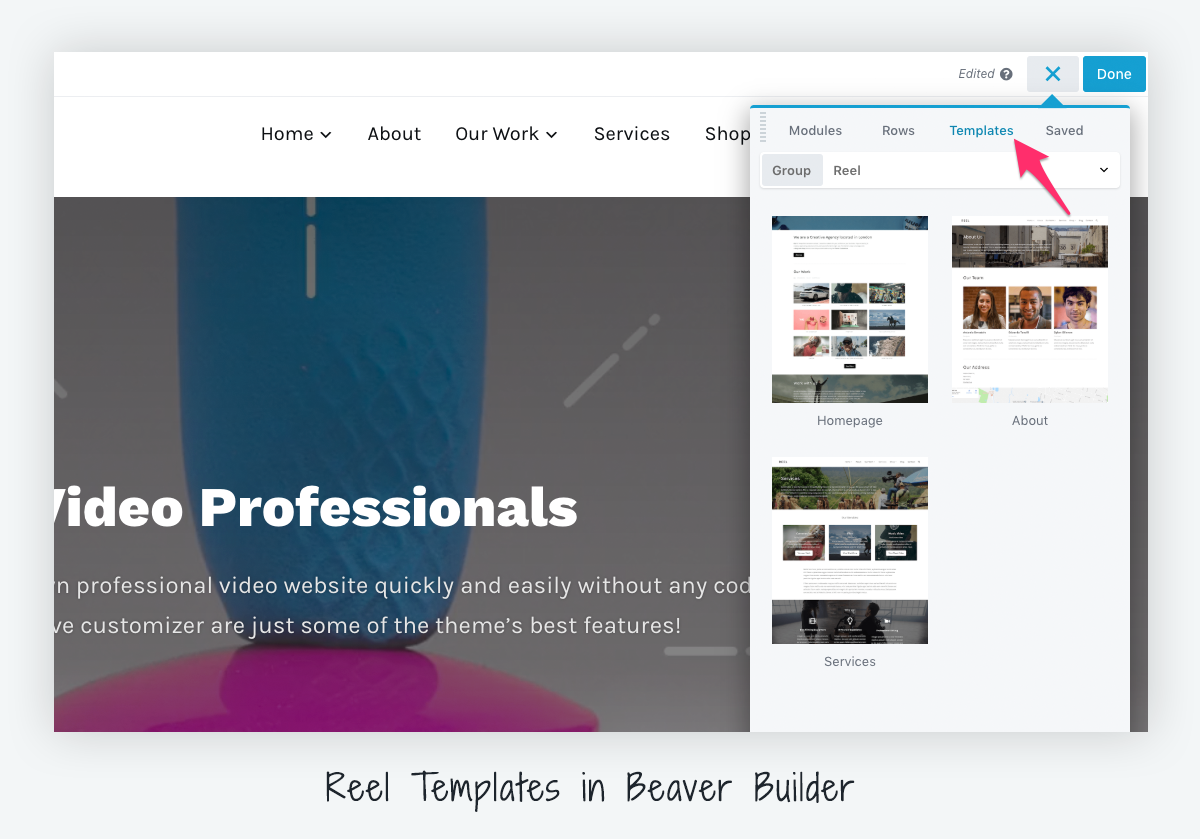 Below you can see a few examples of pages created using the Page Builder:
Homepage
About page
Services page
---
Multiple Portfolio Templates
The theme includes 3 Portfolio Templates, but you have full control to customize and configure each of them as you want. You can easily change the number of video columns from 2, 3 or 4.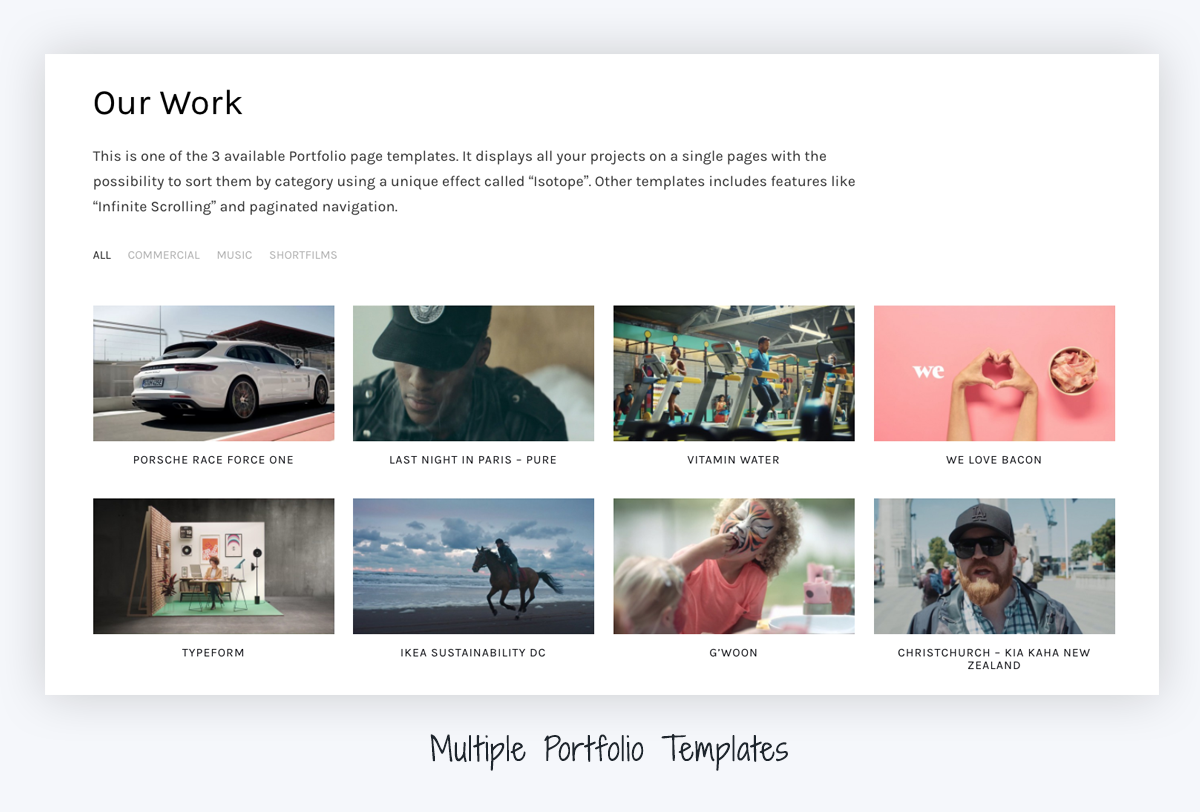 ---
Video Headers in Portfolio Posts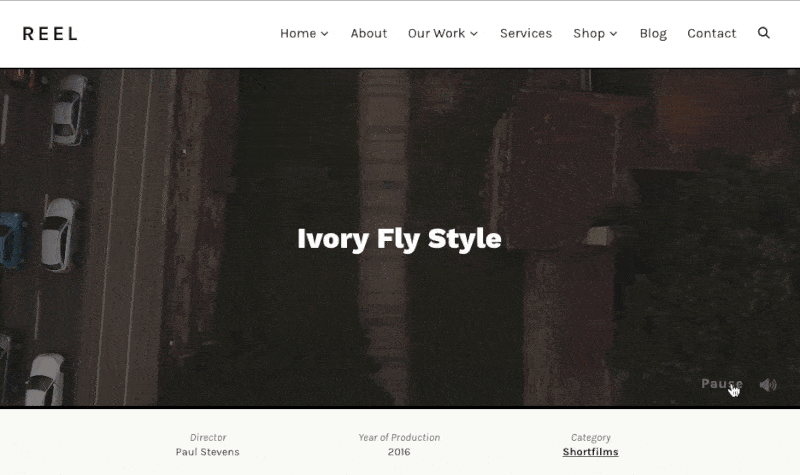 With the new Reel 2.1 update, the theme became even more powerful for video creators.
We've added new options in the Video Settings from Portfolio posts so you can customize the header area with a background video.
This feature works great with self-hosted videos as well as YouTube and Vimeo videos.
You can view here a live example of a post with a video header.
---
Video Background when Hovering Portfolio posts
In Reel 2.0 we've also integrated another great feature for video professionals. You can assign a short video to each of your portfolio posts to play when hovering that specific post in the Portfolio gallery. See it live on the demo page.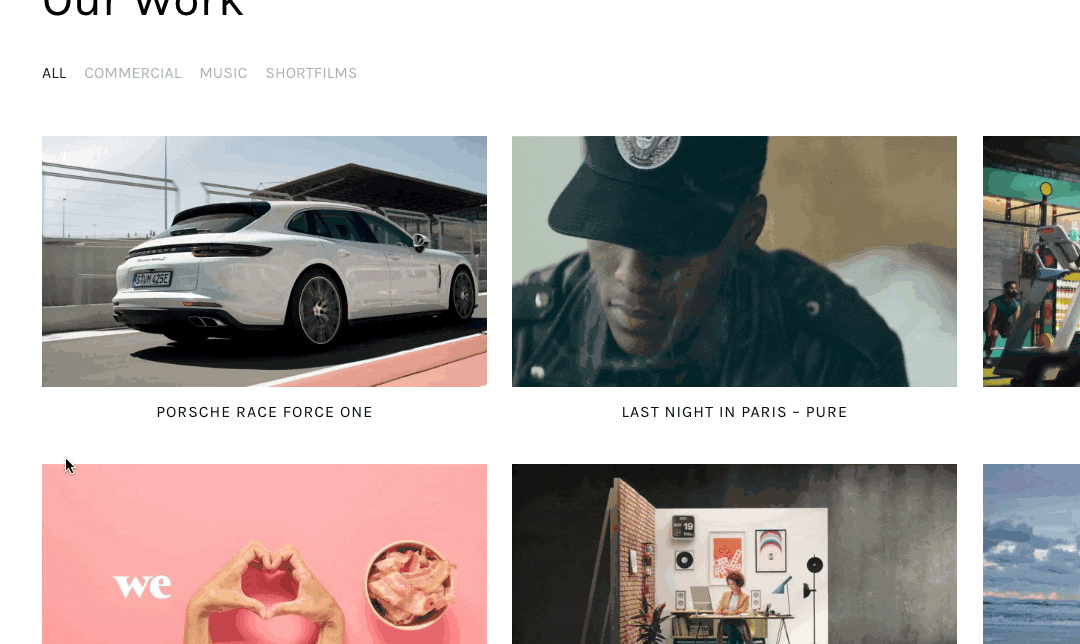 Thanks to a new GIPHY integration that we've added to our theme, it's now possible to use a YouTube or Vimeo link for the video shown on hover in the portfolio, not just self-hosted videos.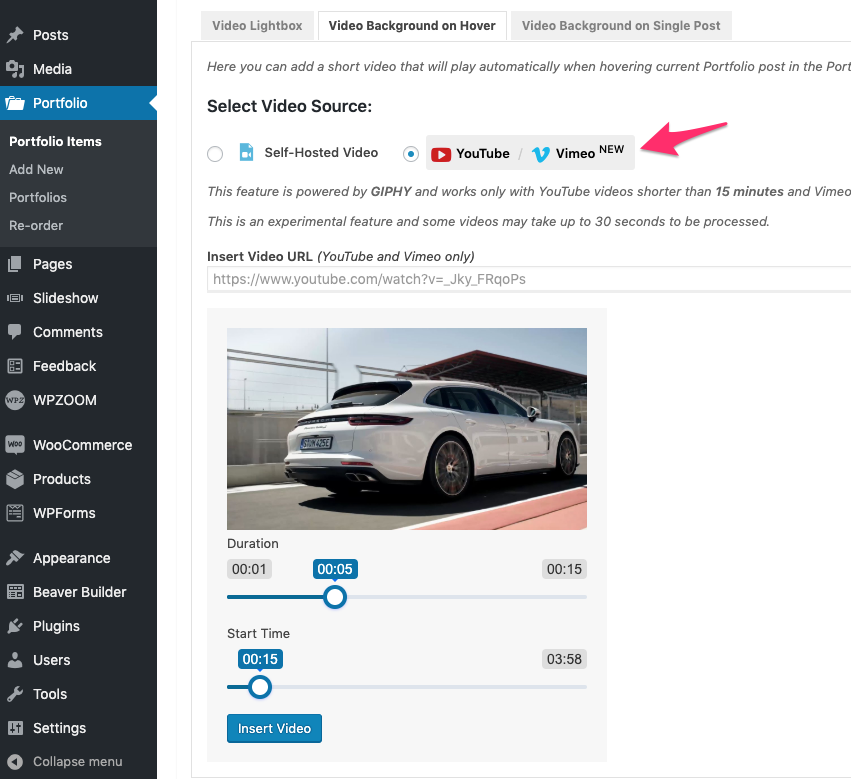 This feature will save you a lot of time, as until now it supported only self-hosted videos, meaning that you had to manually prepare and optimize the MP4 file. Well, now everything is done automatically for you.
You can even adjust the duration and the start point for each video.
---
Autoplay Video Background in Portfolio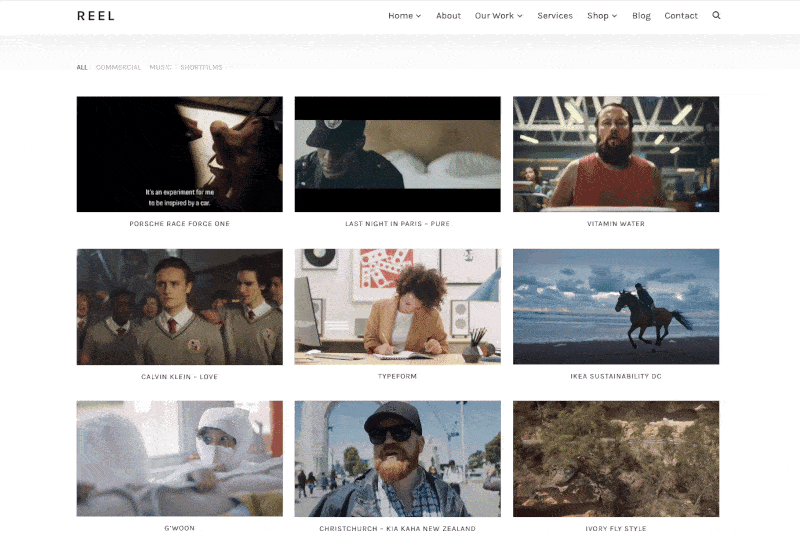 Reel includes an option that can make all videos in the portfolio to play continuously.
Since videos generated using the GIPHY API are very small and well optimized, so you can enable this option without worrying that it will slow down your website.
---
Personalize to Match Your Style
The Live Customizer allows you to make changes to the theme and get an immediate preview. Customize Colors, Fonts, Background, Logo, Menu, Widgets and more, all with a live preview.
The theme also includes support for more than 800 Google Fonts.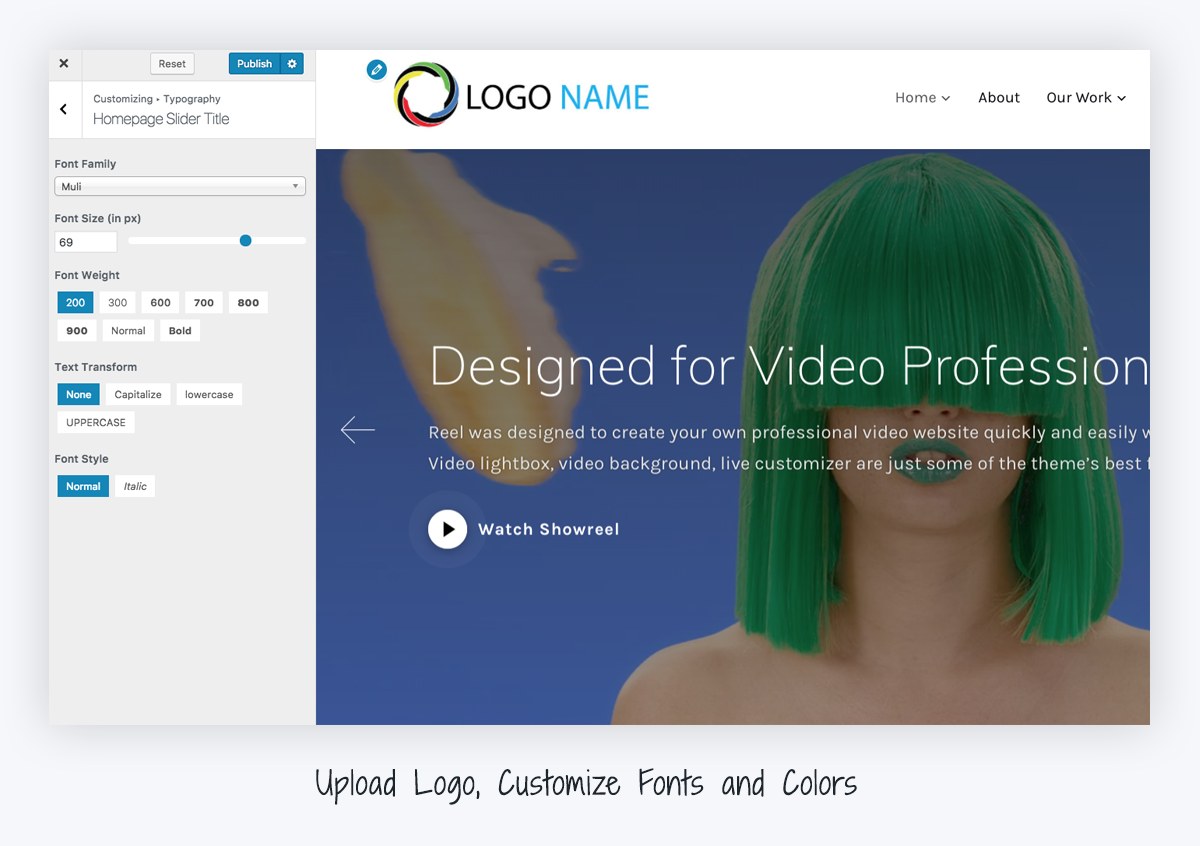 Reel 2.0 also includes a new gradient editor, so you can customize the colors of the overlay in the slideshow as you want.
---
1-Click Demo Content Install
You can replicate the structure and the look of the demo page with one click, by loading the dummy content and widgets.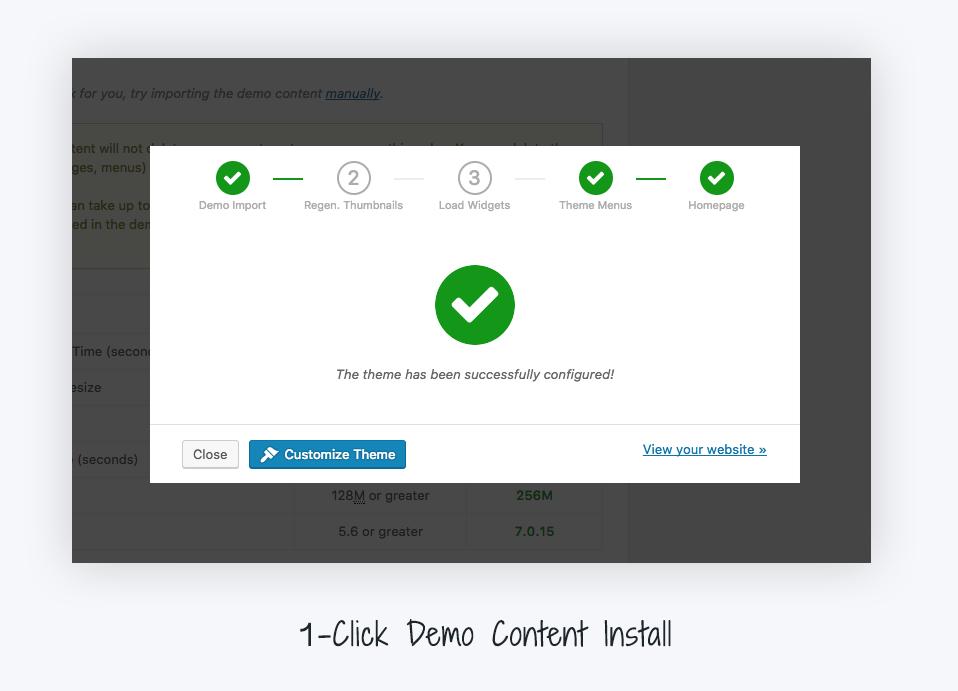 ---
WooCommerce Ready

Selling through your website? Reel is fully compatible with the popular free eCommerce plugin WooCommerce.
Build your own shop and start selling easily anything you want!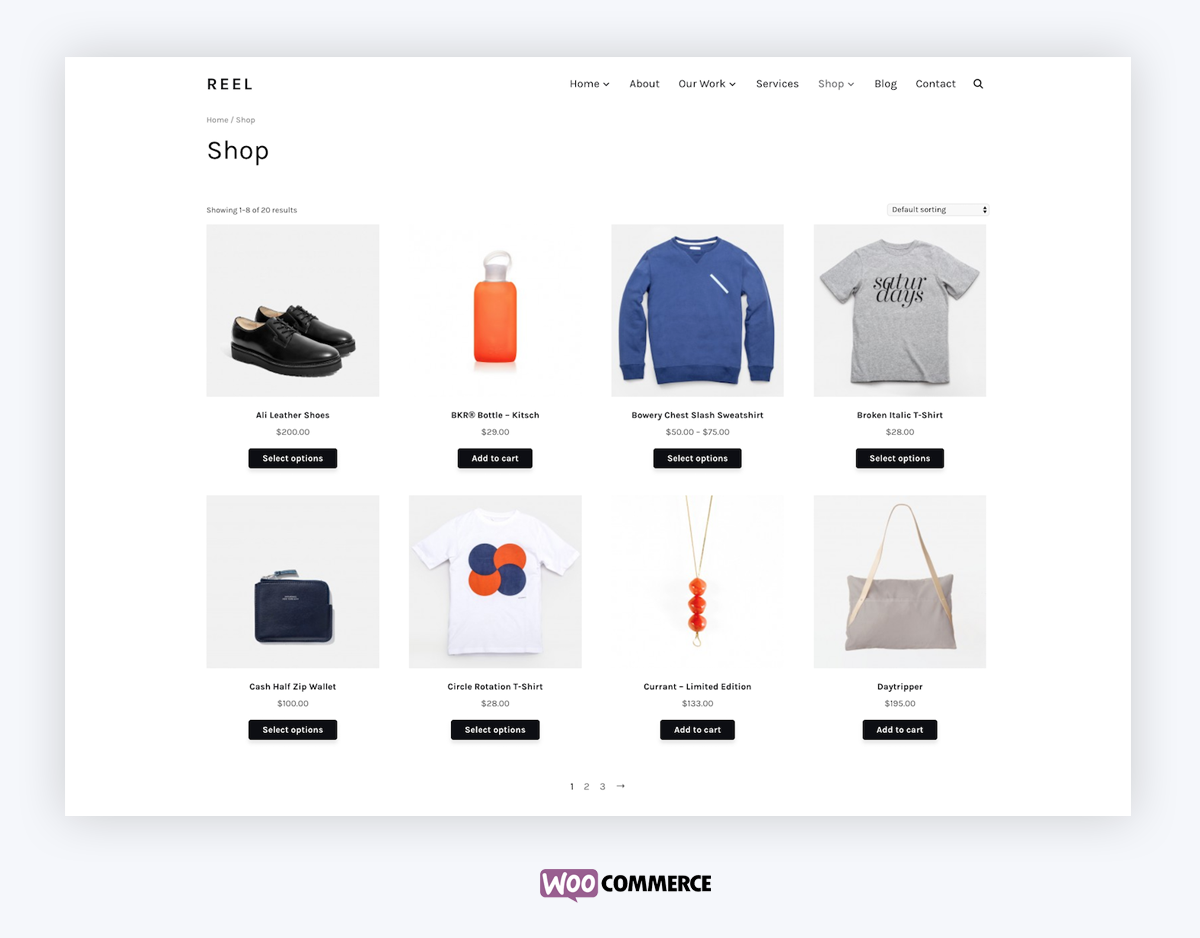 ---
Other Features
Reel is packed full of features that will take your website to the next level:
Sticky Header – The menu bar at the top uses a special effect that will keep it at the top of the page when scrolling down.
Infinite Scroll – For portfolio and blog posts you can use the regular paginated navigation or switch to infinite scroll to load new posts when clicking the Load More button.
---
Looking for more WordPress themes? Reel is on our list of the best portfolio blog WordPress themes.