Features
Theme Options PanelWith our advanced Theme Options Panel, you can easily change every detail of your theme to best suit your needs.
Responsive & Retina ReadyThe layout of this theme automatically adapts to fit on any screen resolution on desktop and mobile devices (iPhone, iPad).
Visual CustomizerUse the visual customization options to get the colors and fonts which match your style and branding.
WooCommerce SupportInstall the WooCommerce plugin and sell products straight from your website.
---
Indigo Overview
Indigo is a bold magazine and blog theme which can be used for almost any niche. Whether you're a food, fashion, car or sports blogger, you'll be able to adapt Indigo to meet your needs in no time at all. In the theme's demo we're showing some of the layout options available for the theme, but with a little playing with the available options, you can make the theme look totally different from its initial style. Take a look at what this incredible theme can do for your site.

---
Responsive Layout
Indigo features a fluid, responsive layout, so your pages will display perfectly across mobile and tablet devices. Every detail of your website will look perfect and professional, regardless of what resolution or screen size visitors have.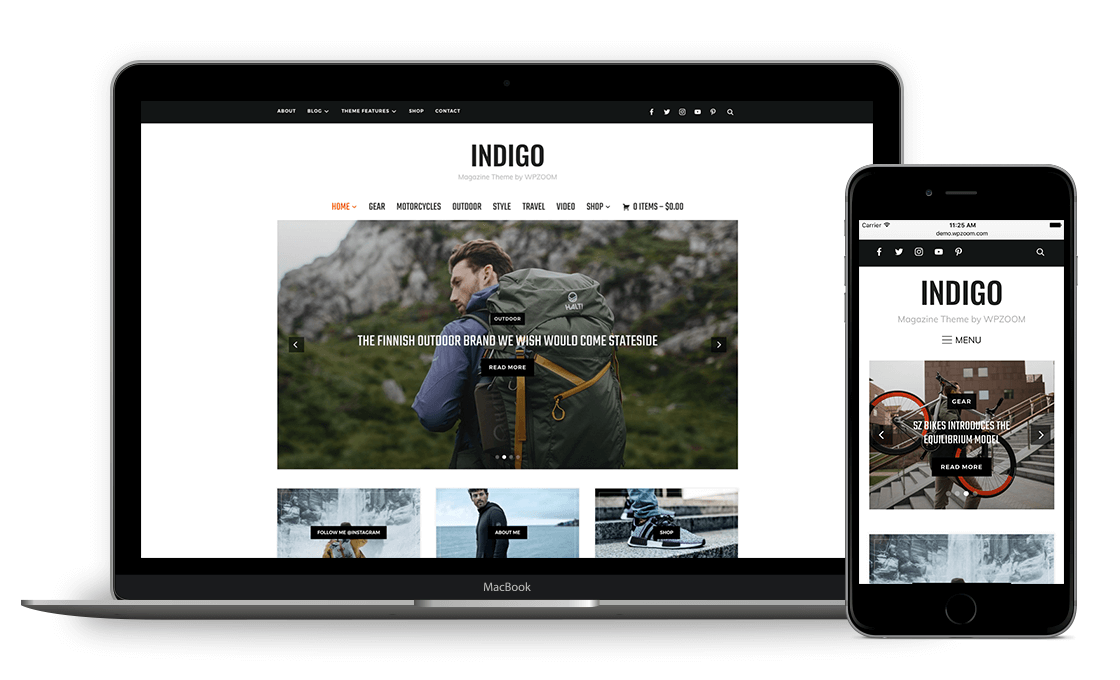 ---
Homepage Layout: Blog? Magazine? Both!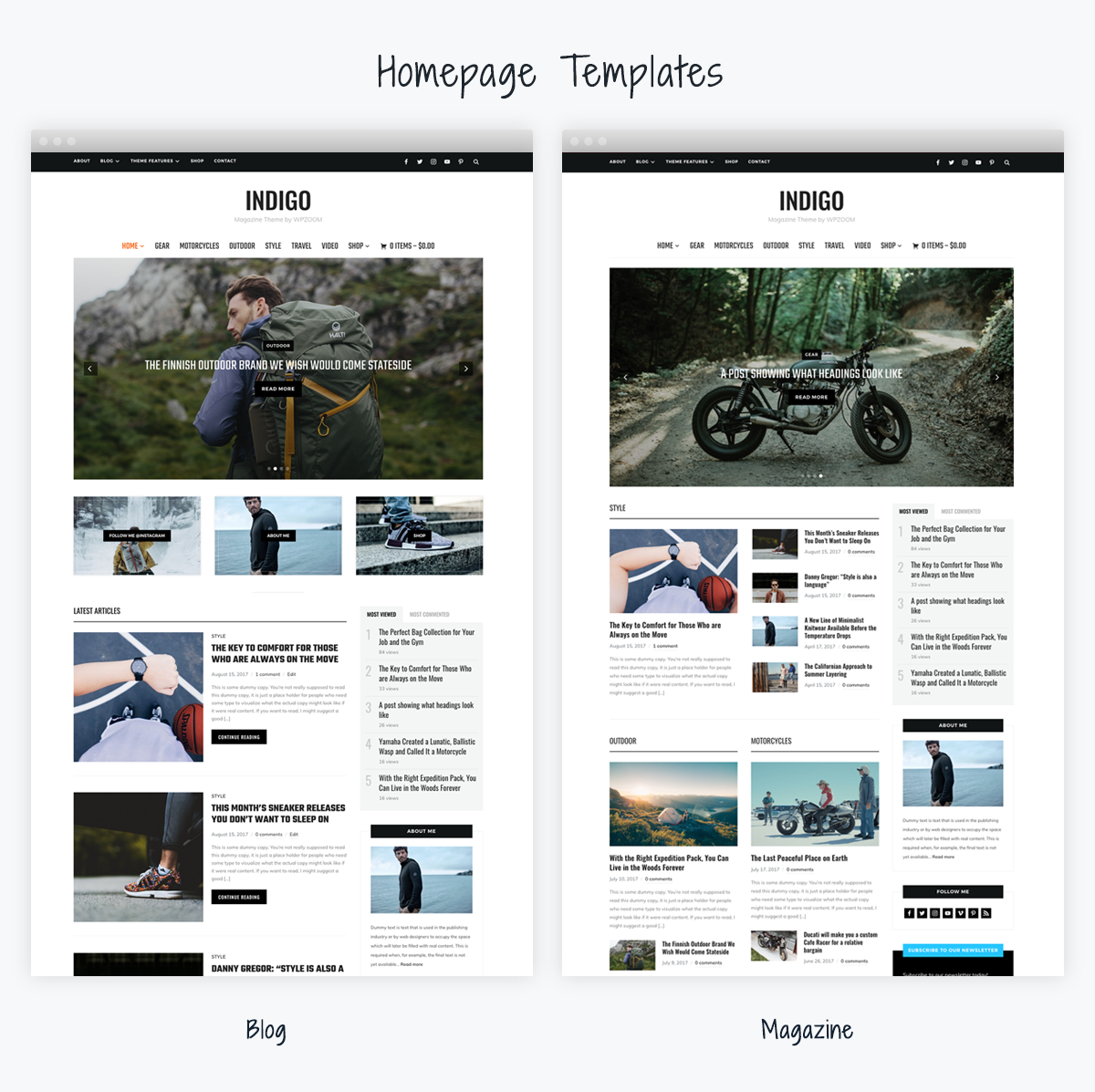 Thanks to the multiple layouts we've included, you can customize every detail of Indigo to fit your needs. The homepage can be used in both blog or magazine layouts. Or, you can even combine both layouts, and show the Latest Posts at the top and Featured Categories below. Flexibility is your forte.
The magazine layout can include multiple widgets showing posts from different categories. Plus, using the Customizer you can easily build your layout as you want: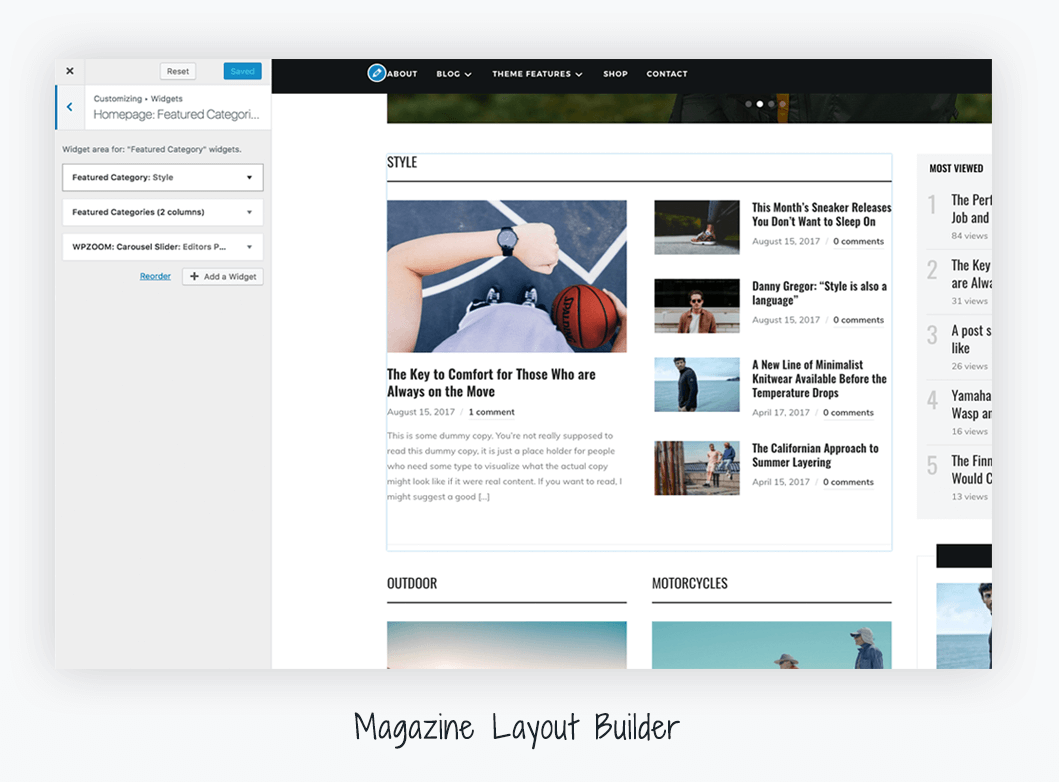 ---
Unique Widgets
Indigo comes with multiple built-in widgets created to help you to enable different features in the theme quickly, without having to find plugins that match with the design. We've done the hard work for you so you can get on with creating content.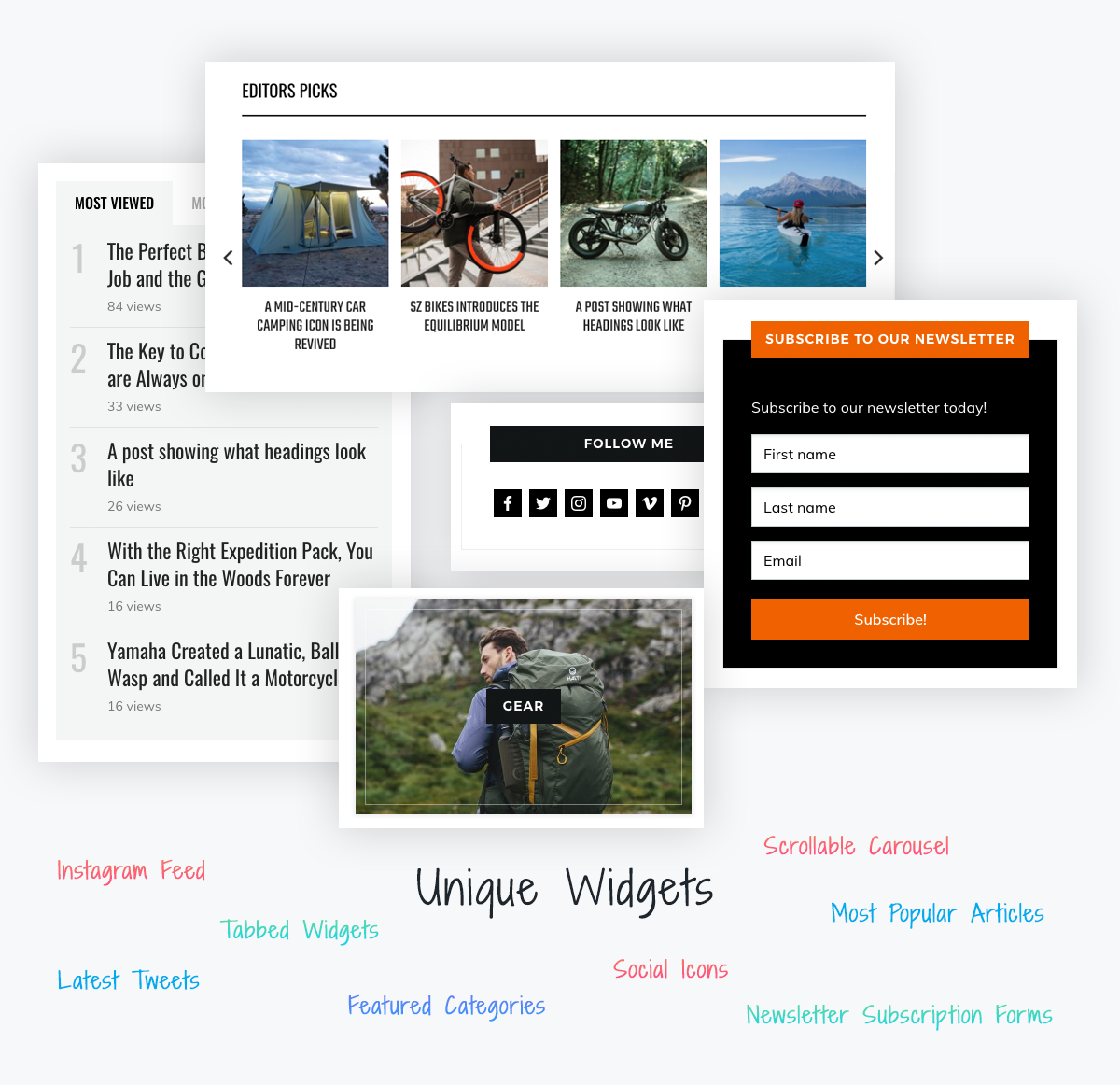 Here are just a few of the included widgets:
Carousel Slider – shows posts from different categories or tags.
Social Icons Widget – a powerful widget which supports 100+ social networks and includes other 400 custom icons thanks to FontAwesome font integration.
Tabbed Widgets – a simple but useful widget that allows you to create a tabbed area from any widgets you want.
Image Box – a widget that you can use to feature different sections or categories on your website by uploading a custom image.
Most Commented/Viewed Posts – two widgets showing a list of most popular posts sorted by number of comments or number of views.
---
Floating Sharing Buttons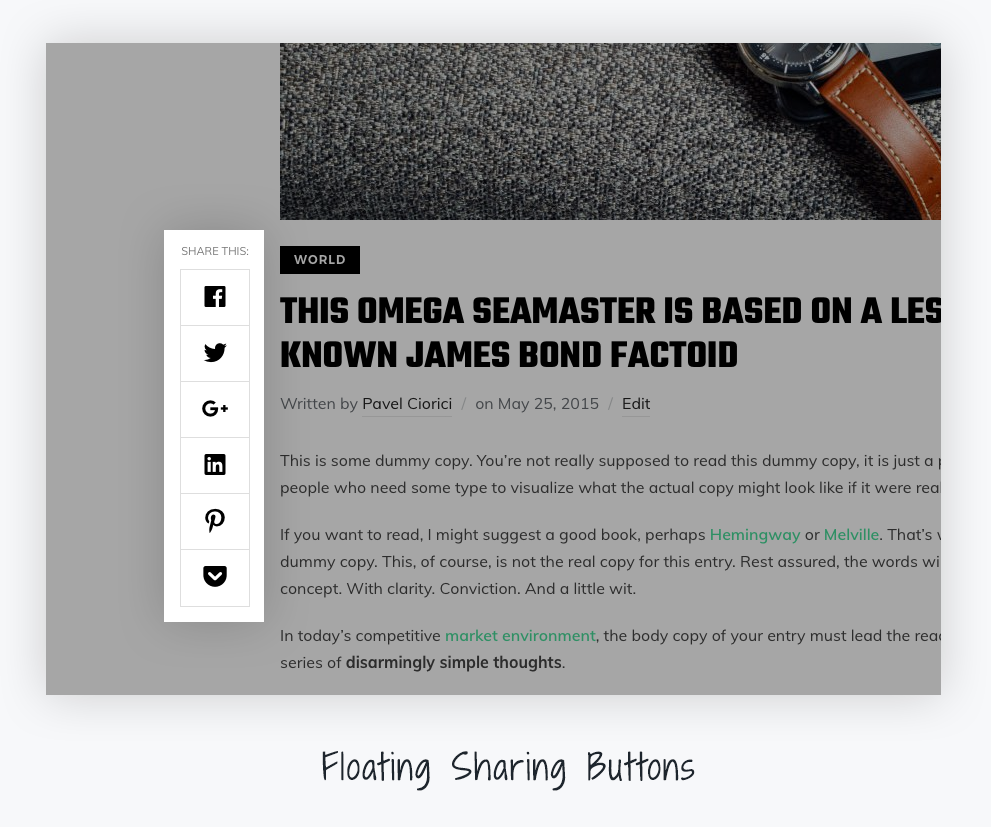 With Indigo you don't have to waste your timing finding the perfect plugin to add floating sharing buttons in the posts. We already did the hard part for you, and by enabling the Sharing feature in Jetpack plugin, you'll get some nice floating buttons that will help your visitors to share your content. Easy.
---
Beautiful & Practical Post Navigation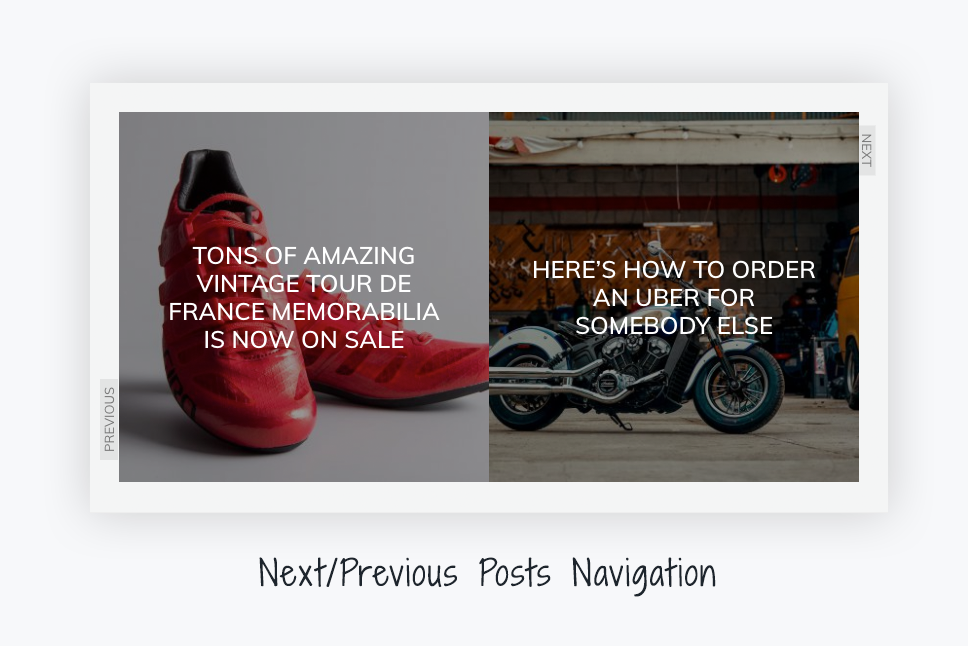 Use our beautiful Next/Previous post navigation at the end of each post to keep readers on site. Again, no need to spend hours to find a plugin that does that. Everything you need is already included in the theme.
---
6 Color Schemes + Unlimited Customization
Indigo comes with 6 pre-built color schemes, which you can quickly change from the Customizer. Choose between Green, Blue, Red, Pink and Brown. None of those appeal? Just use the Live Customizer to get the colors you want.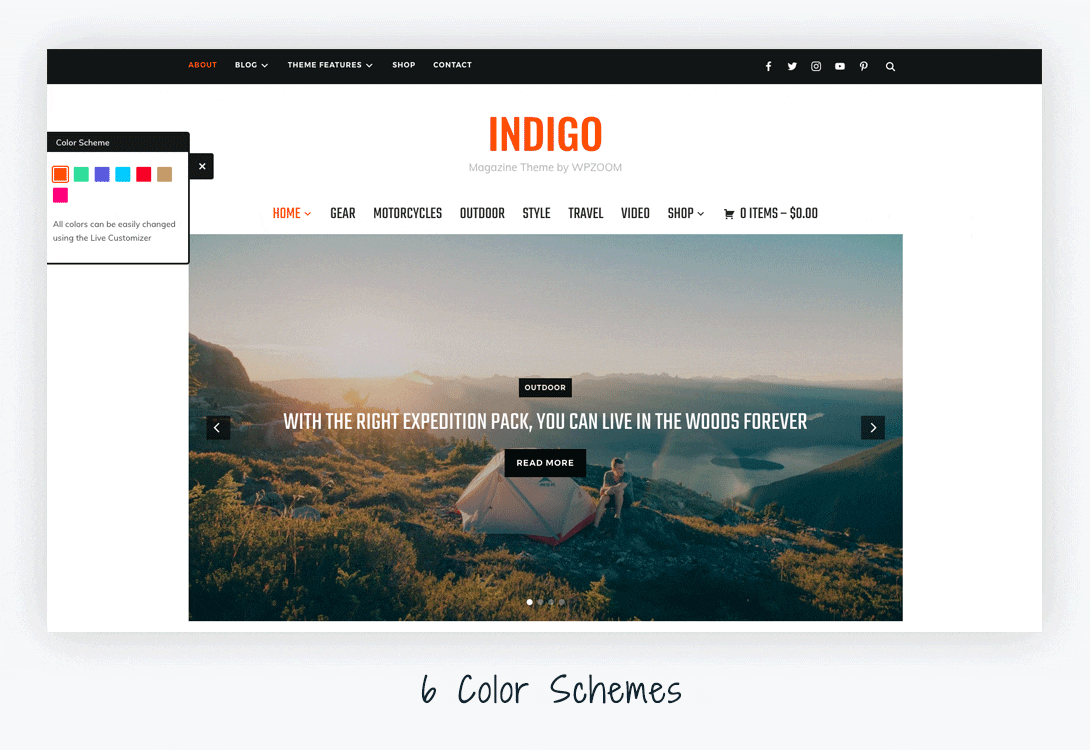 ---
Multiple Layouts & Templates
The post layouts and blog template are very customizable in Indigo. You have the full control on every detail. You can display posts in a grid layout with 2 or 3 columns or in a traditional list view. The Sidebar can also be easily enabled or disabled, depending if you need it or not. View Blog page for an example.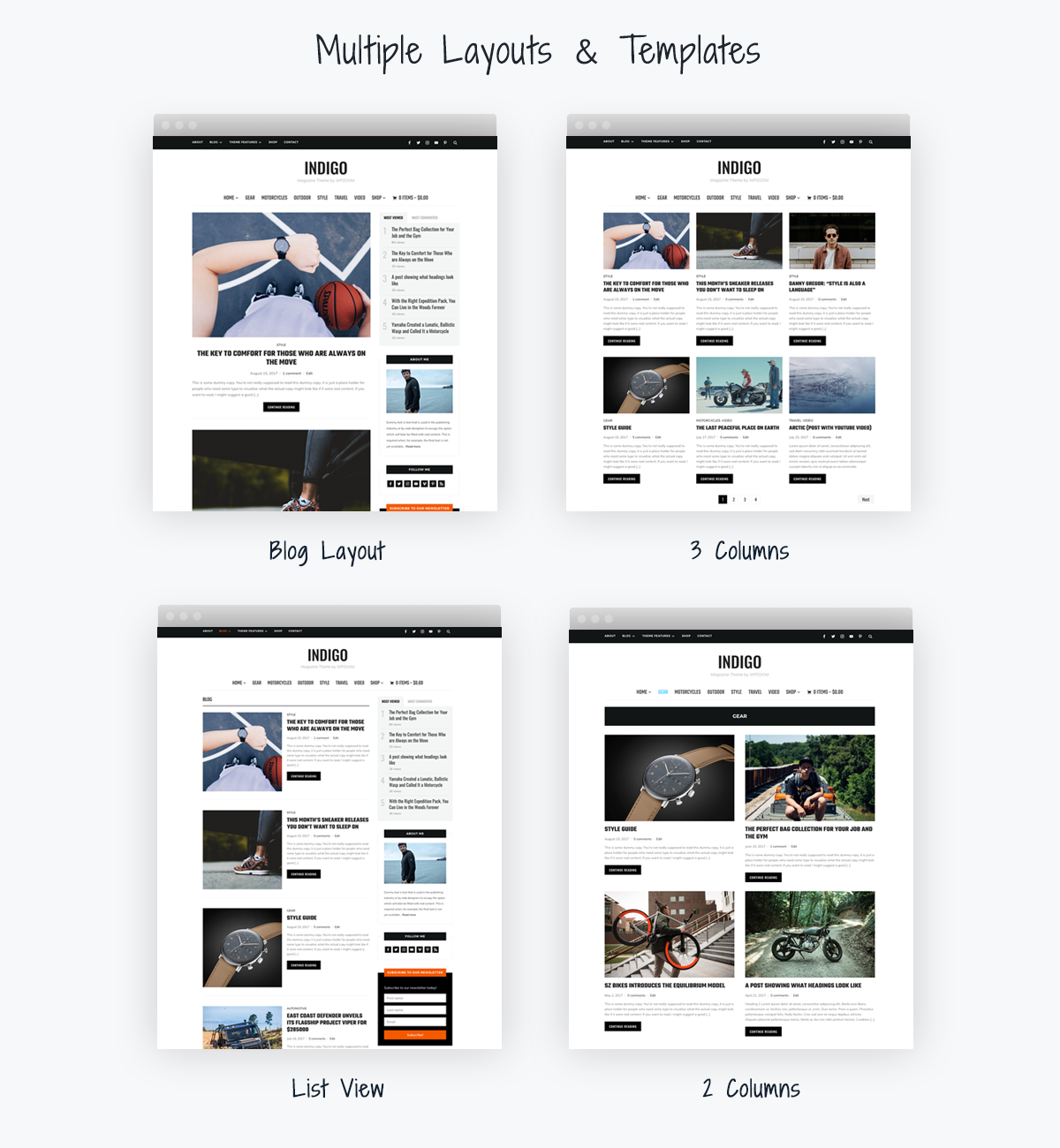 ---
Personalize to Match Your Style
The Live Customizer allows you to make changes to the theme and get an immediate preview. Customize Colors, Fonts, Background, Logo, Menu, Widgets and more, all with a live preview.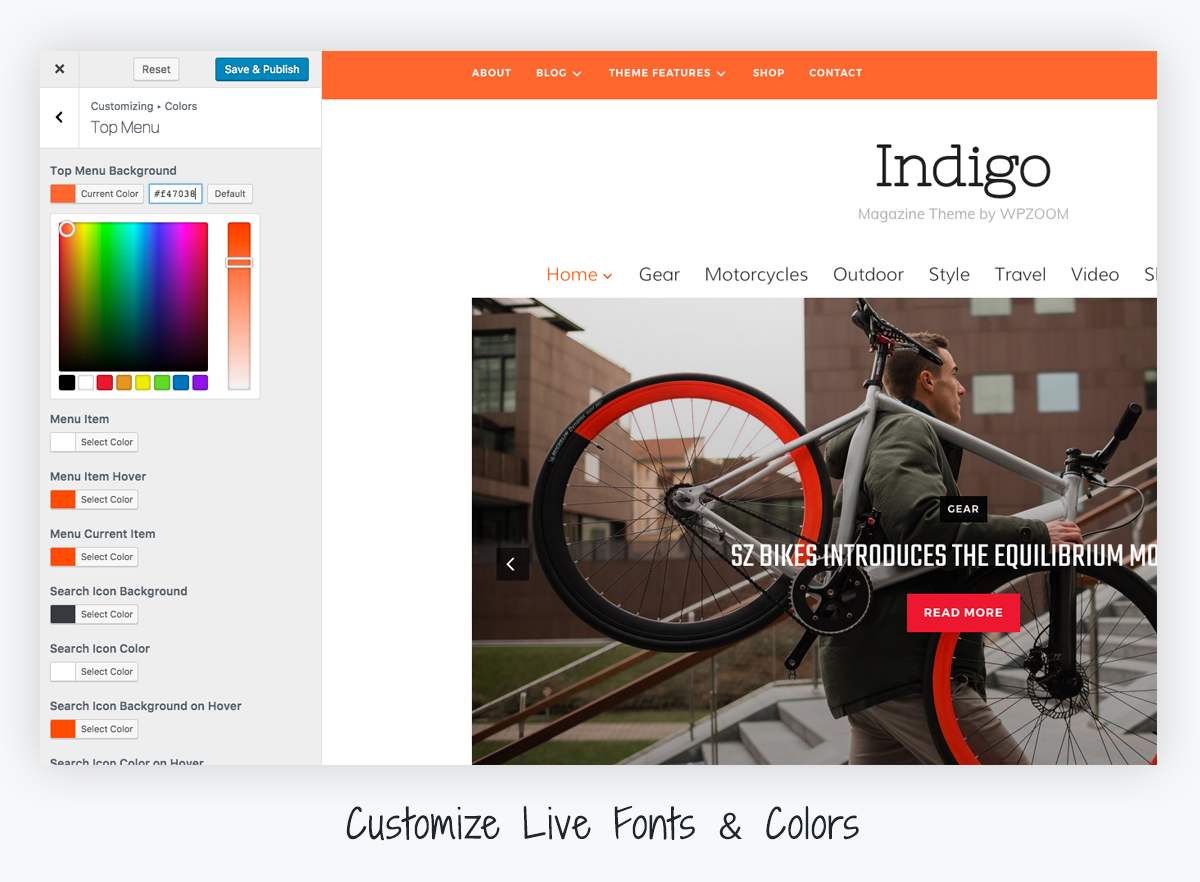 ---
WooCommerce Ready

Selling through your website? Indigo is fully compatible with the popular free eCommerce plugin WooCommerce.
Build your own shop and start selling easily anything you want!
---
Other Features
Indigo is packed full of features that will take your website to the next level:
Sticky Header – The menu bar at the top uses a special effect that will keep it at the top of the page when scrolling down.
Full-width Instagram Widget – Our free Instagram Widget can be used as a regular widget in widget areas, but we also included a full-width widget area in the Footer which displays your latest Instagram photos in a beautiful full-width stream.
Jetpack Infinite Scroll Support – For recent posts you can use the regular paginated navigation or switch to infinite scroll to automatically load new posts as you scroll down the page. You can also change the behavior of infinite scrolling to load new posts when clicking on a button.
Social Icons Widget area in the Header – in the top menu bar you can add links to any social networks you want.
Image Box Widget – below the slideshow on the front page are located 3 widget areas in which you can insert a beautiful widget called Image Box that can be used to link to any pages you want.
---
Looking for more WordPress themes? Indigo is on our list of the best magazine blog WordPress themes.