Features
Theme Options PanelWith our advanced Theme Options Panel, you can easily change every detail of your theme to best suit your needs.
Responsive & Retina ReadyThe layout of this theme automatically adapts to fit on any screen resolution on desktop and mobile devices (iPhone, iPad).
4 Color SchemesGourmand includes 4 color schemes: Blue, Red, Green, and Orange.
Multiple Ad Zones for Banners Gourmand includes 4 banner locations in which you can upload ad banners or insert Google Adsense.
Visual CustomizerUse the visual customization options to get the color and font choices which match your tastes and branding.
Compatible with GutenbergGourmand's custom blocks allows you to create beautiful recipes using the new WordPress editor Gutenberg.
---
Responsive Layout
Gourmand boasts a fluid, responsive layout, so your recipes will display perfectly across mobile and tablet devices. Images and galleries scale seamlessly when resizing the browser window. No matter what the resolution or screen size, every detail of your website will look perfect and professional.
---
Featured Area with Layout Variations
We understand how important it is to have the flexibility for creating the most convenient layout for your content. With Gourmand, you have all the necessary options to adjust and feature the recipes that need the attention of your readers the most. With the included layout variations, you can create a visual hierarchy that will convince your website visitors to stay. Here are some examples of how different layout variations can be used: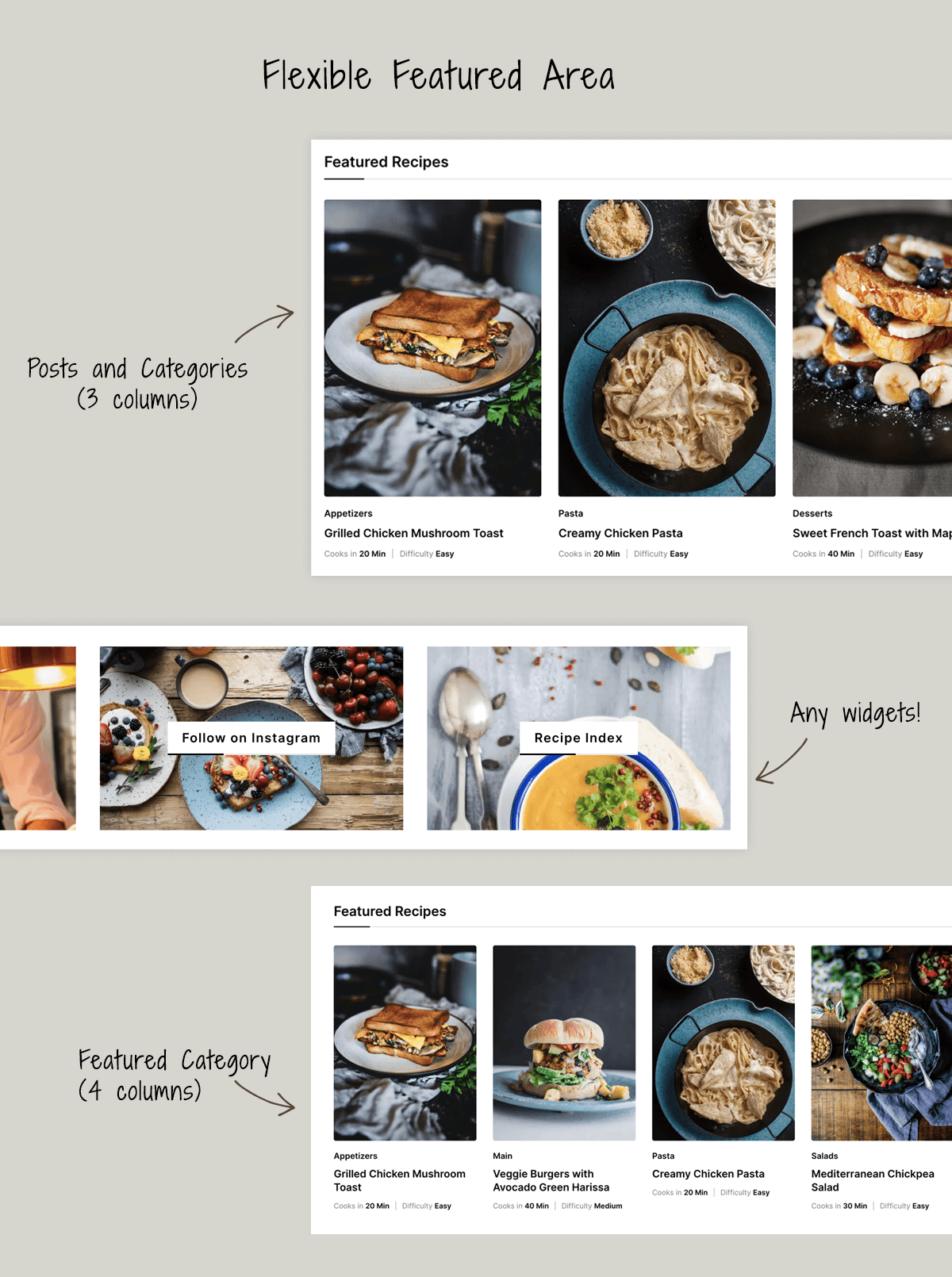 ---
Fully Widgetized Homepage
For full control over the layout of your homepage, Gourmand is completely widgetized. It includes 17 specially designed widget areas that provide flexibility for displaying your content. Custom WPZOOM widgets are also included.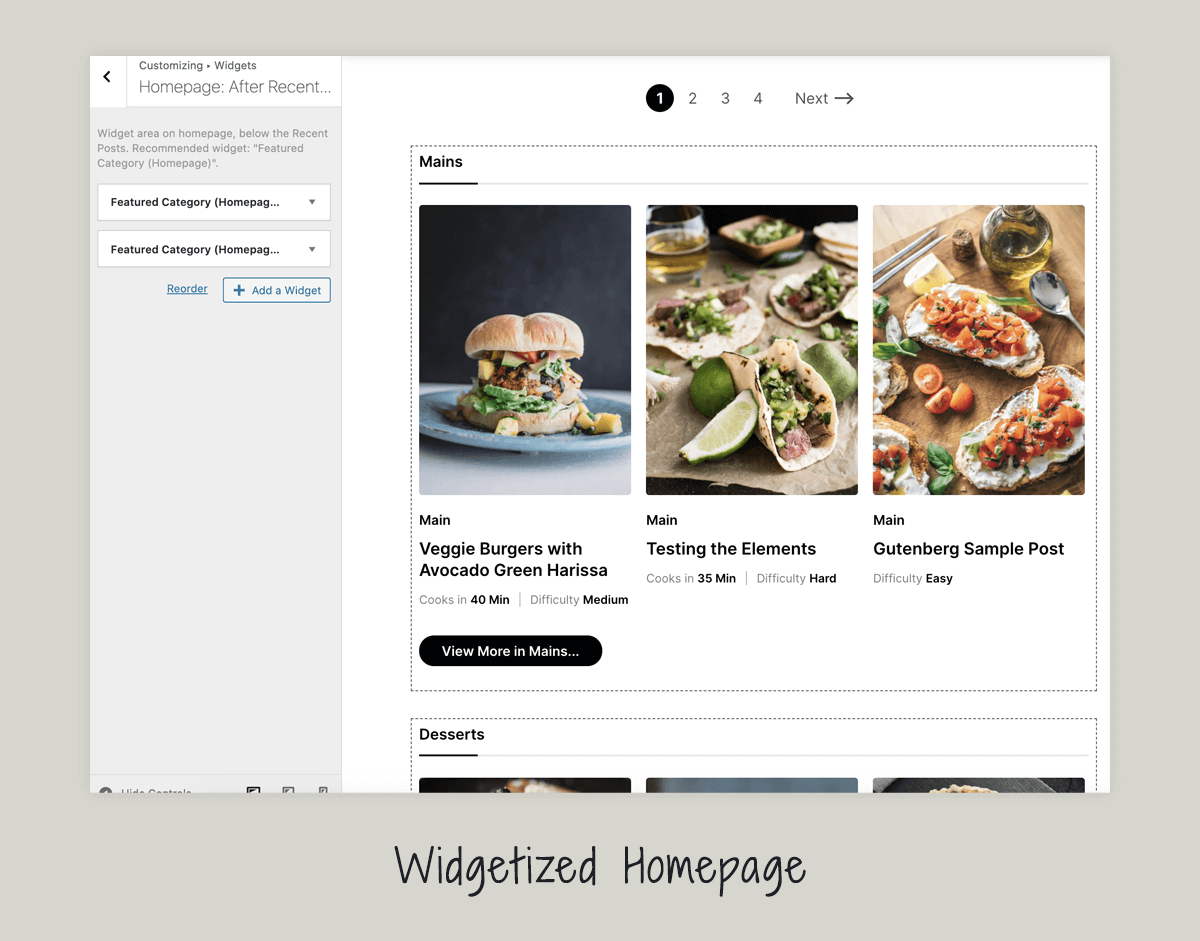 ---
Customizable Posts Options
Gourmand comes packed with multiple posts options integrated directly in the WordPress Customizer. You have the possibility to choose how your posts are displayed: with or without a sidebar, choose among different layout styles (blog, list, grid), image aspect ratio, and reorder post details.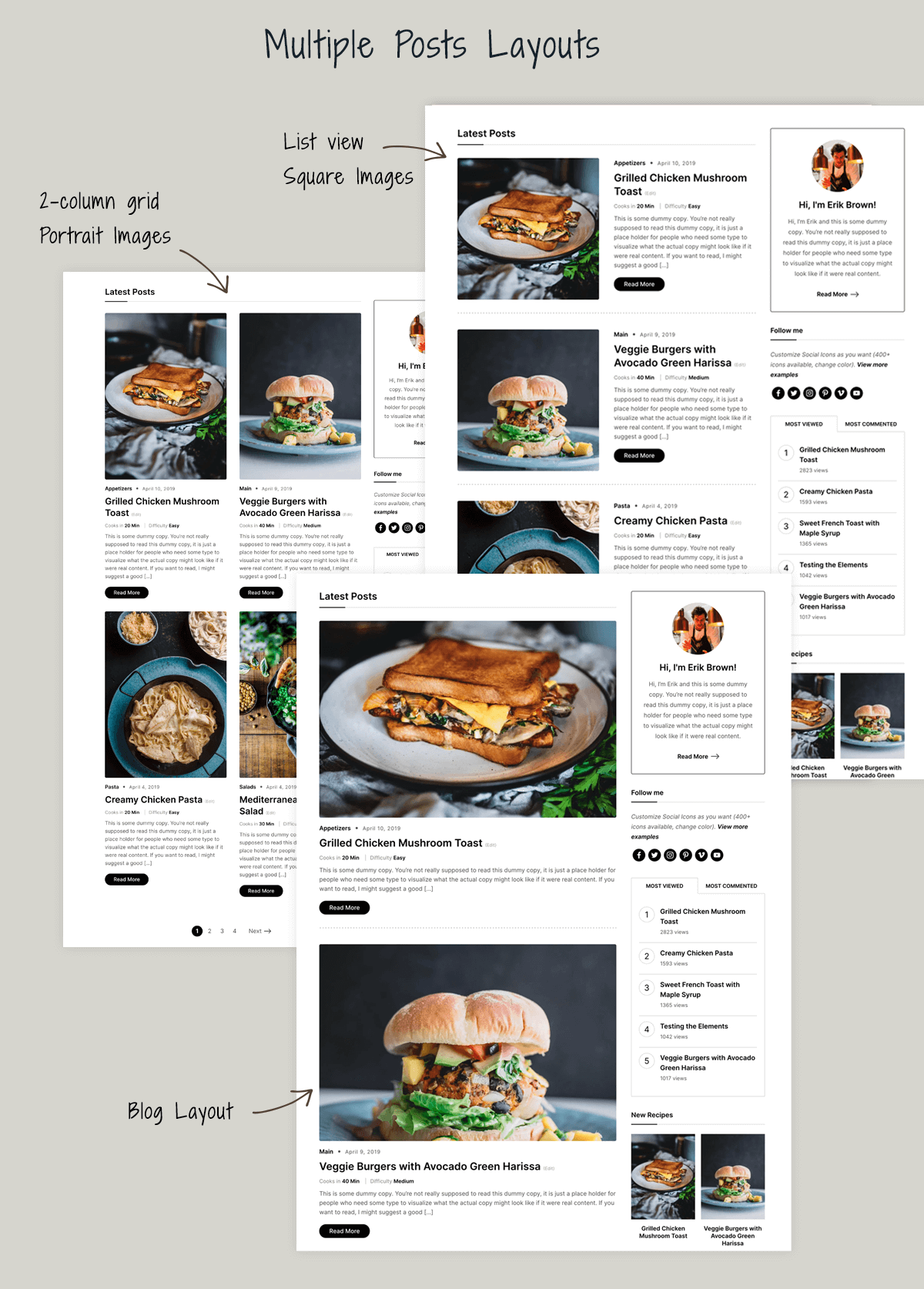 ---
NEW: Custom Recipe Details Fields in Posts
With Gourmand, the interaction of your readers with your food blog is ready to become more pleasant. The theme includes custom recipe details fields meant to describe some useful particularities of the recipe such as preparation time or difficulty.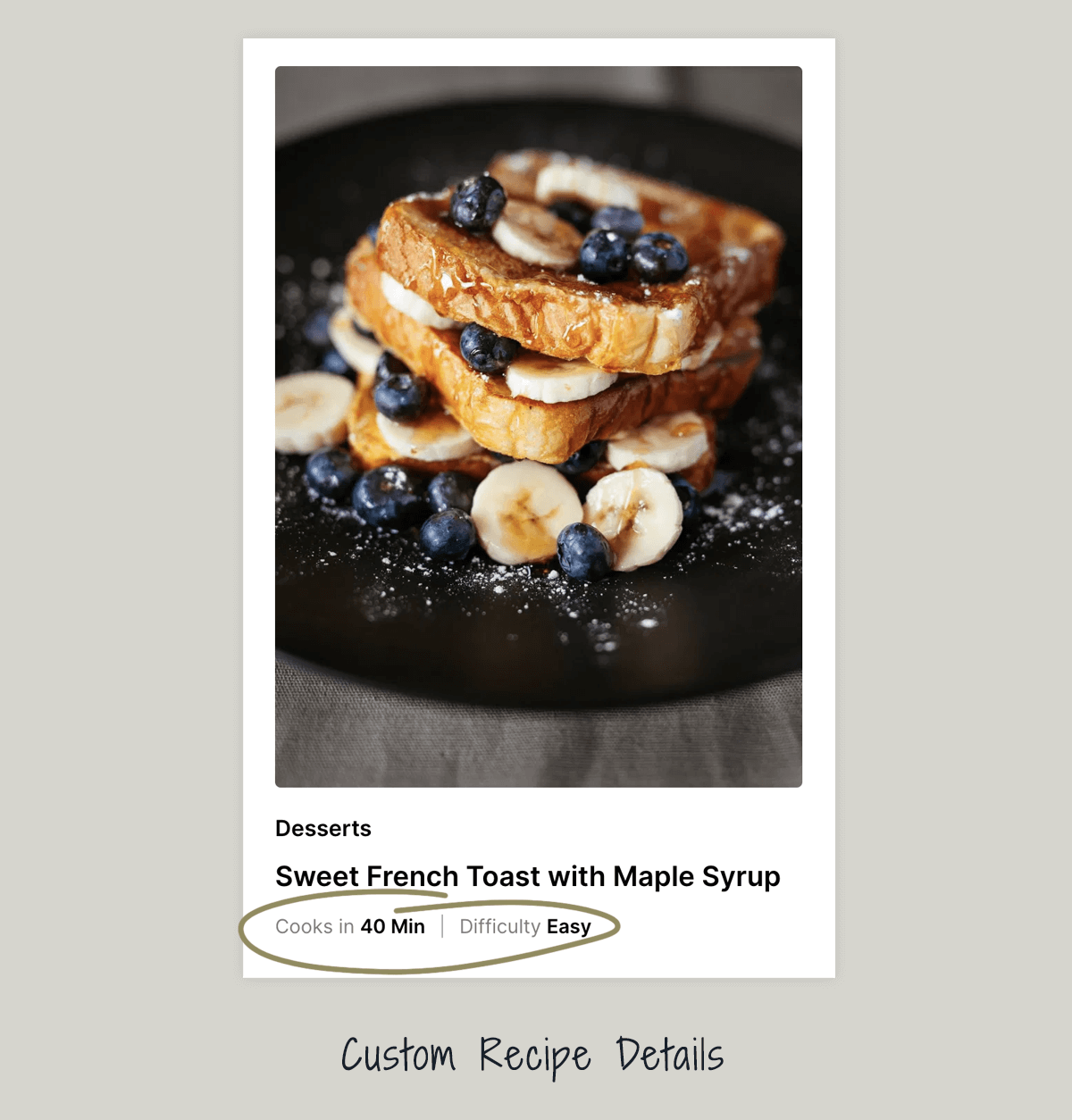 ---
Recipe Index
Integrated with a Recipe Index feature, Gourmand makes it easy to organize your recipes in one place. Order them chronologically, by category, or as a simple list — it's up to you to decide.
---
Compact Header and Mobile Menu
It's important that your recipes look compact on mobile devices and Gourmand is perfectly adapted for that.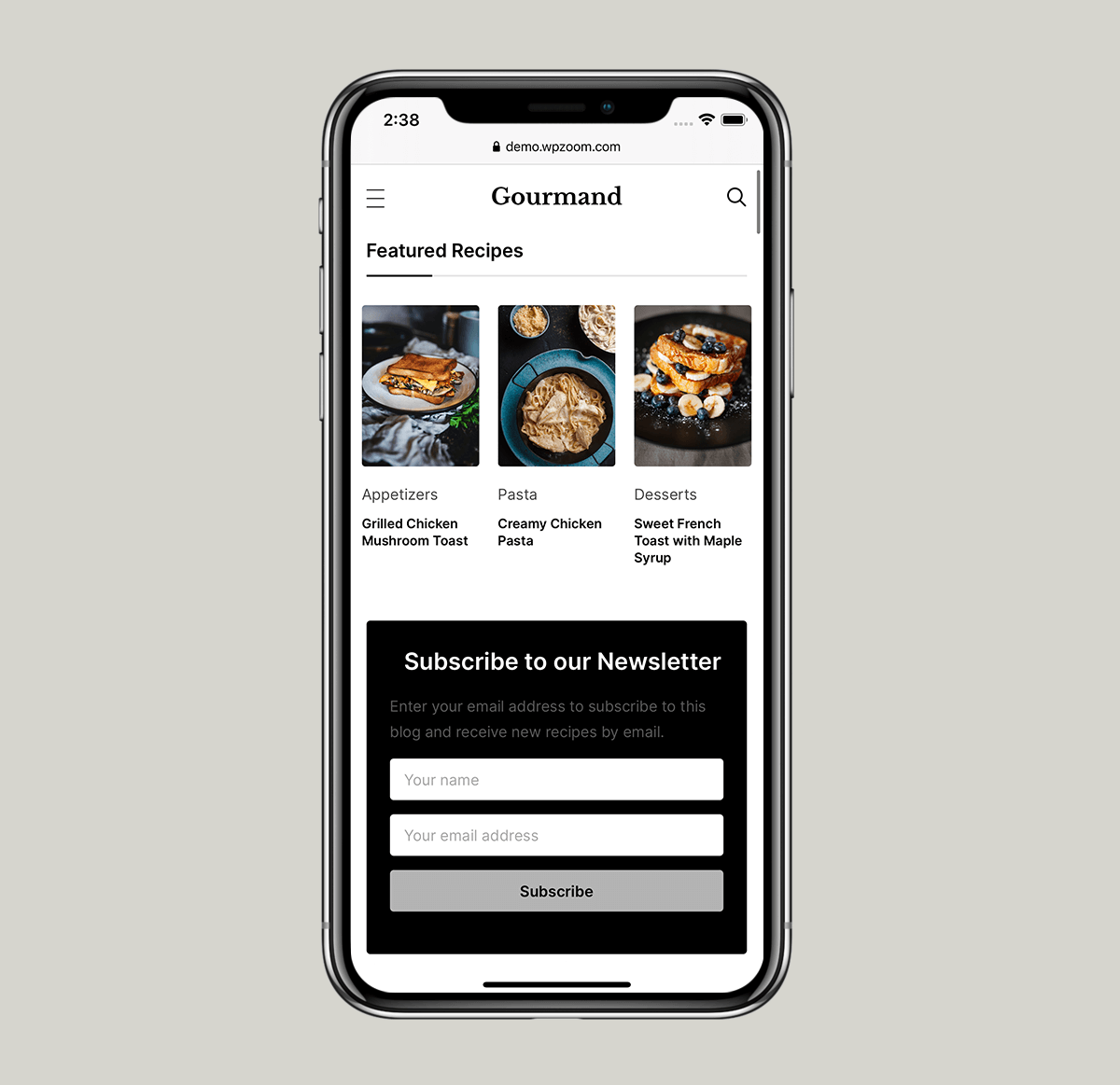 ---
Recipe Card Blocks Integration
Display your recipes beautifully with the Recipe Card Blocks, meaning the theme is fully compatible with the Gutenberg editor. Your recipes will include Schema markup, which lets search engines and social networks display information about your recipes. This will increase clicks and shareability, giving you an easy way to grow your food blog.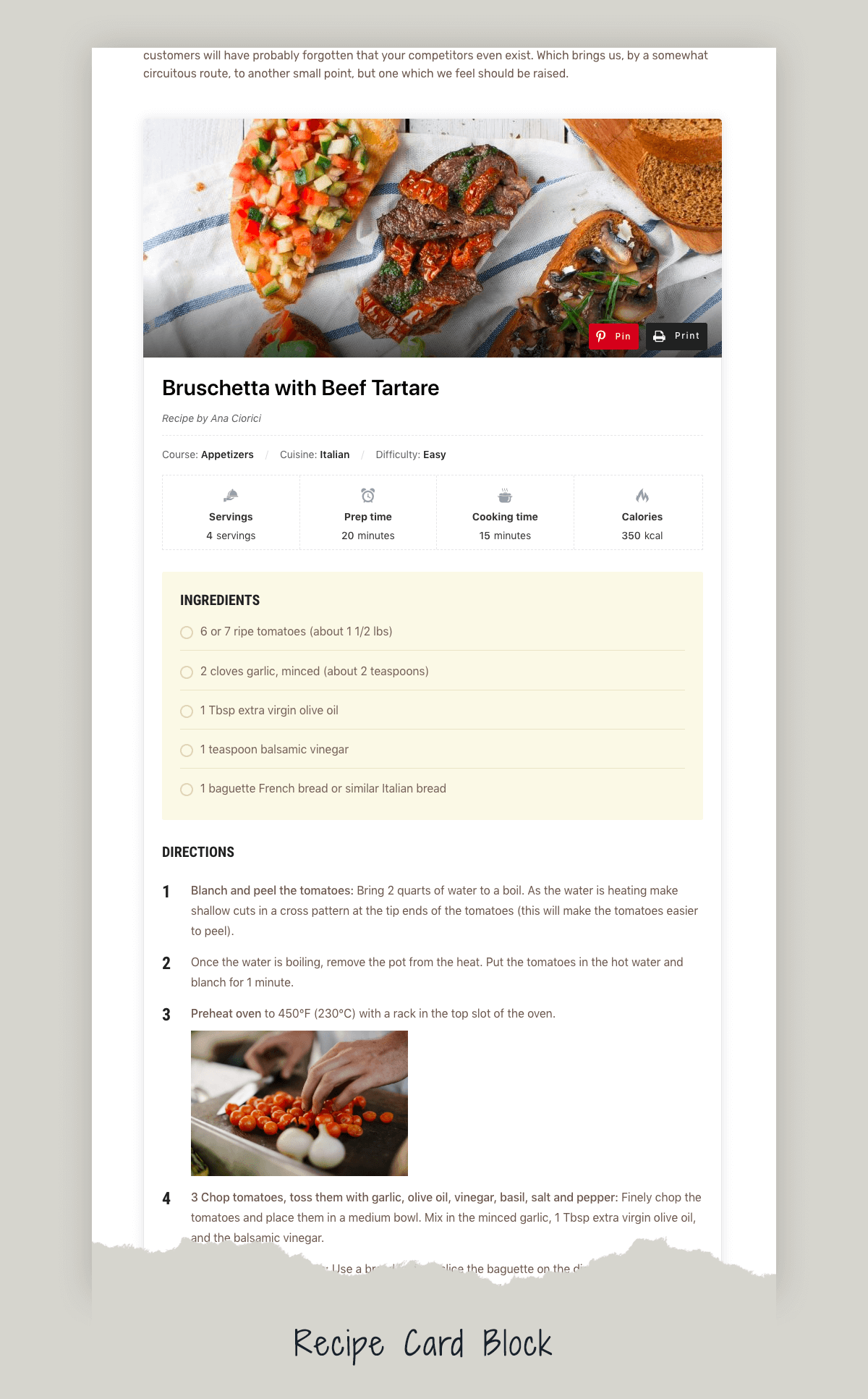 ---
Live Customizer
The Live Customizer allows you to make changes to the theme and get an immediate preview. Customize Colors, Fonts, Background, Logo, Menu, Widgets and more, all with a live preview.
---
1-Click Demo Content Install
Replicate the structure and the look of the demo page with one click by loading the dummy content and widgets.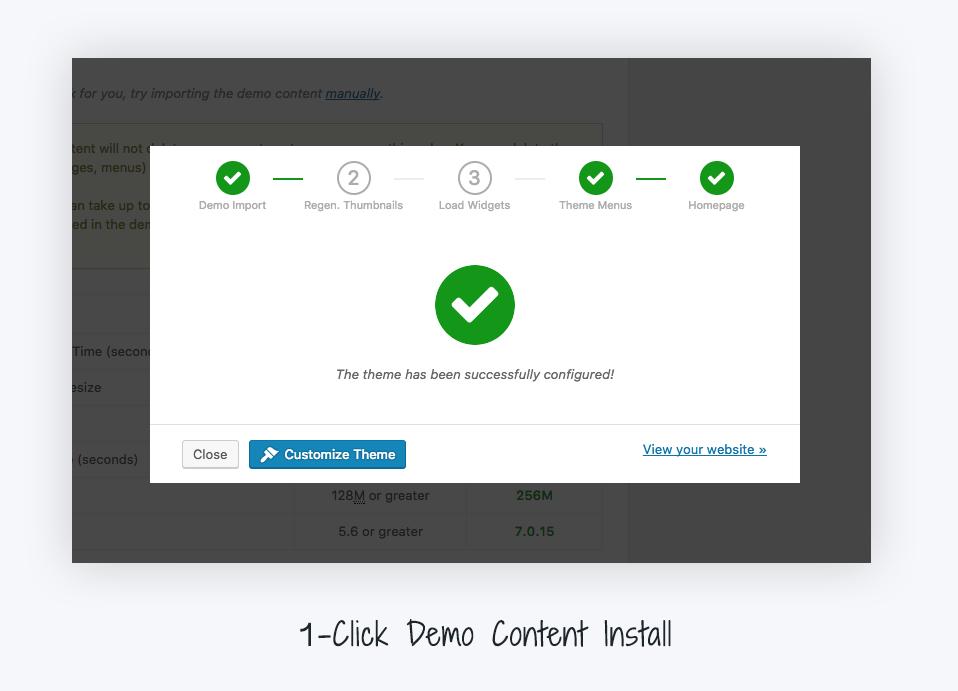 ---
Multiple Ad Zones for Banners
Gourmand lets you easily upload your own advertising banners or add Google Adsense directly from the Theme Options to one of the 4 available spots: in the header, after the first post, in the sidebar and before or after post content.
---
Widgetized Homepage
The homepage of Gourmand is completely widgetized, which means you have full control of how your homepage looks. There are several specially designed widget areas that provide flexibility for deciding your content hierarchy. Custom WPZOOM widgets are also included.
---
Instagram Bar in the Footer
Using our free Instagram Widget, create a full-width bar of your Instagrams in the Footer of your website.
---
Infinite Scroll
Use regular paginated navigation to show off your posts or switch to infinite scroll to automatically load new posts as you scroll down the page. You can also have more posts load on click.
---
Widgetized Area in the Posts
Add widgets at the end of your posts, including a beautiful Subscribe to Newsletter widget. Gourmand is compatible with the free plugin MailPoet, allowing you to add email signup forms after posts and in your sidebars. You can also add any other widgets after your content for individual posts.
---
WooCommerce Ready

Selling through your website? Gourmand is fully compatible with the popular free eCommerce plugin WooCommerce. Build your own shop and start selling easily.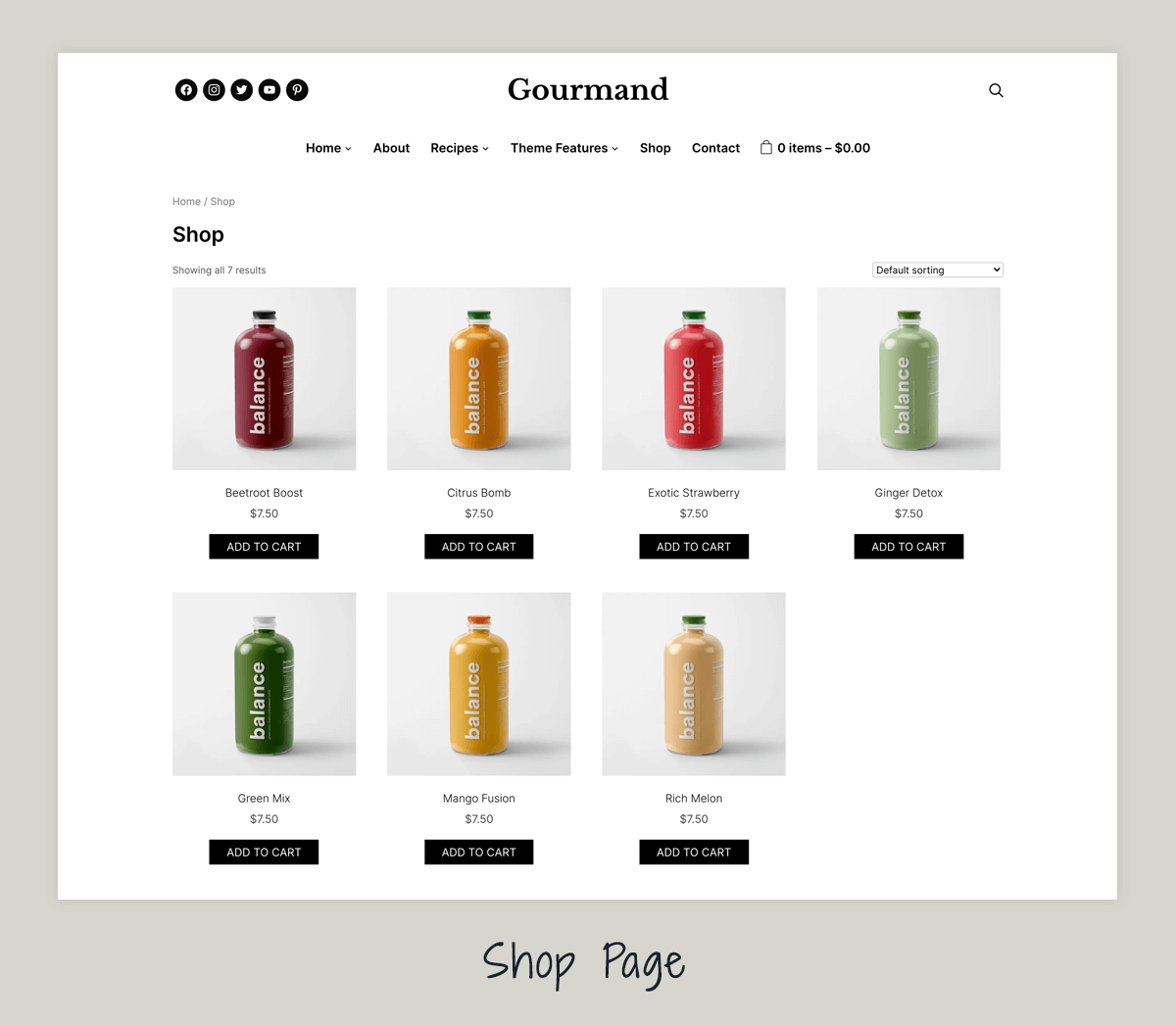 ---
Other Features
Gourmand is packed full of features that will take your website to the next level:
Sticky Header – The menu bar at the top uses a special effect that will keep it at the top of the page when scrolling down.
Social Icons Widget area in the Header and Footer – in the top menu bar and footer you can add links to any social networks you want.
Image Box Widget – using this custom widget, you can easily add custom links with an image background in the featured area on the homepage or in the sidebar. Use it to focus the attention of your readers on pages, categories, blog posts, or even ads.
Disclosure Statement at the beginning of posts (to make your blog FTC-compliant).
Footer Disclosure – widget area after the Copyright line. Can be used to add disclosure statements or links in it.
Images Aspect Ratio – you can now change the Featured Image's aspect ratio in different section to: Landscape, Square or Portrait.
Looking for more WordPress themes? Check out our list of the best food blog WordPress themes.