Features
Theme Options PanelWith our advanced Theme Options Panel, you can easily change every detail of your theme to best suit your needs.
Responsive & Retina ReadyThe layout of this theme automatically adapts to fit on any screen resolution on desktop and mobile devices (iPhone, iPad).
Visual CustomizerUse the visual customization options to get the colors and fonts which match your style and branding.
WooCommerce SupportInstall the WooCommerce plugin and sell products straight from your website.
---
Included Demos
Below are 2 examples of sites you can create using Balance theme. All of the layouts shown in the demo can be very easily imported.
In the image below you can see an example of a structure you can easily create using the Drag & Drop page builder from the theme.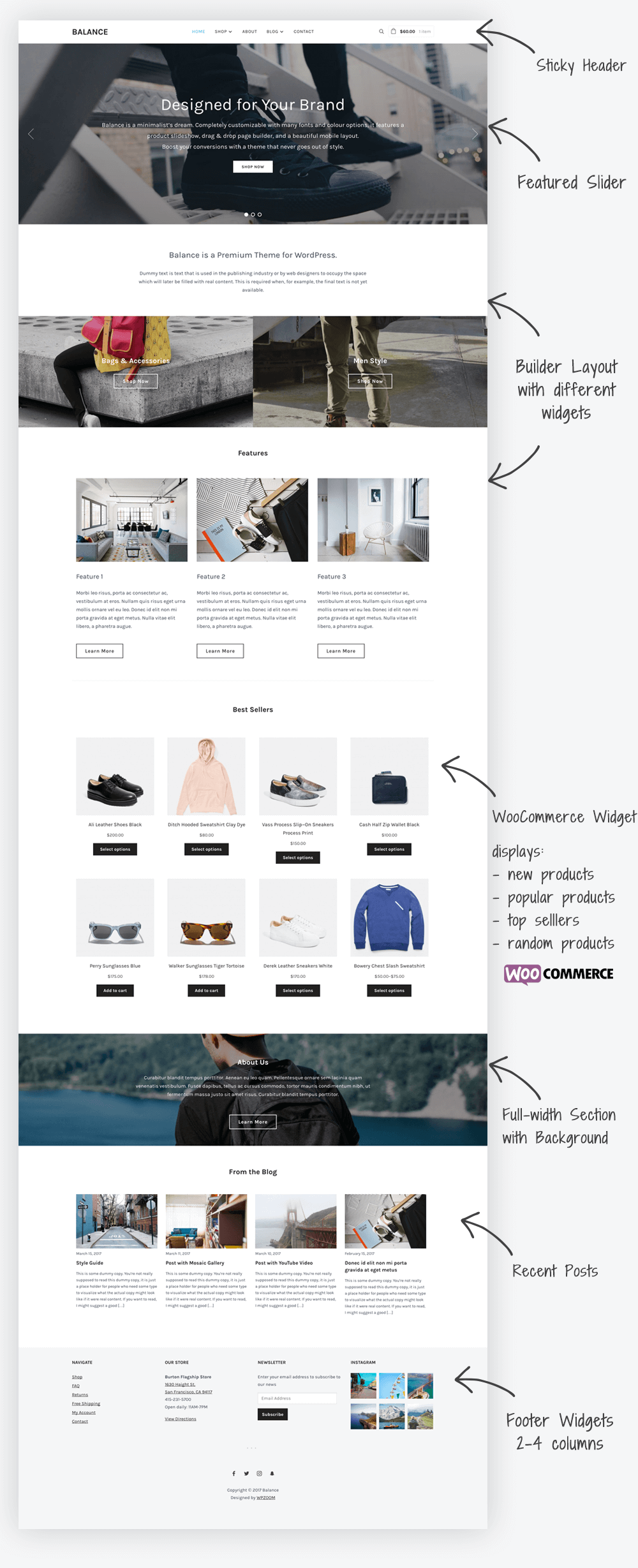 You can easily re-order existing sections or add new ones with different modules and content that suit your needs.
---
Responsive Layout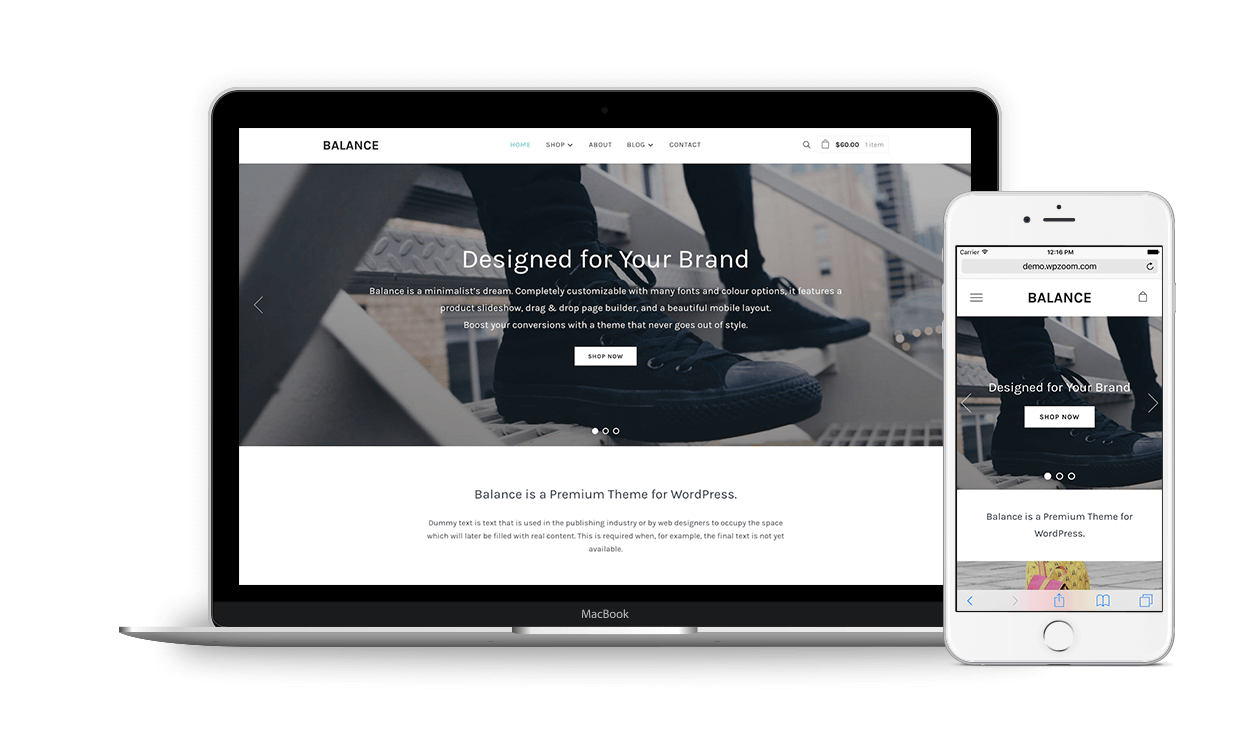 Balance features a fluid, responsive layout, so your pages will display perfectly across mobile and tablet devices. Every detail of your website will look perfect and professional, regardless of what resolution or screen size visitors have.
---
Drag & Drop Page Builder
Balance comes with a full fledged drag & drop page builder that allows you to create countless pages using the content and media shortcodes.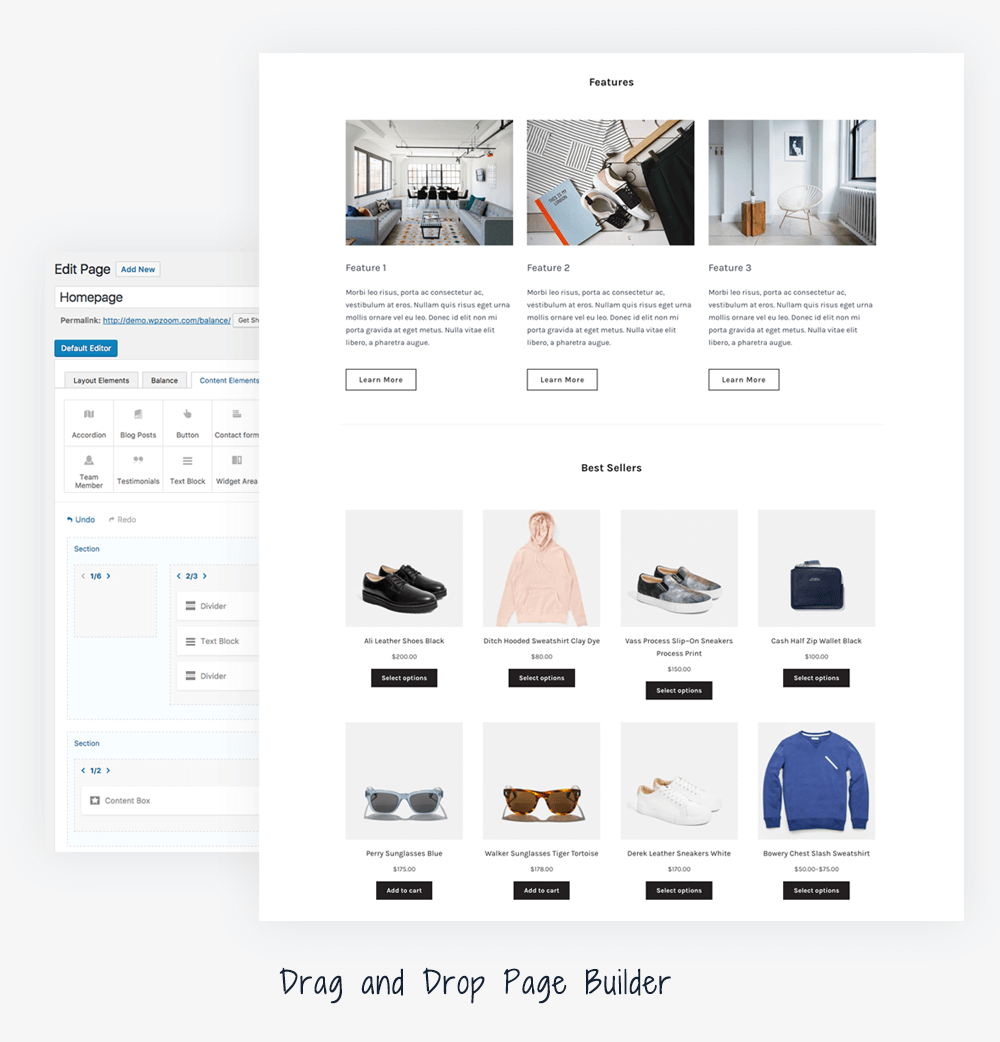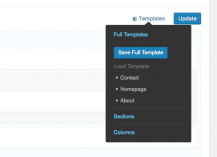 In order to make using the drag and drop Page Builder easy for you, we've included a few pre-built templates which you can import to Balance with just one click.
Below you can see a few examples of pages created using the Page Builder:
Homepage
About page
Contact page
---
WooCommerce Ready

Selling through your website? Balance is fully compatible with the popular free eCommerce plugin WooCommerce.
Build your own shop and start selling easily anything you want!
By installing the free WC Secondary Product Thumbnail plugin you'll enable a nice hover effect on products with multiple images: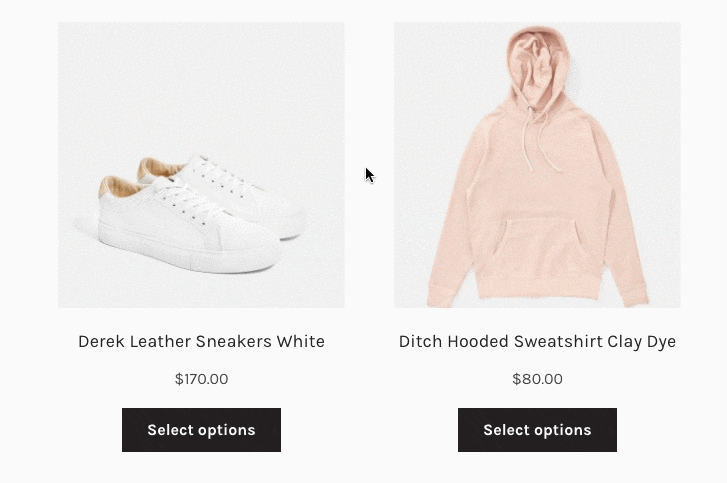 ---
Unique Cart Widget in the Header
When WooCommerce plugin is enabled, a beautiful and useful Cart Widget will appear automatically in the header on all pages. Your visitors will be able to see what's in their cart much quicker.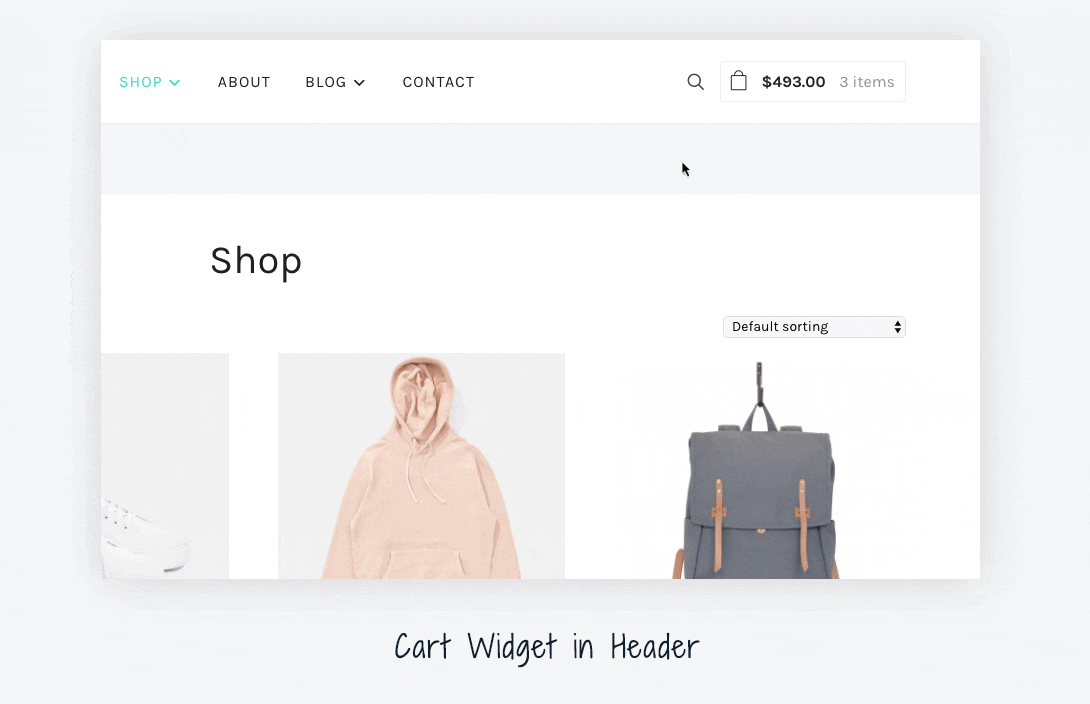 ---
6 Color Schemes + Unlimited Customization
Balance comes with 6 pre-built color schemes, which you can quickly change from the Customizer. Choose between Green, Blue, Red, Pink and Orange. None of those appeal? Just use the Live Customizer to get the colors you want.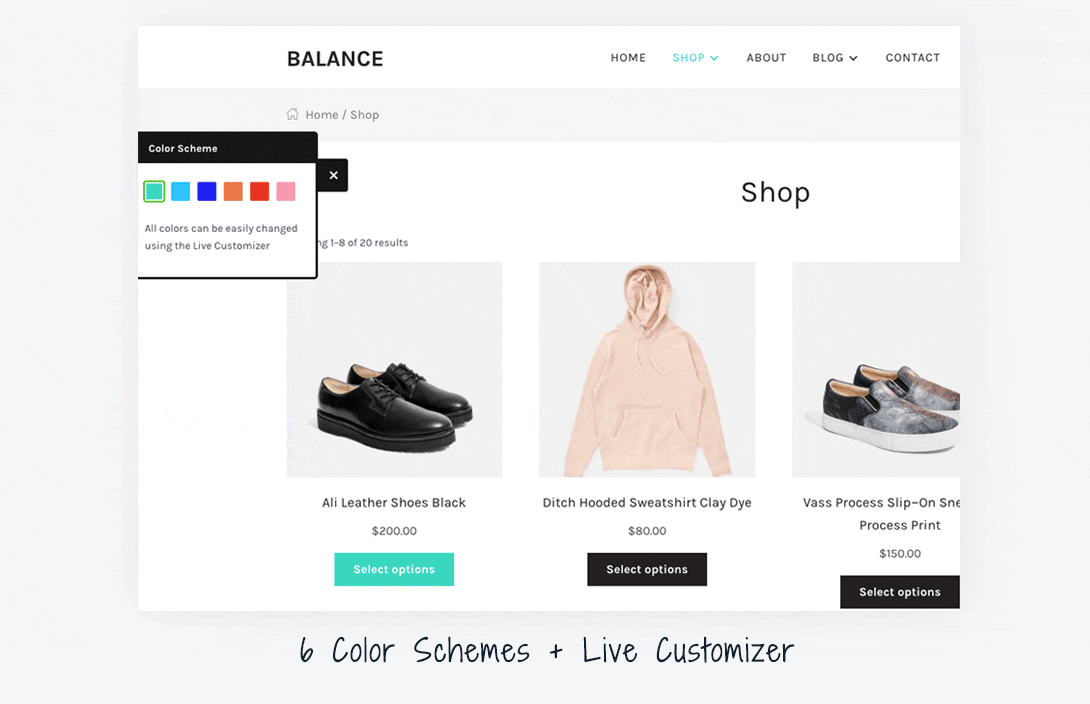 ---
Multiple Blog Layouts
The blog template from Balance is very customizable and you have full control on every detail. You can display posts in a grid layout with 2 or 3 columns or in a traditional list view. The Sidebar can also be easily enabled or disabled, depending if you need it or not. View Blog page.
---
Personalize to Match Your Style
The Live Customizer allows you to make changes to the theme and get an immediate preview. Customize Colors, Fonts, Background, Logo, Menu, Widgets and more, all with a live preview.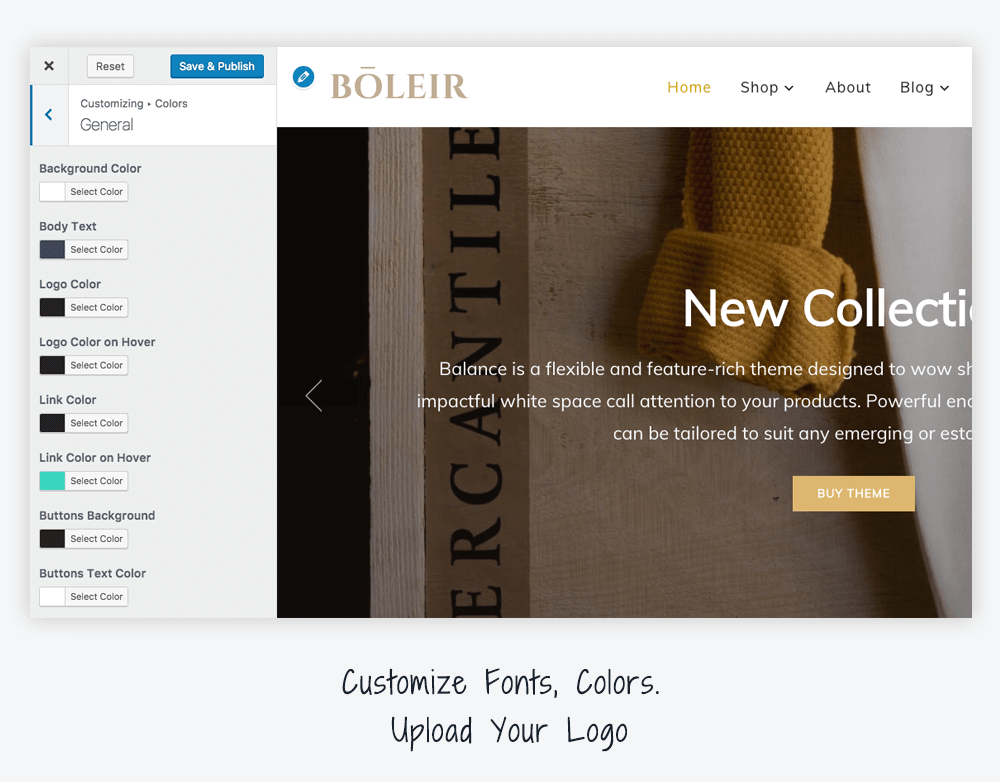 ---
Full-width Instagram Widget
Our free Instagram Widget can be used as a regular widget in widget areas, but we also included a full-width widget area in the Footer which displays your latest Instagram photos in a beautiful full-width stream.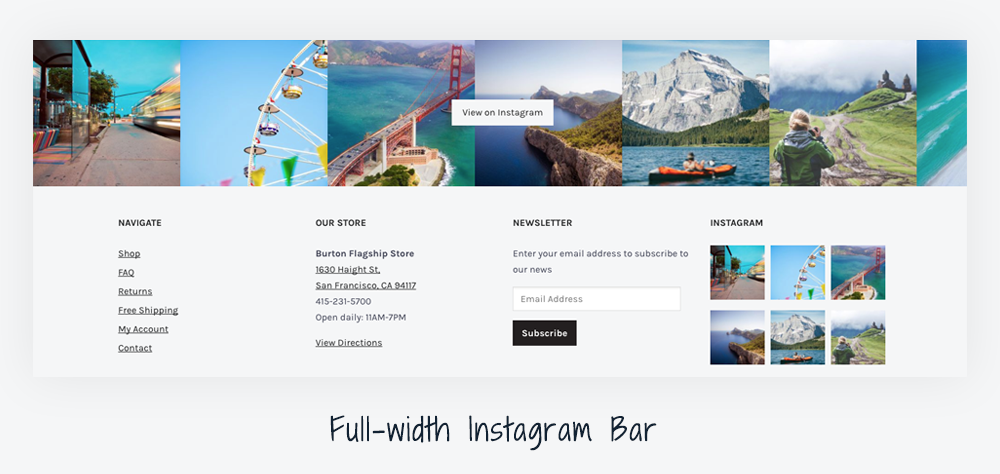 ---
Other Features
Balance is packed full of features that will take your website to the next level:
Sticky Header – The menu bar at the top uses a special effect that will keep it at the top of the page when scrolling
Image Aspect Ratio – from theme settings you can control if thumbnails for posts are cropped to the same size in landscape mode, or if each thumbnail of posts will keep its original aspect ratio, which will prevent cropping of images in portrait orientation.
Social Icons Widget area in the Footer – in the footer, below the footer widgets you can add links to any social networks you want.
Jetpack Infinite Scroll Support – For blog posts you can use the regular paginated navigation or switch to infinite scroll to automatically load new posts as you scroll down the page. You can also change the behavior of infinite scrolling to load new posts when clicking on a button.