Features
Theme Options PanelWith our advanced Theme Options Panel, you can easily change every detail of your theme to best suit your needs.
Dynamic Homepage BuilderThe homepage includes multiple widgetized areas and you can build and customize its structure with custom WPZOOM widgets.
4 Page/Post LayoutsAcademica Pro comes with 4 different page/post layouts.
Responsive & Retina ReadyThe layout of this theme automatically adapts to fit on any screen resolution on desktop and mobile devices (iPhone, iPad).
Visual CustomizerUse the visual customization options to get the colors and fonts which match your style and branding.
WooCommerce SupportInstall the WooCommerce plugin and sell products straight from your website.
---
Academica Pro 3.0 Overview
Academica Pro offers a highly flexible theme layout. You can change from a 3 column layout to a 2 column layout with one sidebar on the left or right. You can also adjust the layout on each page individually: switch to a 3, 2 or 1 column layout on a page-by-page basis to suit the content.
The header includes 3 menus which can be utilized or disabled: if you'd prefer, you can use only 2 or 1 menus.
Have a custom logo? Upload it directly from the Theme Customizer and it will appear in the header of the theme.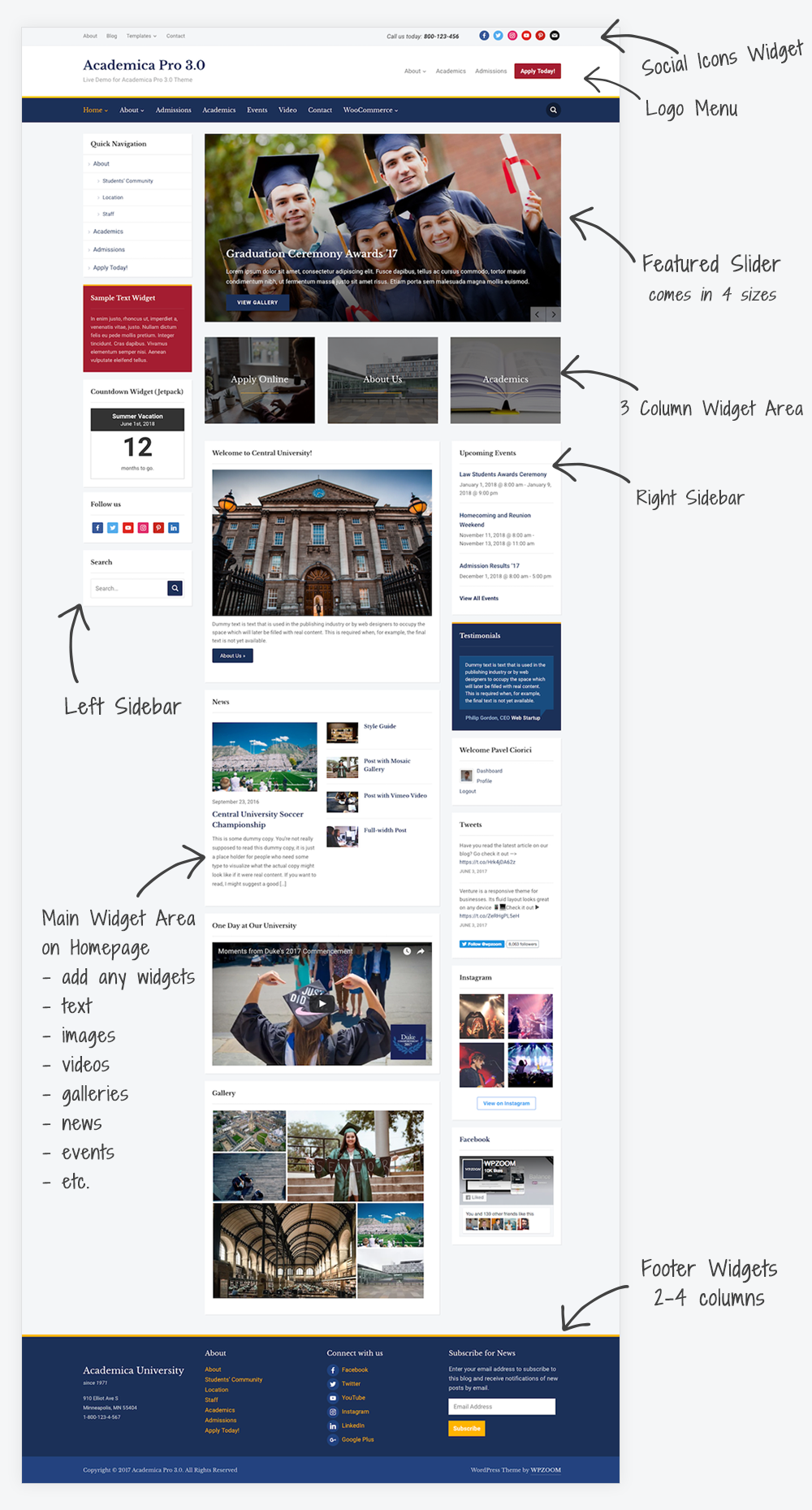 ---
Academica Pro 3.0: a huge update!
This theme has been recently updated: Academica Pro 3.0 is a big update from the previous version: it's a whole new theme, developed with the latest coding standards in mind. See the comparison table below for a comparison between the new version and previous 2.0 version: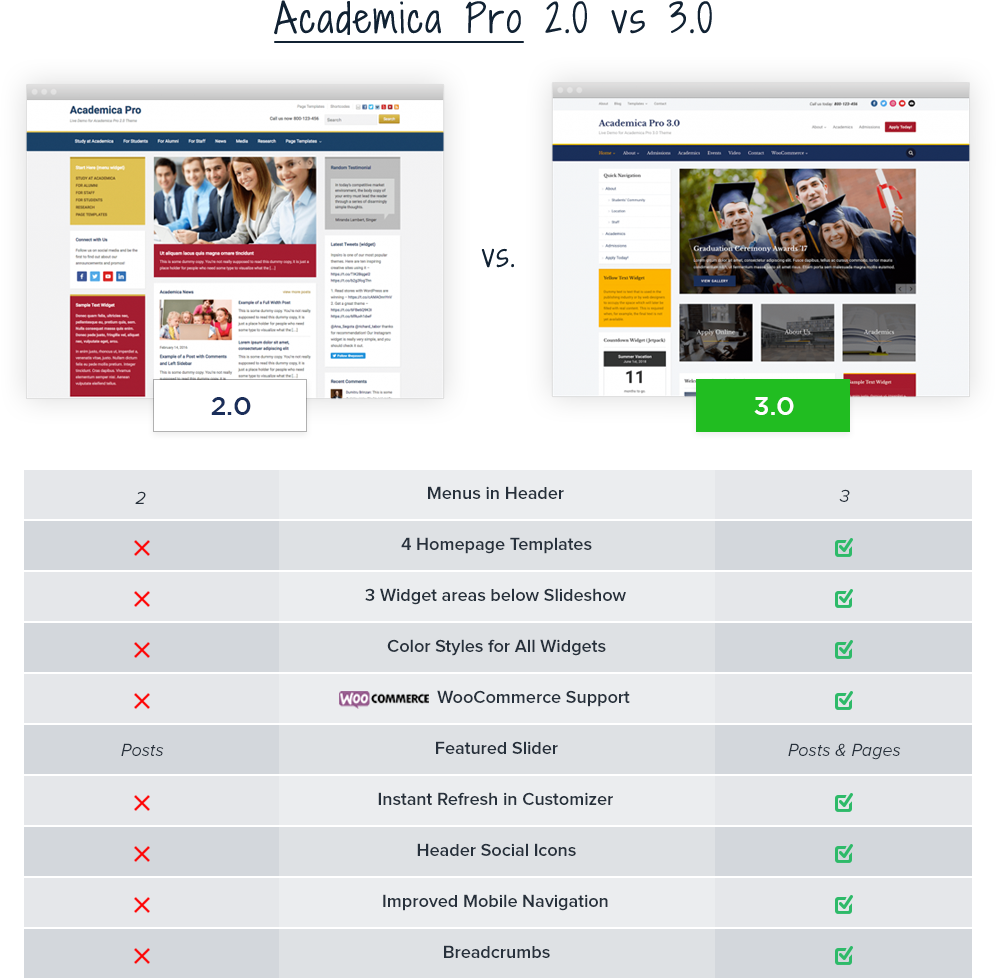 ---
Responsive Layout
Academica Pro 3.0 features a fluid, responsive layout, so your pages will display perfectly across mobile and tablet devices. Every detail of your website will look perfect and professional, regardless of what resolution or screen size visitors have.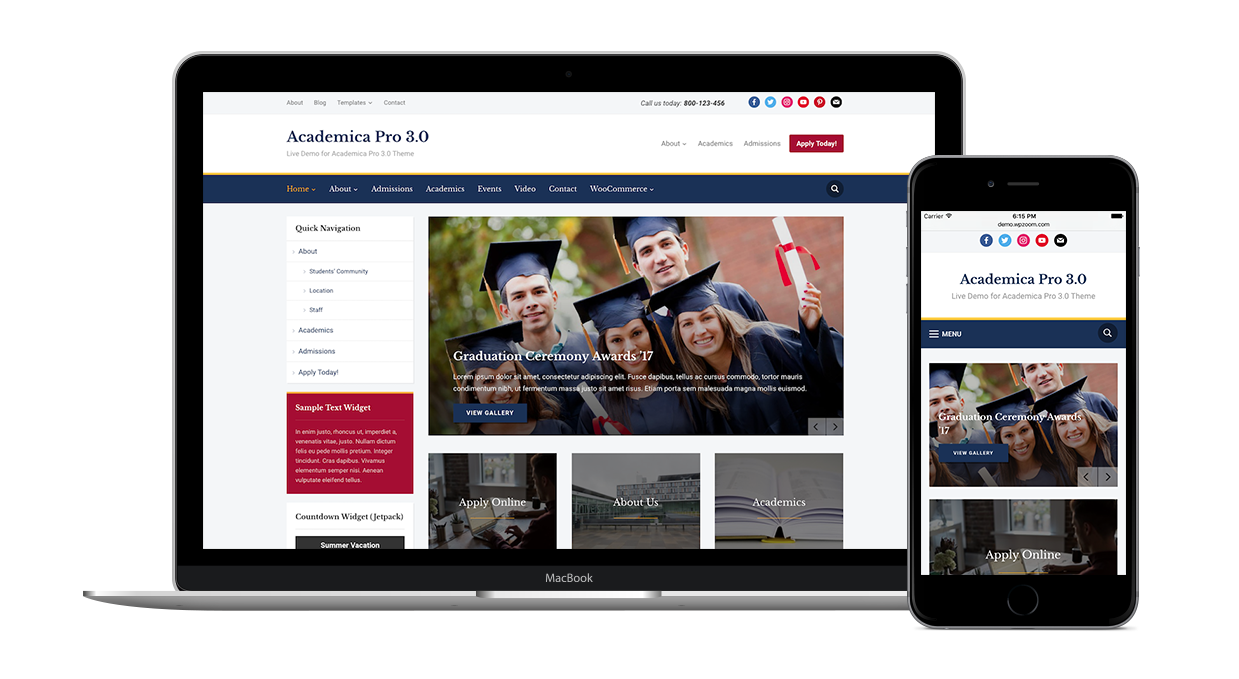 ---
4 Homepage Templates
The location and size of the homepage slideshow can be changed easily thanks to the 4 included homepage templates. By changing the slideshow size and location you can easily get 4 different homepage layouts.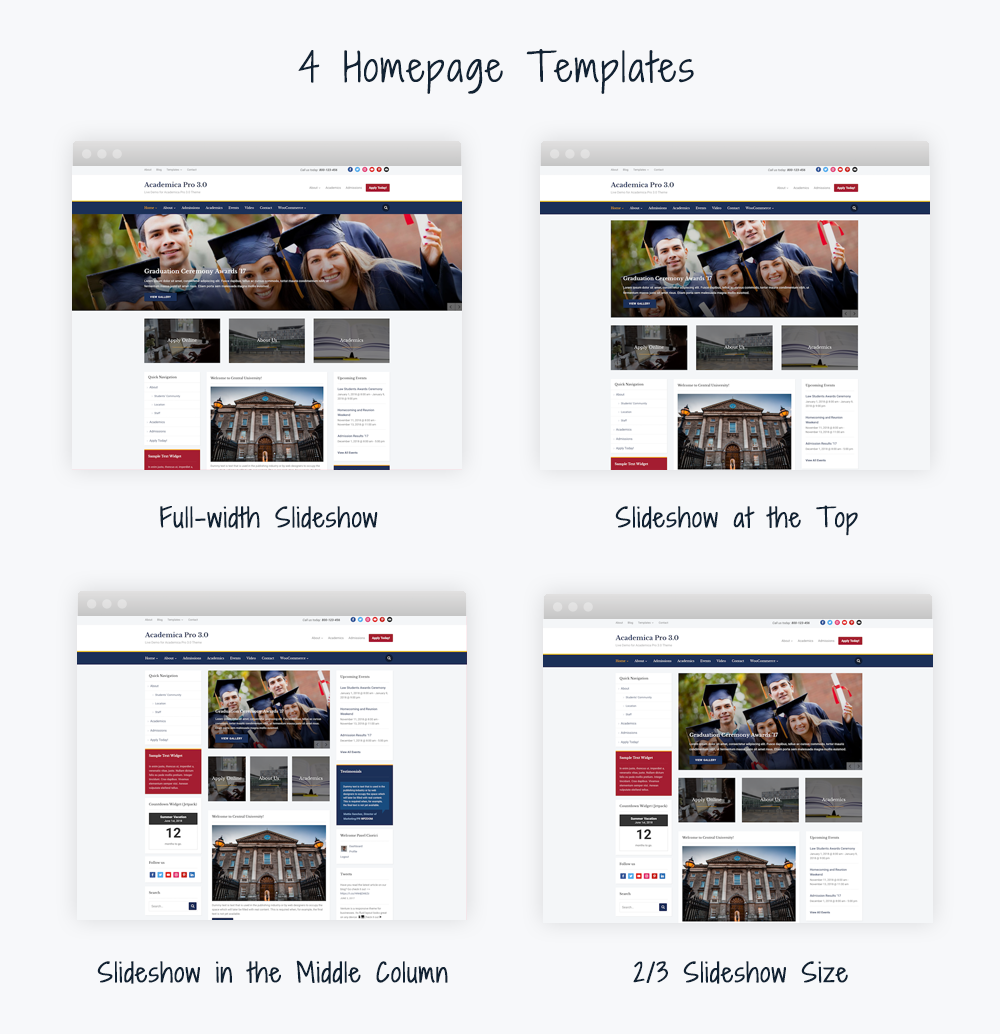 Below you can see the demo of all homepage templates:
Default
Full-width Slideshow
Slideshow at the Top
Small Slideshow
---
Powerful Header
The header are in the updated 3.0 version is neatly organized and fits a lot of information. You can display up to 3 menus: in the top bar, next to the logo and in the main menu bar. If you don't need a specific menu, just disable it!
From the Theme Customizer you can also hide a specific menu on mobile devices, so you visitors will just see one mobile-optimized menu.
You can also display a call to action button on the right side of your logo, by adding a custom class of .wpz-button to a menu item.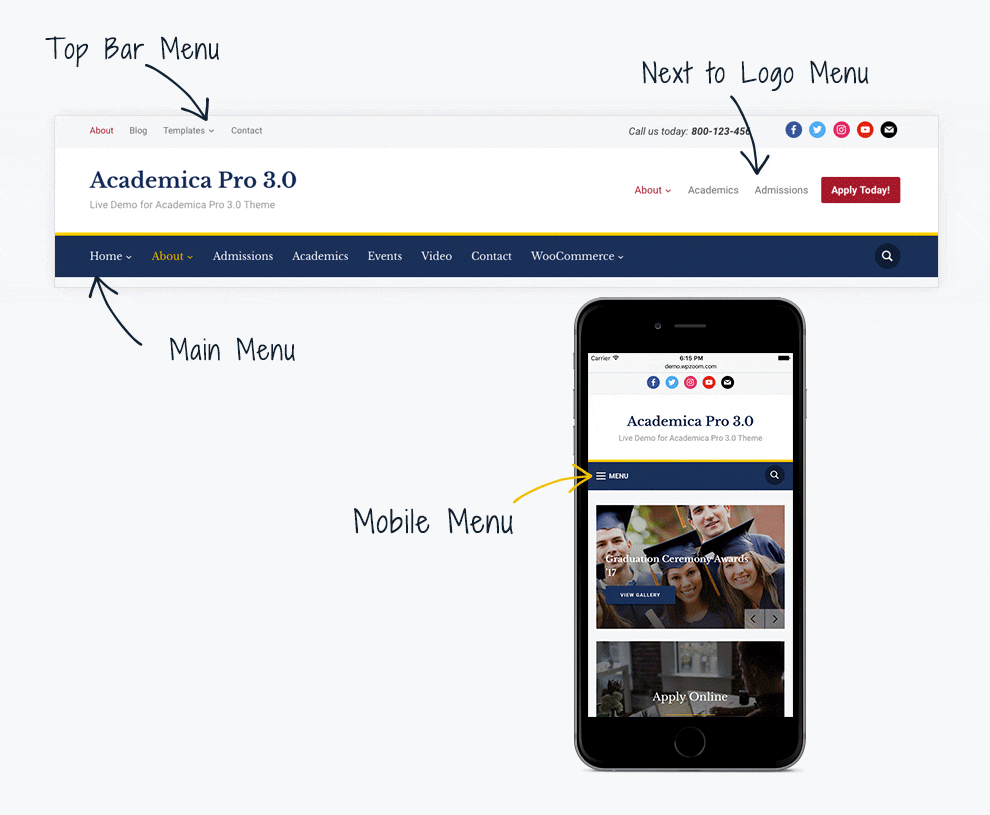 ---
CMS-like 3 Column Layout
Every page's layout can be easily adjusted thanks to the multiple page templates included in the theme. You can also change the layout across the whole seat just by leaving the left or right sidebar empty. The theme will also adapt automatically – and look great – across all devices, including tablet and mobile.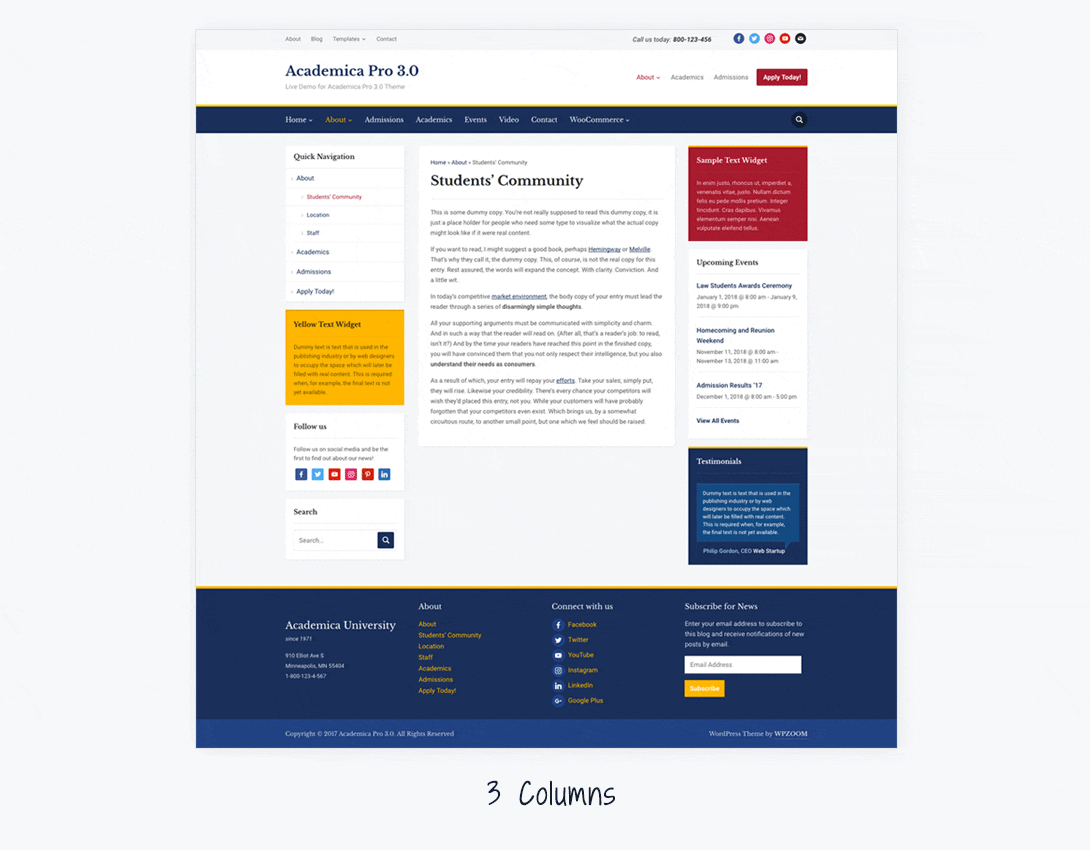 ---
WooCommerce Ready

Selling through your website? Academica Pro 3.0 is fully compatible with the popular free eCommerce plugin WooCommerce.
Build your own shop and start selling anything you want!
---
Events Integration
Built-in support for free The Events Calendar plugin allows you to use your Academica Pro 3.0-powered site as a powerful event calendar with all the features you need. Quickly add events and have them displayed on their own page or in widgets anywhere on your site.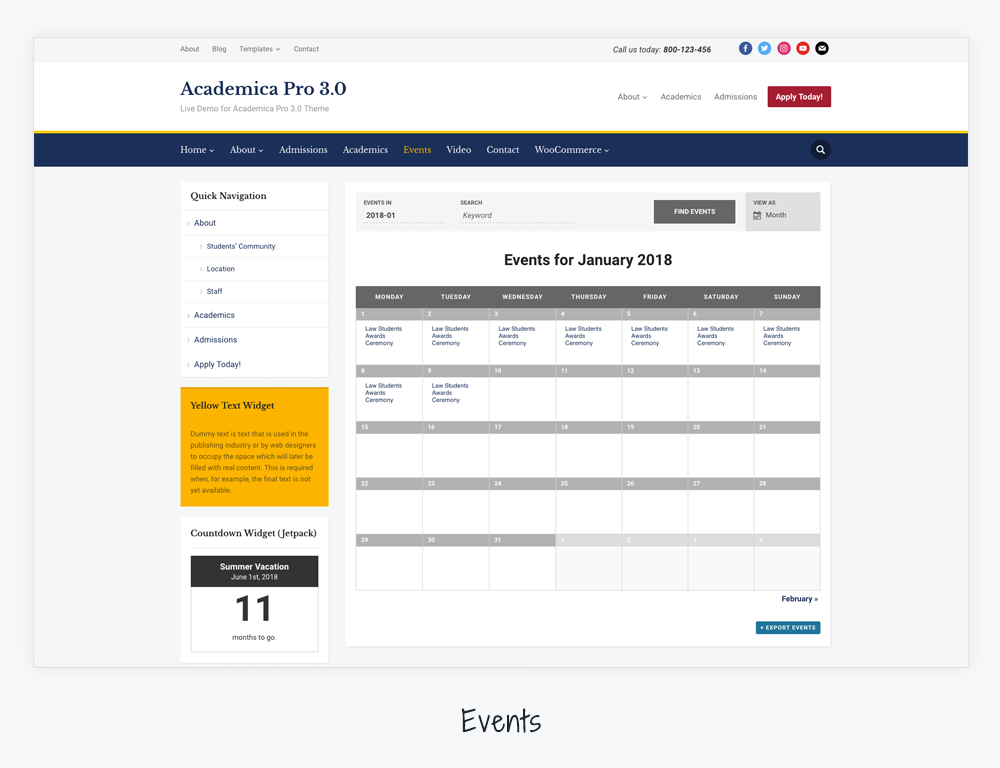 ---
Personalize to Match Your Style
The Live Customizer allows you to make changes to the theme and get an immediate preview. Customize Colors, Fonts, Background, Logo, Menu, Widgets and more, all with a live preview.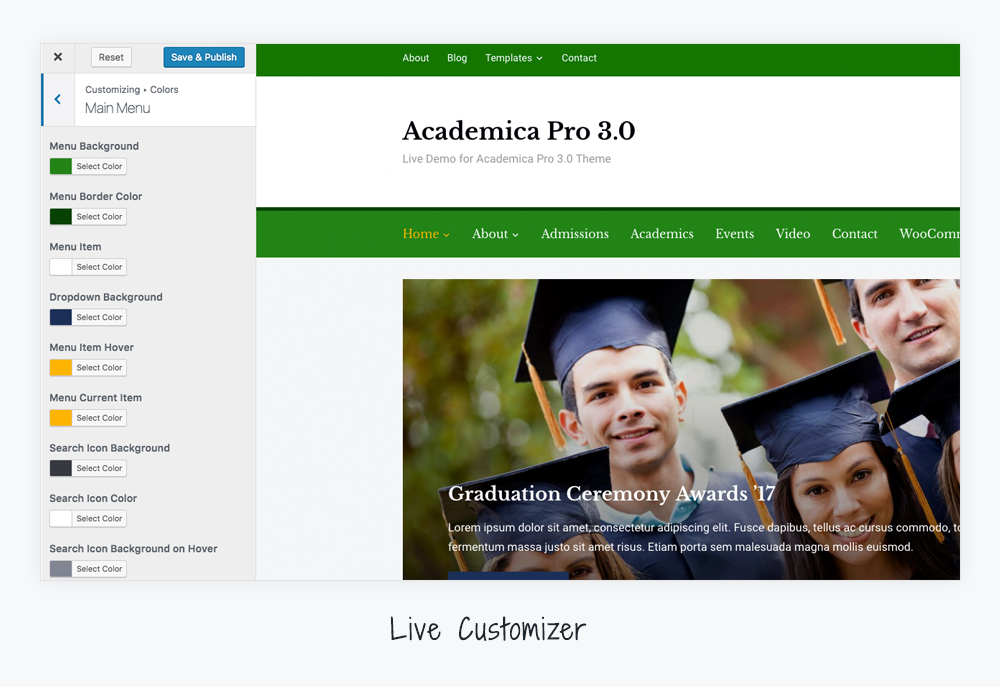 You can also set a custom color to each widget individually by selecting one of the 5 pre-defined widget styles: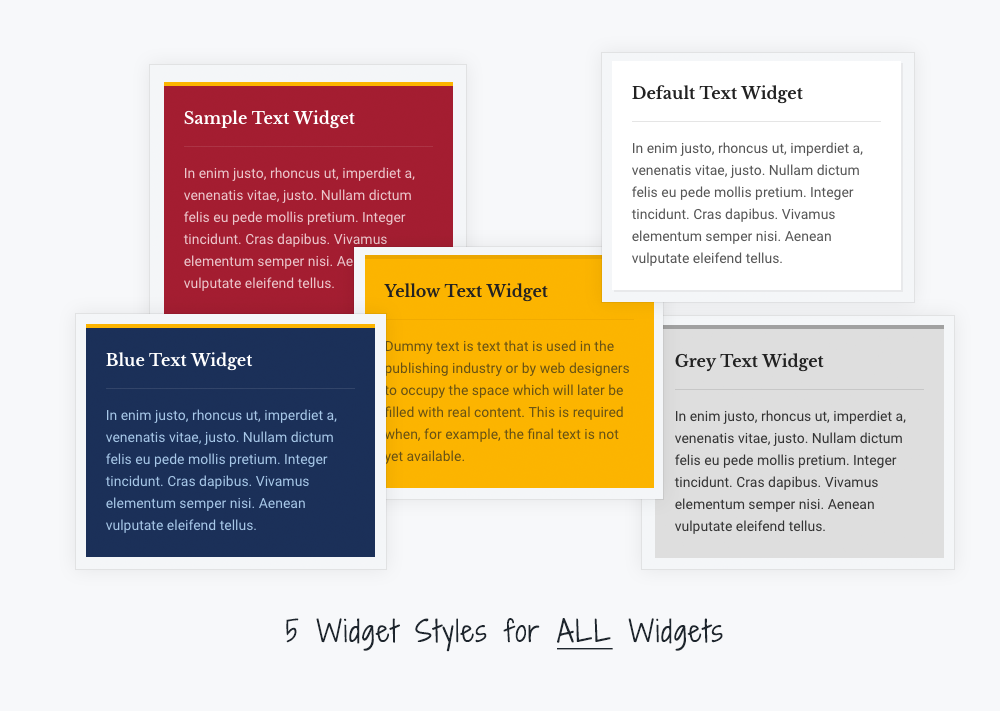 This is very useful, especially when you want to highlight the content from a specific widget – such as an announcement!
---
Other Features
Academica Pro 3.0 is packed with many other useful features that will take your website to the next level:
Parent Page Template – a simple but useful page template that displays all subpages of a page. View demo.
Social Icons Widget area in the Header – in the top menu bar you can add links to any social networks you want.
Image Box Widget – below the slideshow on the front page are located 3 widget areas in which you can insert a beautiful widget called Image Box that can be used to link to any pages you want.
Breadcrumbs – Academica Pro 3.0 supports the Breadcrumbs feature from Yoast SEO plugin.
---
FAQ
I have purchased already Academica Pro 2.0. Do I get the Academica Pro 3.0 for free?
Unfortunately, Academica Pro 3.0 is a new and different theme and it's available only as a separate theme, not as a free update for Academica Pro 2.0 customers. Existing customers with an active license of old version will receive an exclusive coupon by email to upgrade to Academica Pro 3.0.
Can I upgrade easily from Academica Pro 2.0 to 3.0?
Yes, we've made sure that the upgrade from an older version will be as easy and smooth as possible, and almost nothing will be affected. We'll even help you for free to upgrade your site to the new theme quickly!