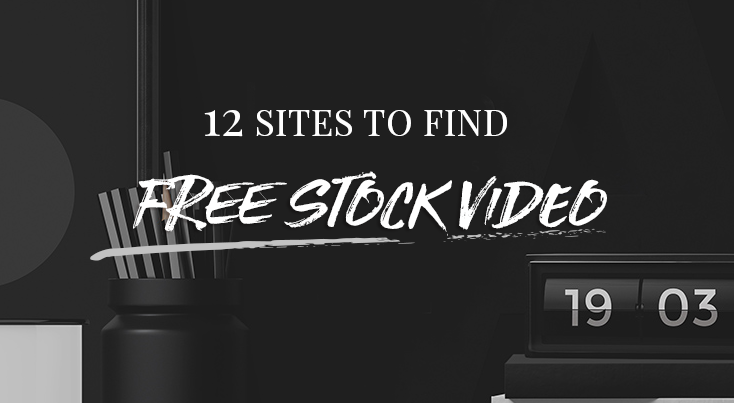 Full screen video backgrounds have become quite the trend in web design these days. And of course WordPress themes like WPZOOM's own Inspiro are making it simple for users to easily achieve that sophisticated look.
But while it might be easy to add a video to a site these days, the problem is that videos are expensive.
Luckily, there are some sites out there that offer videos for free.
The free video sites are nowhere close to being as numerous or convenient as the many free image sites, but they're slowly growing.
And so below we've collected 12 of the best free video sites we could find.
---
1. Wedistill.io
We Destill offers "10 free HD videos every 10 days."
Advertising itself as being for "creatives," most of the videos seem geared toward being background type videos, i.e. perfect for WordPress users looking to add some movement to their site without adding a lot of distraction.
You can search videos by some basic category types. You can also search videos by keyword; however, I found that function less reliable.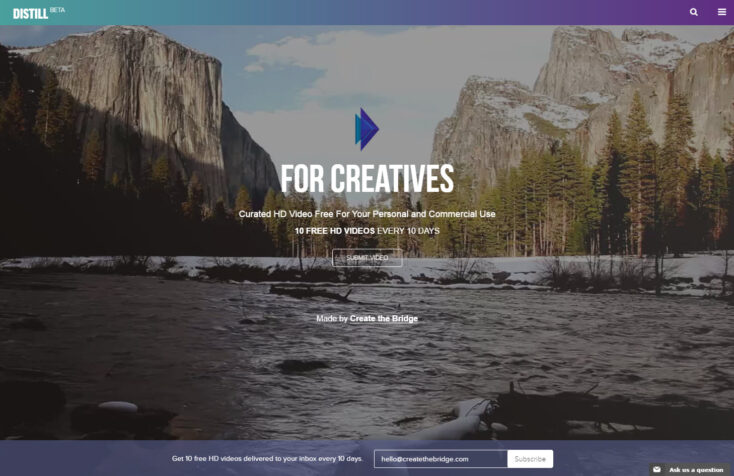 ---
2. Pexels
Pexels offers a number of good-quality videos.
While the videos themselves are good, their organization leaves a little to be desired. You can search by some basic categories, but mostly you need to just search around.
---
3. Coverr
Coverr offers new videos each week (typically 7 new videos). And so their collection is slowly building.
You can sign up to their mailing list and get notified of the new videos each Monday.
Some comments in the past make it seem as if they are open to suggestions for videos. It appears they either shoot them themselves or have direct access to those who do shoot them.
Overall, the quality is relatively high, though some are better than others, of course.
---
4. Videvo
With more than 3,000 videos, Videvo is one of the better sites on the web for free stock videos.
You can search Videvo by both category and by popularity.
There are a number of quality-looking videos on the site.
---
5. X Stock Video
X Stock Video has some good free stock videos on offer, but you will need to read the license agreements for each video as it seems only some sizes are free.
There are a few basic categories. You can also search by popularity and date; however, there is no option to search by keywords.
---
6. Videezy
Videezy provides a pretty good-sized collection of free videos.
One of the nicer aspects of the site is that you can actually search by keywords.
One of the less appealing aspects of the site is that they are fairly insistent on pushing their affiliate links for ShutterStock onto you.
Overall, however, this site is definitely worth checking out.
---
7. Free HD Stock Footage (Vimeo)
This "site" is a little different in that is it simply the account of an individual (Phil Fried) on Vimeo.
That said, there are still a number of very nice videos here. You would maybe not expect that from someone's personal account, but this is well worth looking at.
At current count, there are around 250 videos or so on the account. You can search that specific account by looking for the little magnifying glass/search icon in the top right-hand corner above the videos themselves.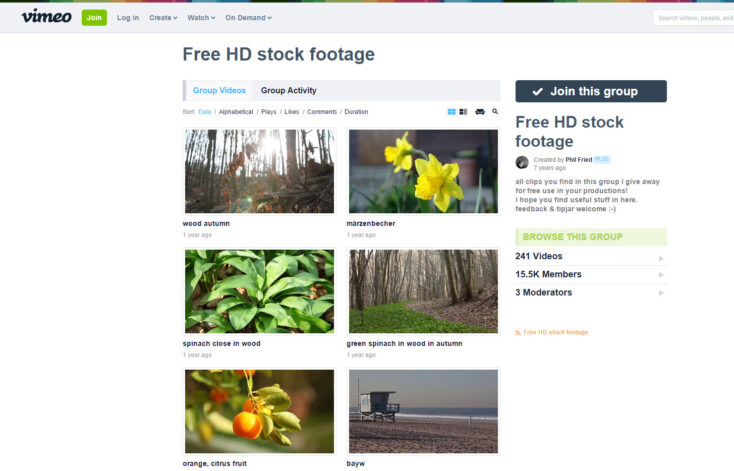 ---
8. Motion Elements
The Motion Elements site is mostly a site for paid products; however, they do have a free video section.
You can sign up to get notified of 30 free "elements" every week. Some of these are videos. The other are things such as audio files and After Effects elements.
---
9. Mazwai
Mazwai doesn't come with any kind of categorization or search function whatsoever. That said, you may find something you like by browsing through their collection.
Be sure to check for licensing agreements. You may need to provide attribution for some videos.
---
10. Ignite Motion
There are a number of decent videos and motion background here, even though the site's design makes it seem as if things haven't been updated in quite a while.
There are a few basic categories, but other than that, unfortunately, there's no way to search the collection.
---
11. Clip Canvas
Clip Canvas is a premium video site, but they also offer some free videos as well. (168 of them at the time of this writing.)
While you can search through the premium videos by keywords, there is no easy way to search through the free videos. You'll just need to browse until you find what you like.
That said, the free videos are fairly high quality.
---
12. Beachfront B-Roll
Beachfront B-Roll has more than initially meets the eye.
It is set up on a Blogger blog, and each video is inside of a separate blog post.
Because of this, it might appear that there isn't much on this site when you first land on it, but if you have some patience and look around, you might find a few gems.
In the right-hand sidebar there is a set of tags called "Labels" that might be the best way to search for something specific.
---
And so there they are. If you know of any other good ones, let us know in the comments.