Reel
Theme Quick Specs
Responsive

– Yes

Theme Width

– 1400px

Recommended Image size for Slideshow

– 2000x1600px

Post Content Width

– 800px
Theme Overview
Reel includes several Page Templates which you can use to create different page layouts. By default the theme displays your Blog Latest Posts on front page.
Optionally, you can create a separate page that you can set as front page to display your Portfolio or a custom layout created using the Page Builder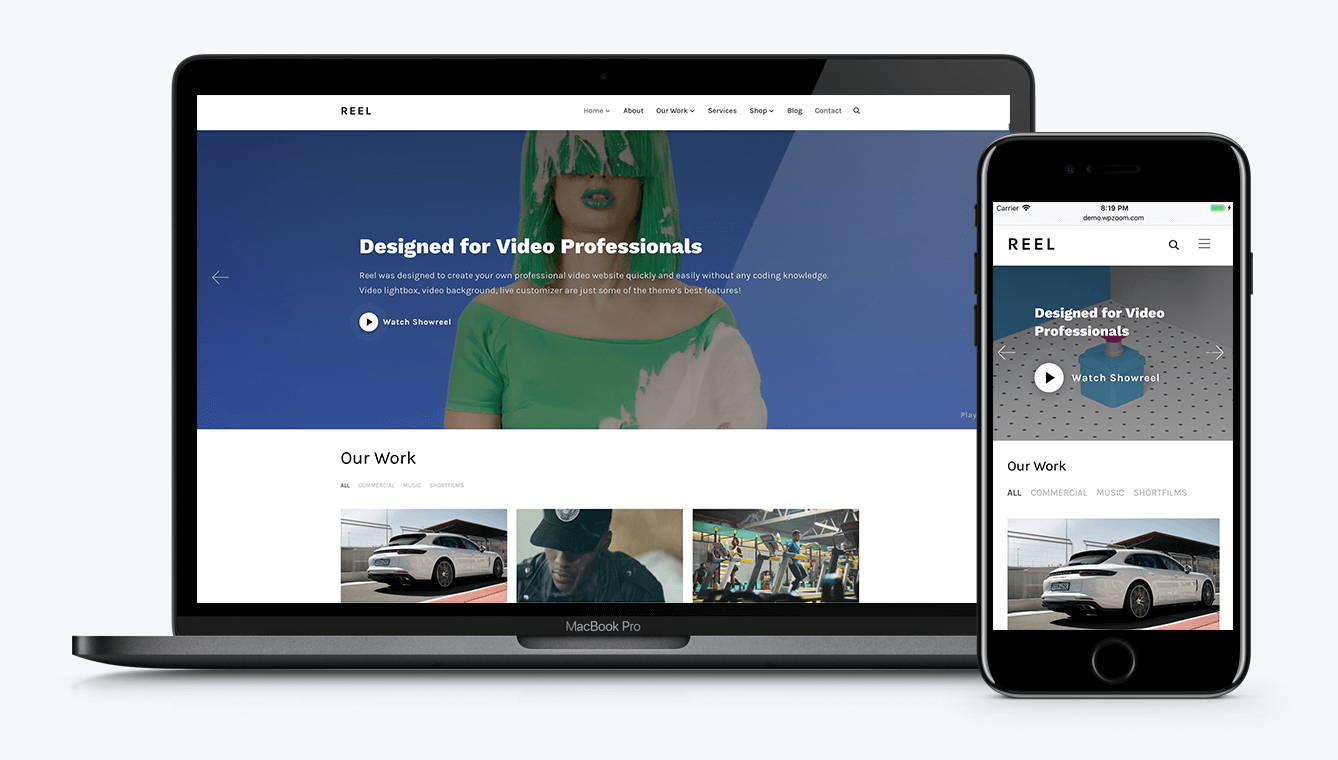 Recommended Plugins (free)
Social Icons Widget – free plugin that allows you to create a list of your social profiles.
Instagram Widget – another free plugin created by us which you can use to add a gallery with your latest Instagram photos.
Jetpack – a free plugin that includes numerous features that you can active to add extra functionalities in the theme. Recommended features to activate: Related Posts, Tiled Galleries, Carousel.
Unyson Page Builder – a free plugin that includes a Page Builder extension, which you can use to create different page layouts, like the front page from the demo.
Contact Form Page
To add a contact form to a page like in the demo simply install the WPForms plugin by following these instructions.
eCommerce Support
To enable the eCommerce feature in the theme, you'll need to install the free WooCommerce plugin.
How to Change Logo, Colors and Fonts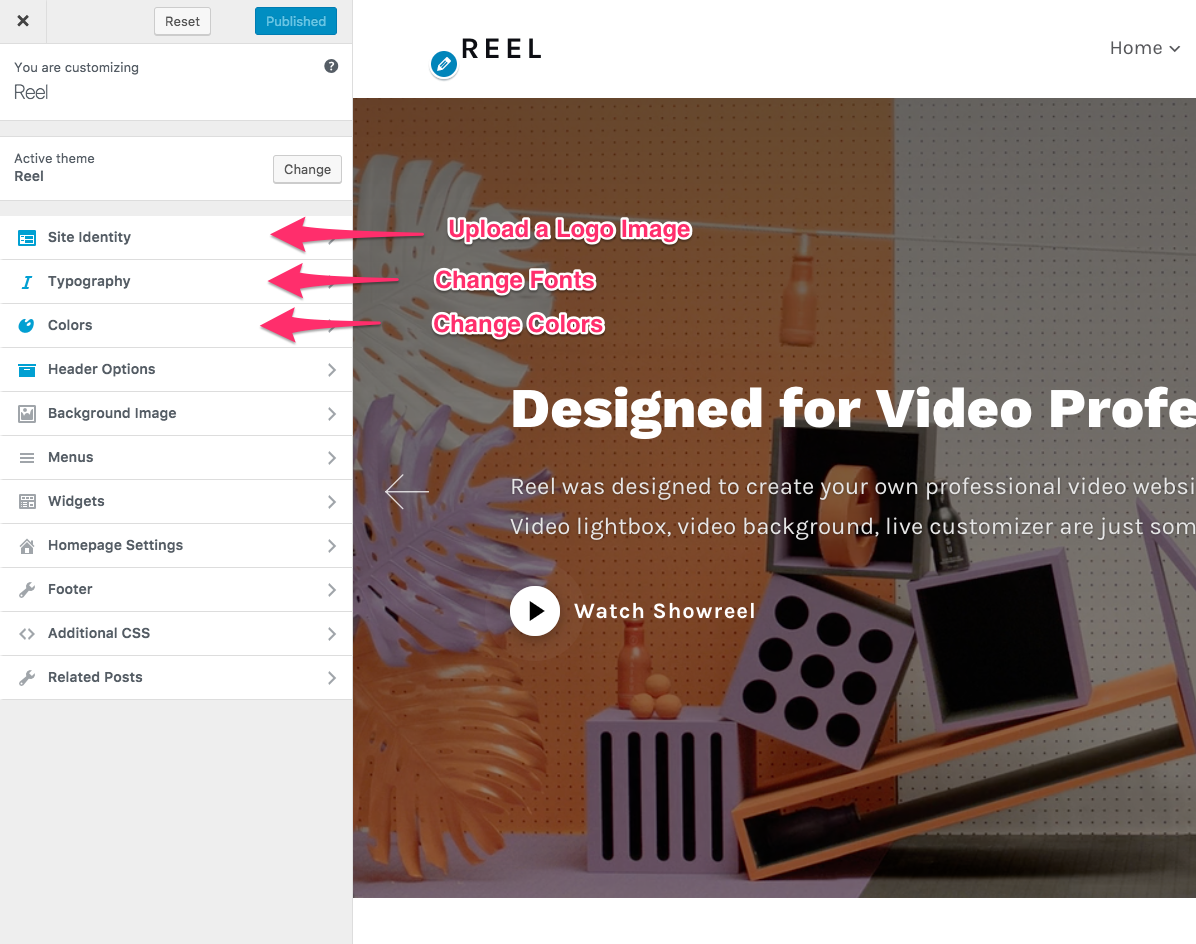 In Reel many options can be changed and customized from Theme Customizer. You can access the Customizer from Themes Page.
In Site Identity you can upload your own logo image.
Configure Homepage Slider
Each slide from the homepage slideshow is an individual Slideshow post.
To add a new slide, navigate to Slideshow > Add New menu.
From the Slideshow Options box in the top right you can set a custom link to the current slide or add a button.
Add a Featured Image and it will appear before the video loads in case you have a video added in background, or as a video fallback on mobile devices that don't support video autoplay.
From the Video Settings you can enable the Video Lightbox feature or add a Video Background. For more details about video support, see the next section below.
Additional slider settings can be configured in Theme Options > Homepage > Homepage Slideshow.
Video Background in Slider
Reel allows you to display video as background in each slide from the Slideshow.
Since mobile devices don't support video autoplay, this means that there is no technical way we could enable video background on mobile devices, because videos can't be played automatically in background on these devices in order to prevent unsolicited data consumption. You can however fix this problem by converting your video file in a GIF and set it as Featured Image:
Video background not playing on mobile? Upload a GIF as Featured Image!
You can easily convert your video file using an
online converter
in a
GIF
file and set it as
Featured Image
, and it will play fine on mobile devices.
The theme includes also a feature called Video Lightbox which is fully supported by tablets & mobile devices.
Using Video Lightbox you can display YouTubeVimeo and Self-hosted videos in the slideshow on both desktop and mobile devices:
Self-hosted Video Support on Desktop Computers
If you have a H.264 encoded video, you can easily upload it in the Video Background option from a Slideshow post. You can also customize video controls, and choose if you want to have video play automatically, with sound or without sound and much more.
In order to display your Vimeo videos as background, you need a Vimeo PRO subscription. In this way, Vimeo will provide you direct link to your video files, which you can insert in the Self-hosted Video File field.
Setting-up the Portfolio (Gallery) Page
Reel theme includes 3 different page templates for Portfolio (Gallery) page:
Portfolio Isotope – this template is based on the Isotope effect, and will display all your Portfolio posts on one page, so you can be able to sort them using the categories at the top
Portfolio (Infinite Scroll) – in this template there is no paginated navigation, but only a Load More button that will load new posts every time it's clicked.
Portfolio – this is the basic template, with paginated navigation, which will display as many Portfolio posts per page as you set in Theme Options > Portfolio Options
To create a Portfolio or Gallery page, in which you will show off all your Portfolio posts, navigate to WordPress Dashboard -> Pages -> Add New
Look for the Page Attributes box in the right side, and select any of the 3 available Portfolio templates from the Template drop-down.
Once you created your Portoflio page, navigate to WPZOOM -> Theme Options.
In Portfolio Options select the your newly created page in the dropdown for the Portfolio Page option.
Optionally, you can customize the Gallery page by adding some text in the content area, which will appear in the header: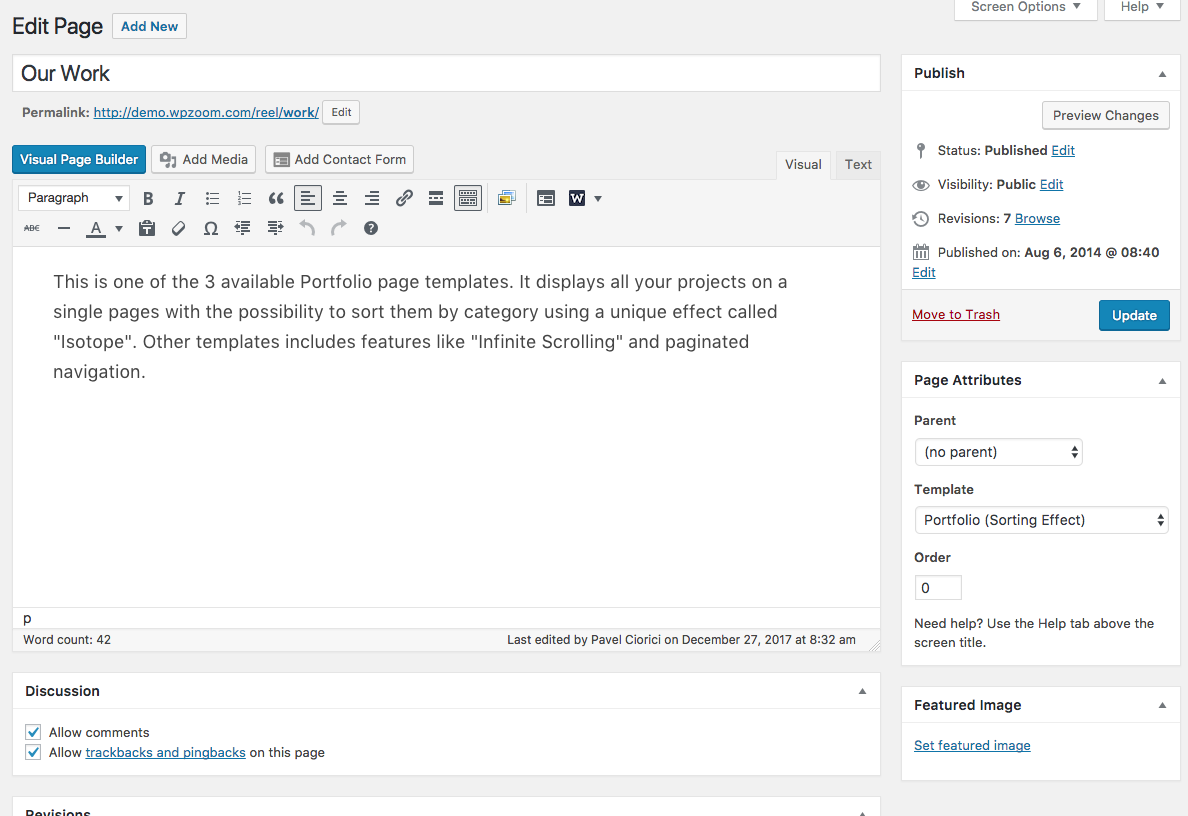 Number of columns in Portfolio page can be changed from Theme Options > Portfolio Options:
Setting-up the Homepage
Default homepage layout in Reel theme consists from the slideshow at the top and your latest blog posts, but if you want to change this to the similar layout from the demo, which is based on the Page Template called Homepage (Portfolio Isotope), you'll have to follow these instructions: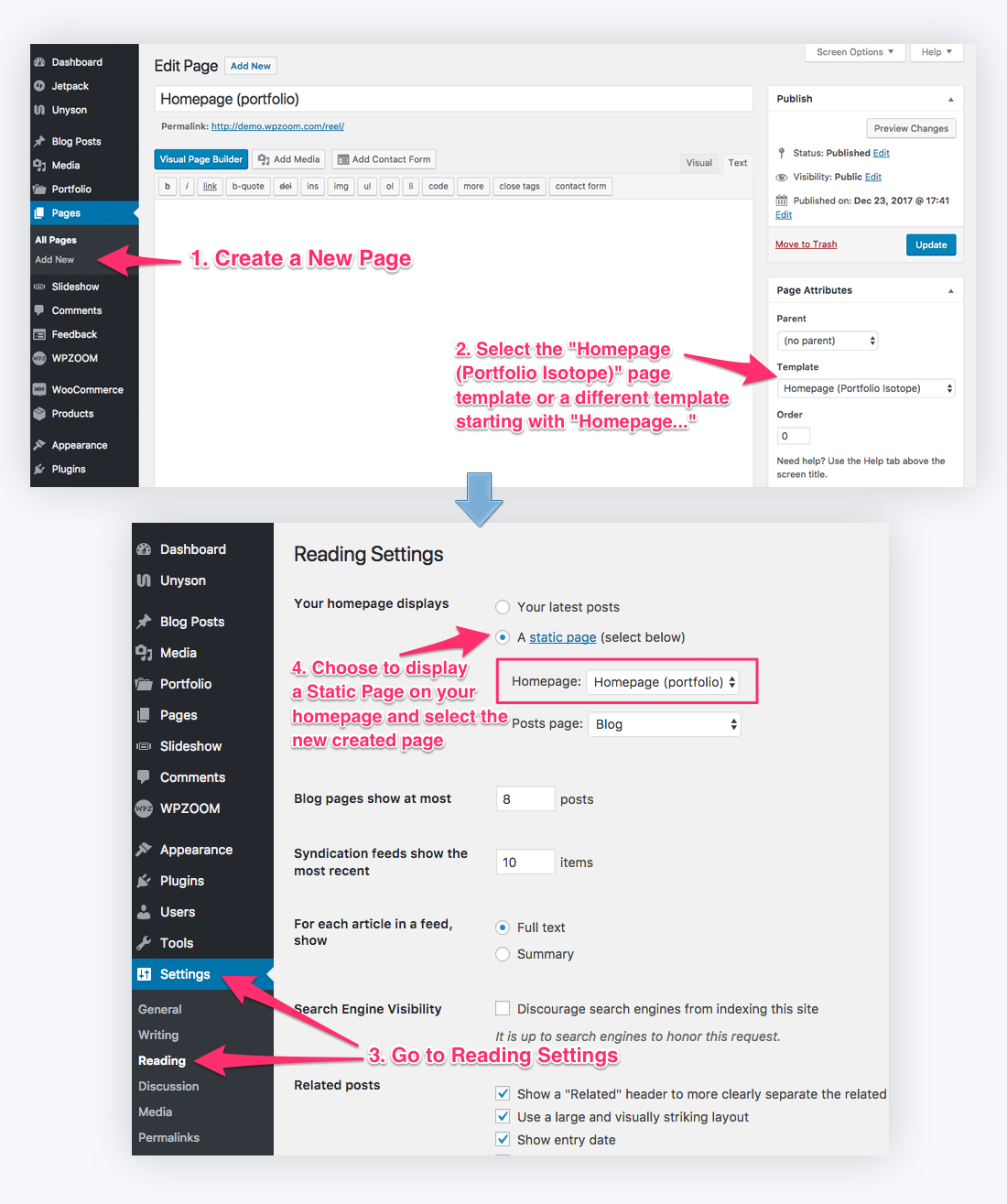 Go to WordPress Dashboard and create a new page.
Assign the Homepage (Portfolio Isotope) template to your new page from the Attributes box, then publish the page.
Navigate to Settings -> Reading in your WordPress Dashboard
Find the Front page displays option, and change it to A static page, and then from the Front page dropdown, select your newly create page in step 2. Additionally you can select on which page you want to display your blog posts.
Set up Homepage with the Page Builder
In order to create a homepage like this one from the demo, you have to create a new static page with the Homepage (Unyson Builder) page template, and then set it as you Front Page in Settings > Reading.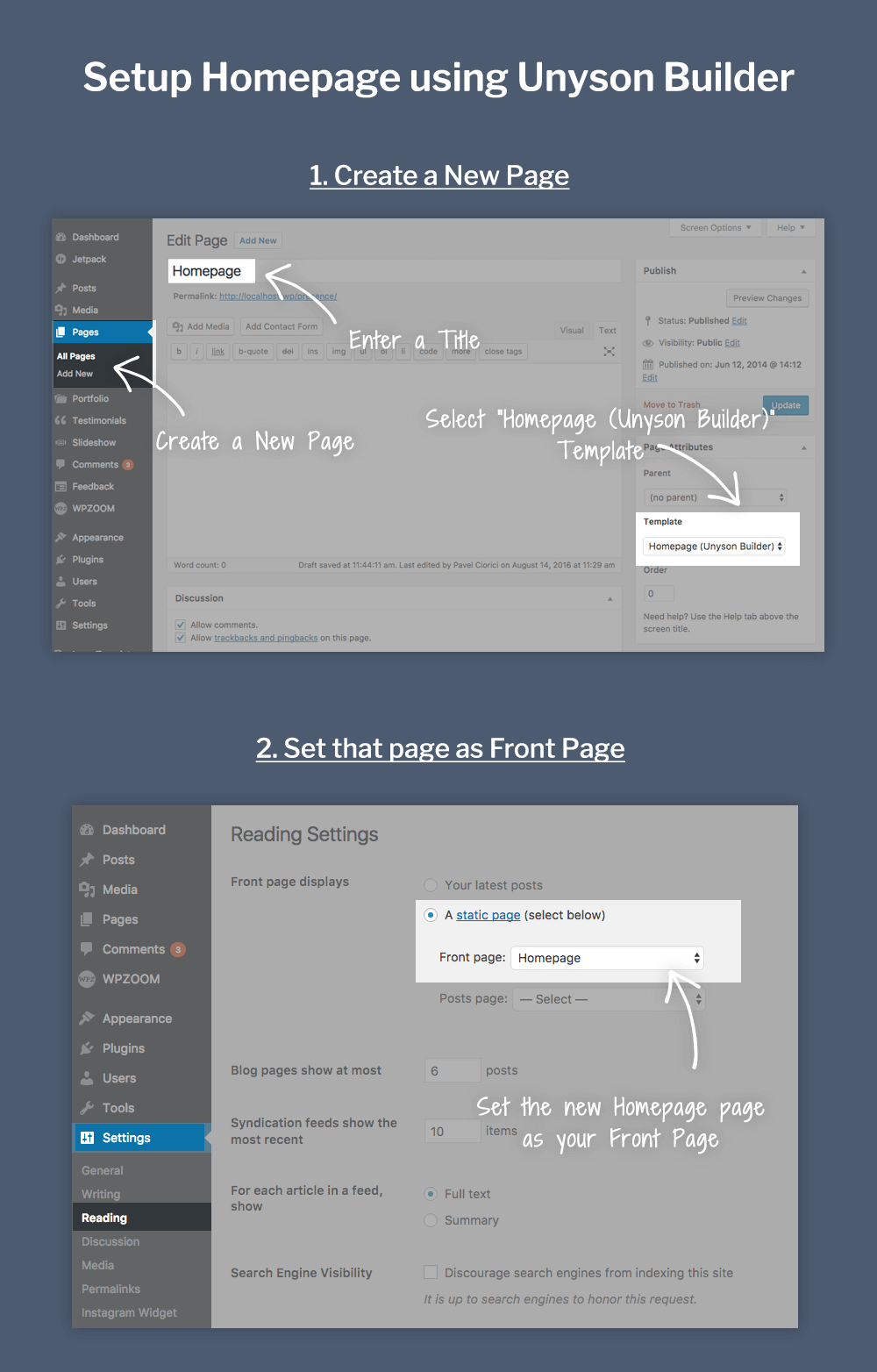 How to use the Page Builder
Here's a video tutorial for Page Builder from Presence theme, but the instructions are actual for Reel too:
In order to activate the Page Builder, you'll need to install the Unyson plugin, which is available for free.
After installing the theme, you'll see a message at the top that offers to install and activate the plugin quickly: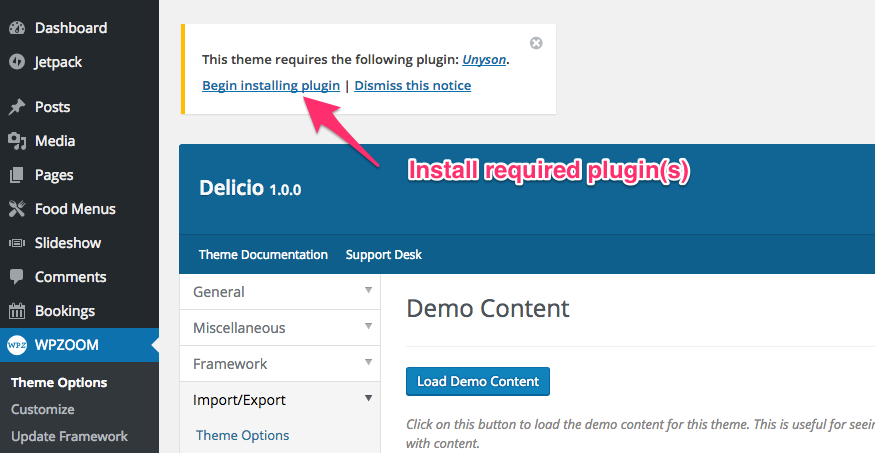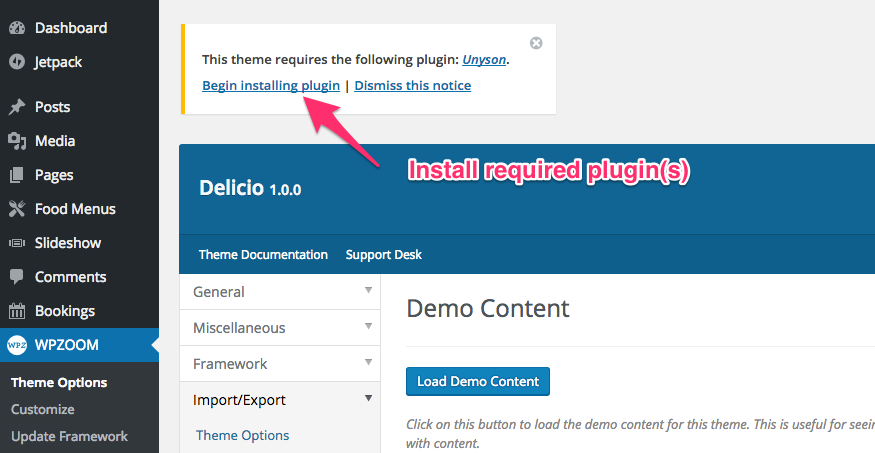 Install the plugin and Activate it.
After that a new section called Unyson will appear in the dashboard menu: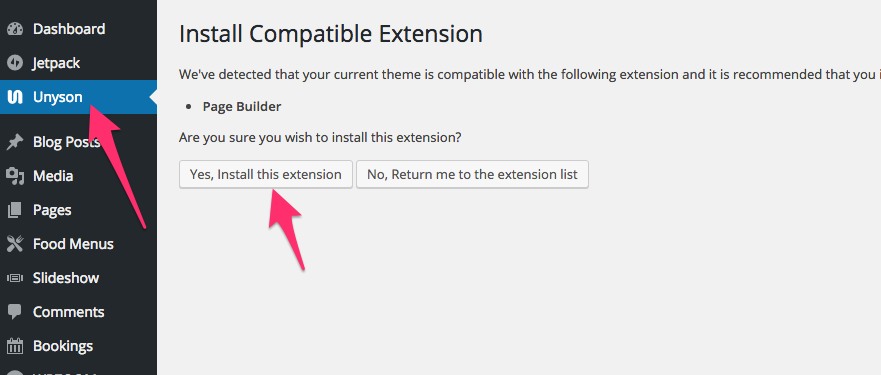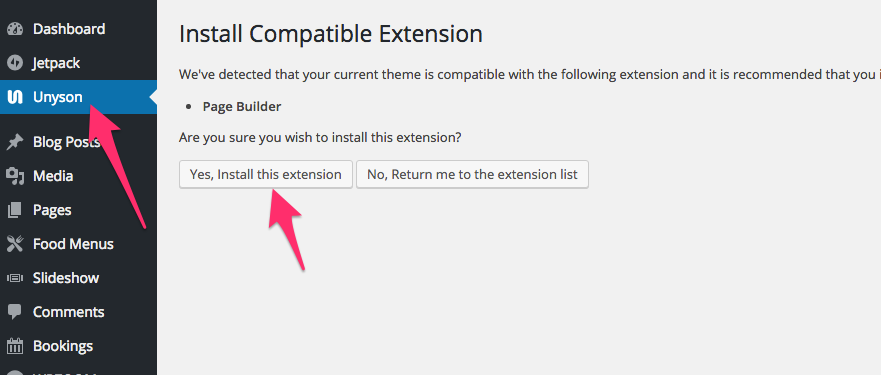 Go to the Unyson page, and install the Page Builder extension.
Now you can use the Page Builder when you create or edit pages.
Here's how you can create a new page to use it as front page and how to load the same layout from the demo: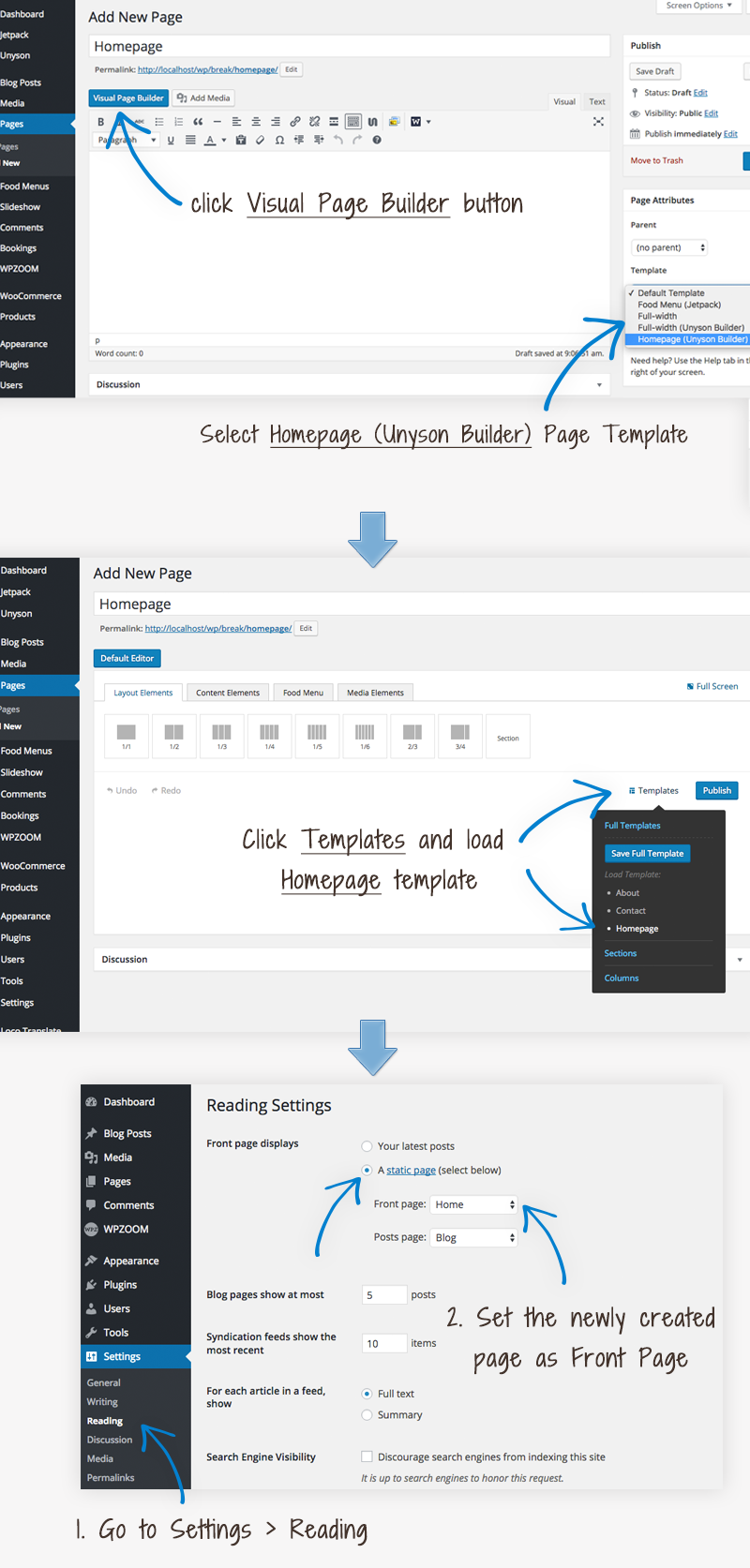 In the following video you can see a walkthrough the Page Builder extension:
Setting up the Blog Page
Fullscreen Galleries
Reel includes a page templates called Full-width (Unyson Builder), which can be used to create quickly a page with multiple images combined in a Gallery Shortcode, like in this example from the demo.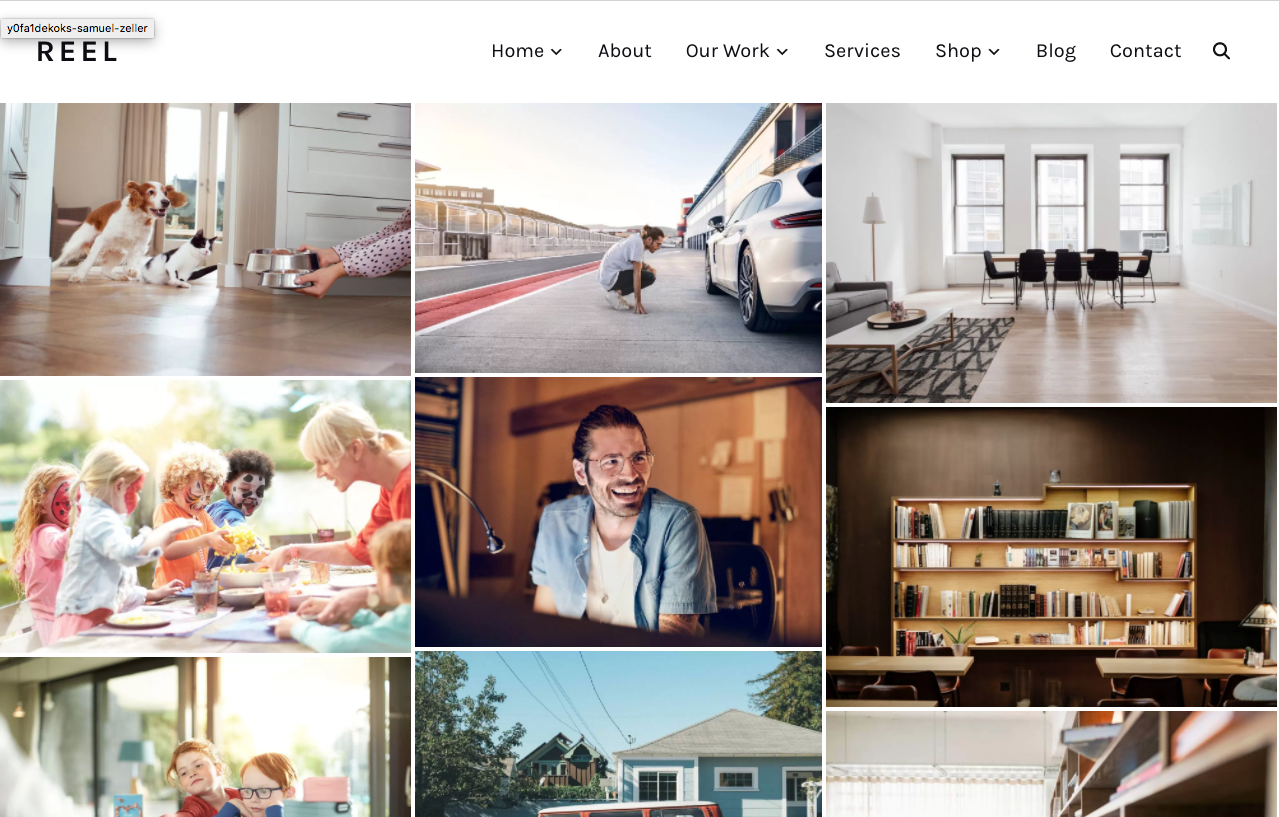 Creating a similar page is very easy:
Create a new page with the Full-width (Unyson Builder) template
Using the Add Media button, upload your images and then click Create Gallery
If you want to create a Mosaic/Tiled gallery with a Lightbox, you have to install Jetpack and activate features Carousel and Tiled Gallery
Add Sharing Buttons, Related Posts, Tiled Galleries and other Jetpack Features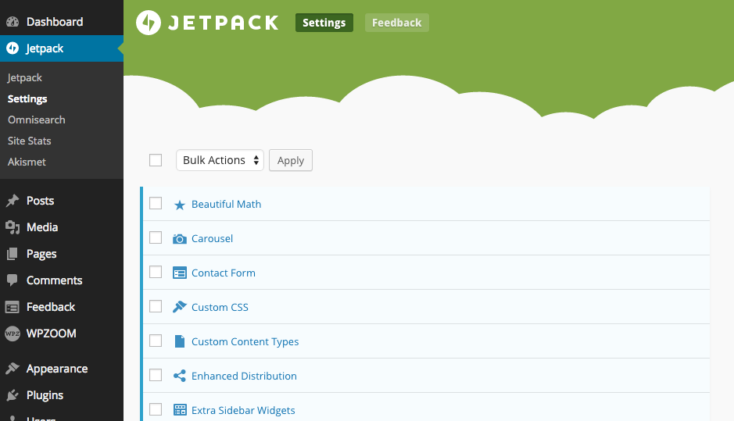 Numerous features can be added quickly in the theme from Jetpack Plugin: Tiled Galleries, Related Posts, Extra Sidebar Widgets, etc.
Recommended Jetpack Features:
Related Posts
Carousel
Extra Sidebar Widgets
Post by Email
Tiled Galleries
If you need help installing and activating these features, please see this tutorial: Getting started with Jetpack.
Here's how you can create a Tiled Mosaic Gallery: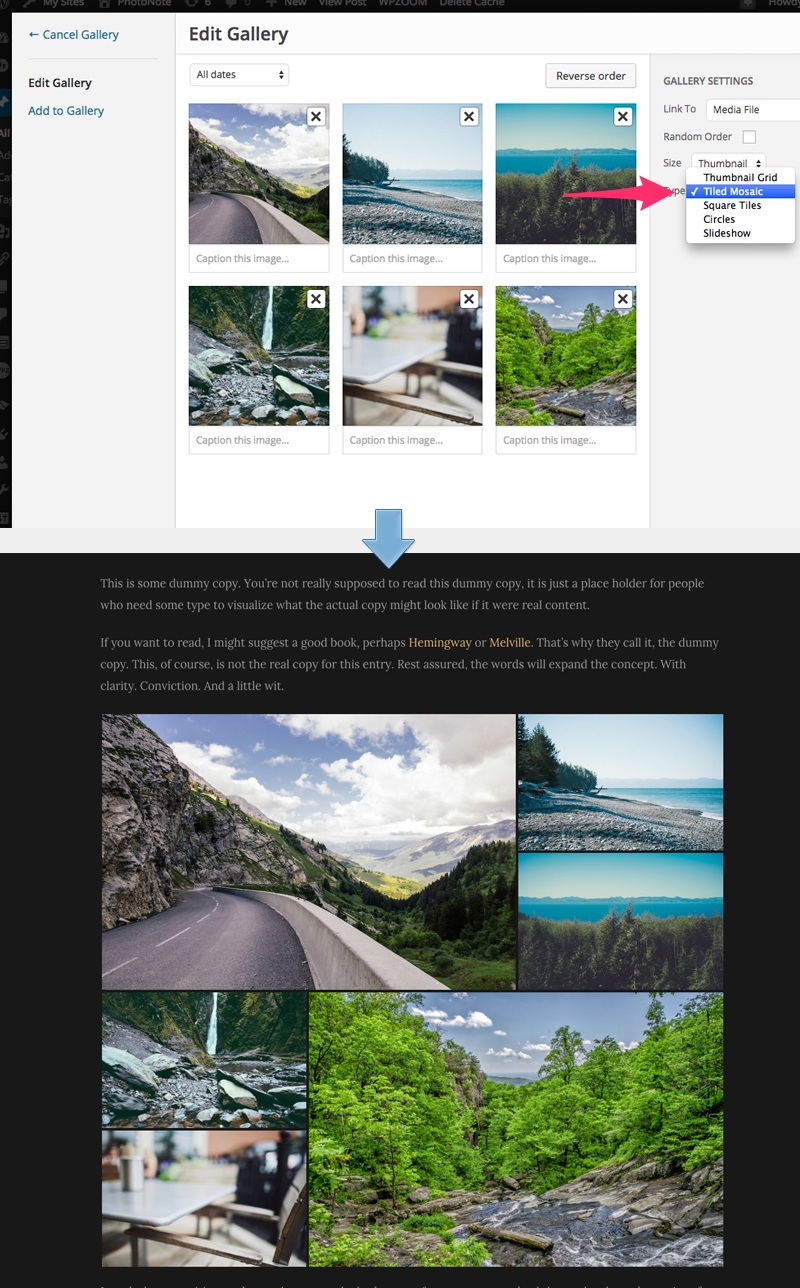 Widgets
To add widgets in this theme, access Appearance -> Widgets menu, and drag widgets to your widgetized areas to activate them.
Widgets Structure in Demo

Load Default Widgets
From Theme Options you can load automatically default widgets, exactly as in theme demo. All you have to do is to navigate to Theme Options -> Import/Export -> Widgets and click the button Load default widget settings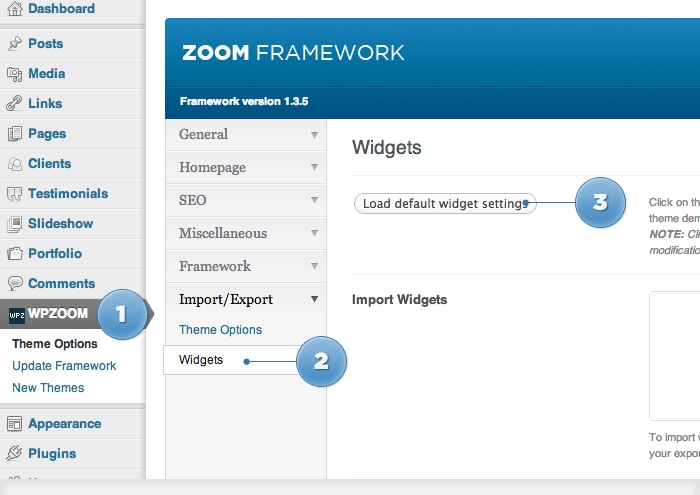 FAQ
How do I change summary content (Excerpt) for a post?
On editing page of a post, look for a field called Excerpt. You can add here summaries for your posts each time you want to adjust manually the length of text which appears in Slider, Recent Articles, Post Archives or when you simply want to have a different text than the automatically picked excerpt.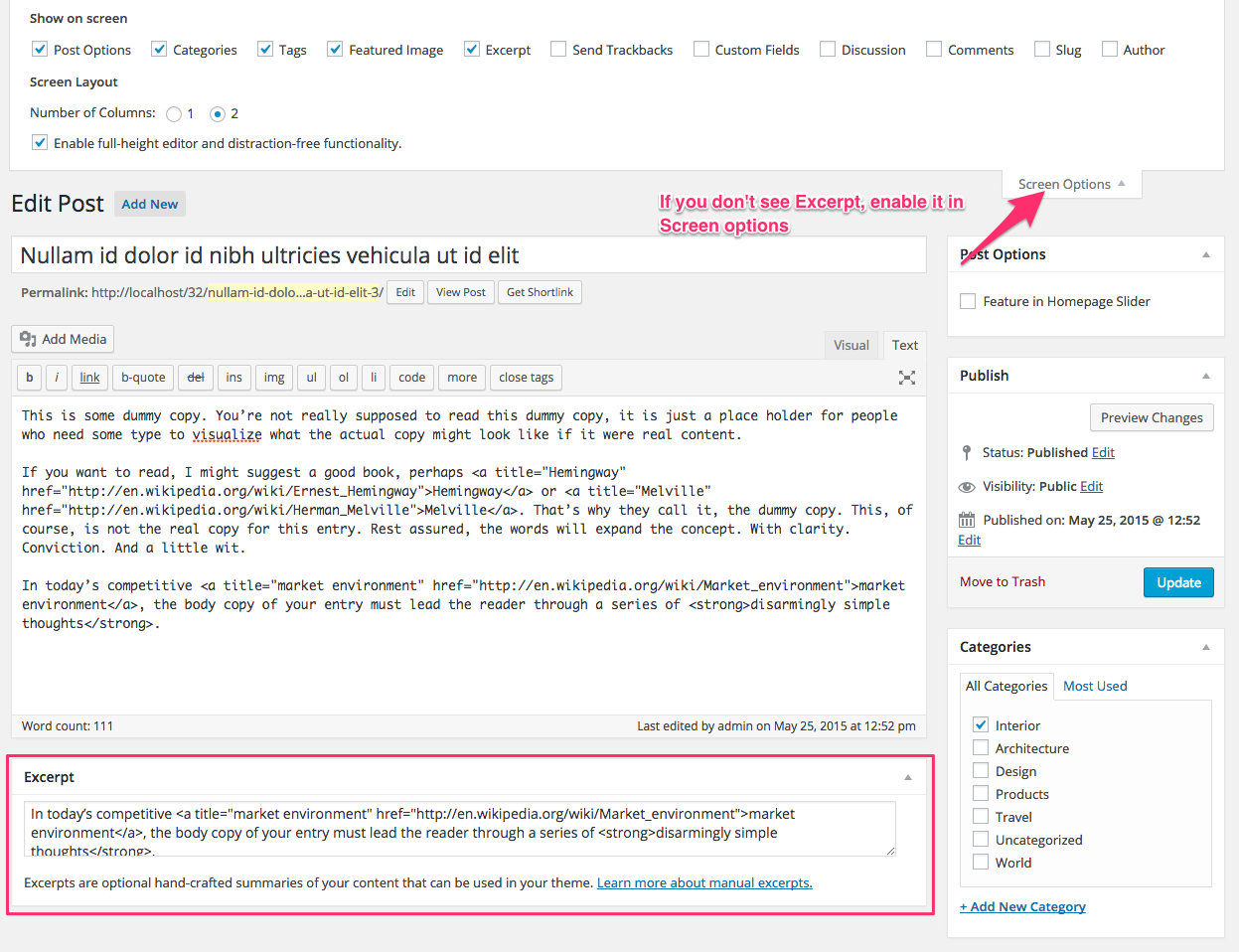 How can I change the number of posts on homepage?
Go to Settings > Reading
Find Blog pages show at most option, and change the number of posts.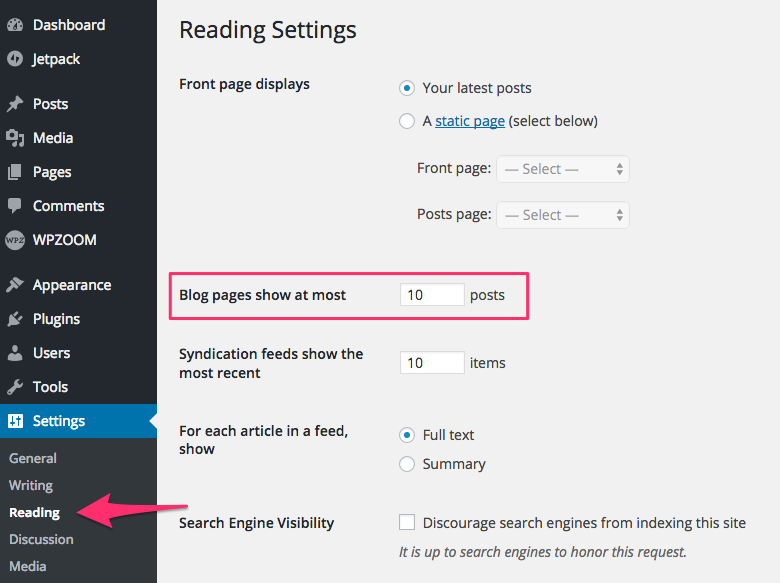 Was this article helpful?
Let us know if you liked the article. That's the only way we can improve.