Often you will want to use a WordPress theme that is not in your language. If you happen to know both the language the theme is in and the language you would like it to be in, there is an easy way to translate the theme yourself.
Requirements:
Latest version of a WPZOOM Theme (with localization support – /languages/ folder)
Codestyling Localization plugin (installed & activated)
Localize WordPress plugin (installed & activated)
A couple notes before we begin:
The theme you want to translate must have the proper hooks in the code to allow for translation. For WPZOOM themes, you should make sure you have the very latest version of the theme. All current versions of WPZOOM themes have the necessary hooks to allow for translation.
You will need to download and install the Codestyling Localization and the Localize WordPress WordPress plugins. For details how to install a plugin, please see this tutorial.
Translating theme using Codestyling Localization plugin
In your WordPress administration area in the main menu go to Tools > Localization.


On this page look for the name of the theme you want to translate. For our examples we're going to use the Yamidoo PRO Magazine theme.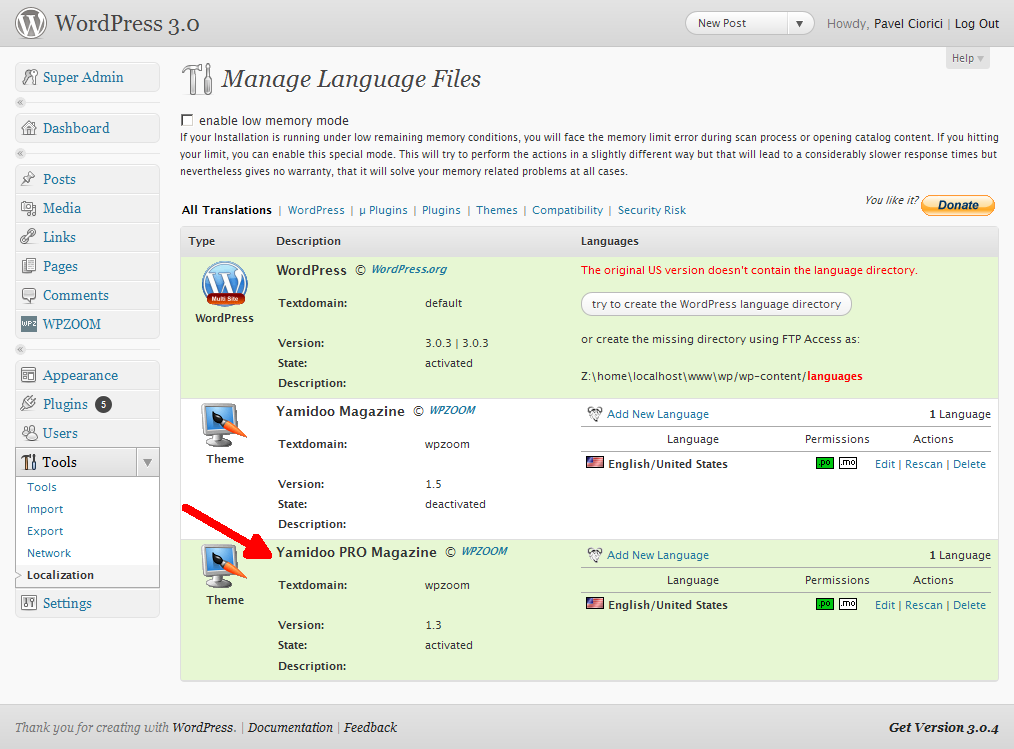 Once you've found the theme you want to translate, look to the right. You should see a link titled "Add New Language".


Click on it and a little window will pop up. You will see a long list of different languages with radio buttons next to them. Click on the radio button next to the language you want to translate your theme into and click on the button labeled "create po-file".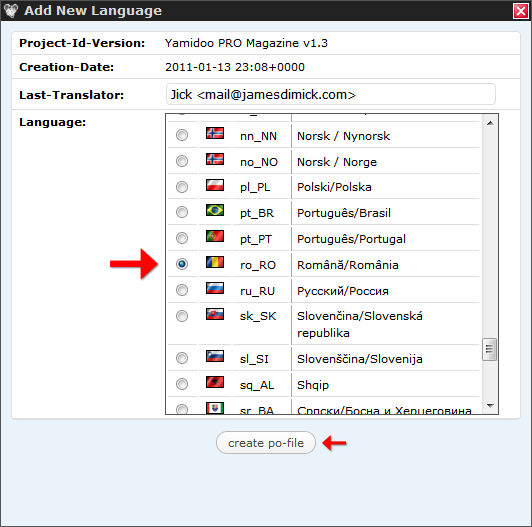 You will notice a new language item appear next to your theme's name. There will be a link titled "Rescan"; click it.


In the little window that pops up click the "scan now" button and then click "finished" when it's done scanning.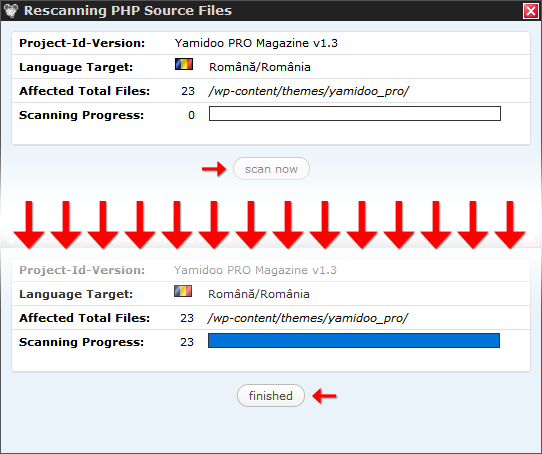 Now, right next to the "Rescan" link is a link titled "Edit".


Click on this and you will be presented with the translator page. You should see a list of strings from the theme that are translatable. Next to each string is an "Edit" link.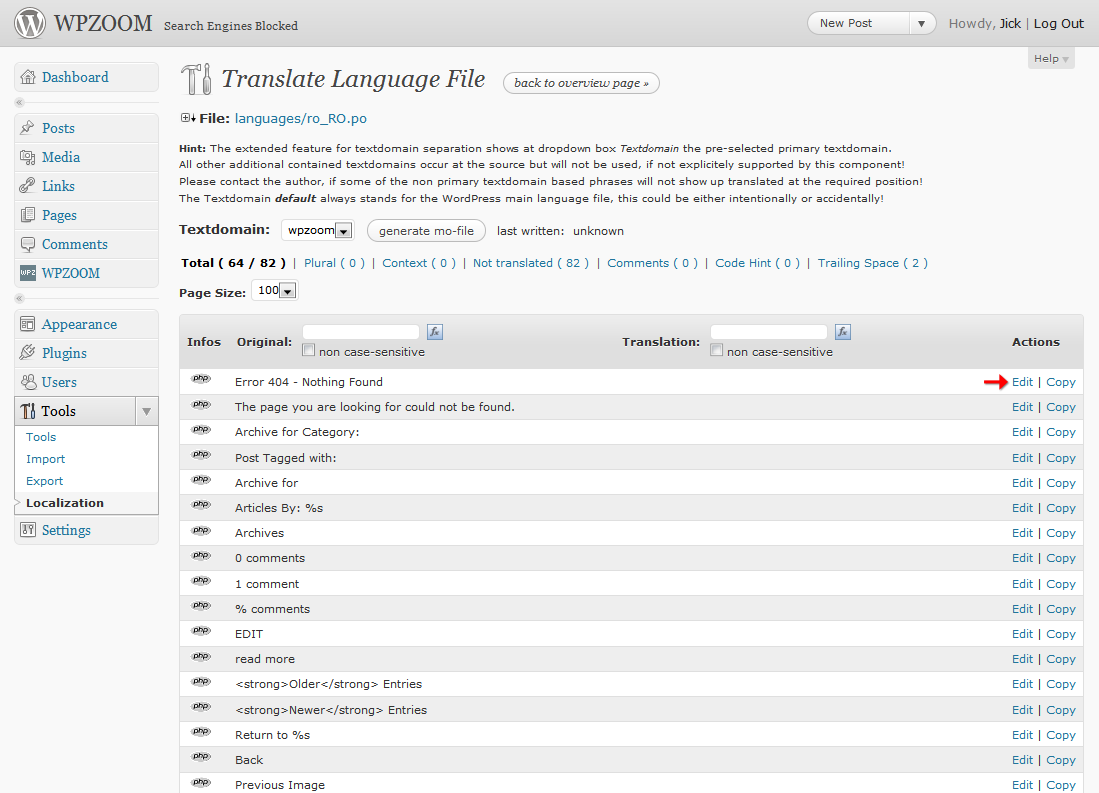 Go through the list clicking on the "Edit" links and inputting your translated strings in the provided input areas and clicking "Save" or "Save & Next".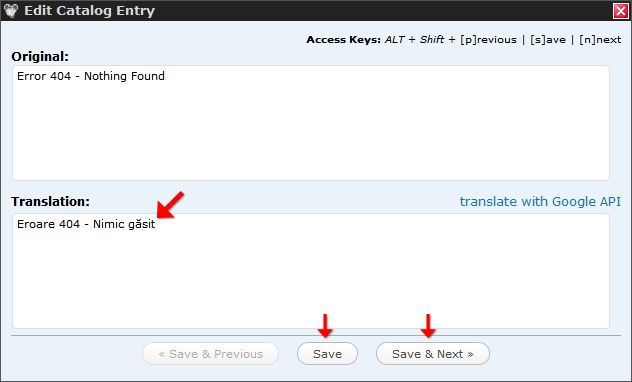 Once you've completed inputting your translated strings look at the top of the page. You should see a button labeled "generate mo-file".


When you click on it you will notice the timestamp next to "last written" has updated. This means the translation file was saved successfully.
If you completed all of those steps correctly you will now have a new language file in the "languages" sub-folder of the theme you just translated. You can just leave it there for your own personal use, or, you can create a copy of it to distribute to the community. Giving back to the community is a great way to say thanks for the work put into the development of these themes.
Apply translation
Now, to apply your translation to your theme you'll need to use the Localize WordPress plugin you installed earlier. Go to Settings → Localization and here you just need to enter your language and country code. This is made up of two parts, with the first part identifying the language and the second part identifying the country or dialect.
For example, Brazilian Portuguese would be selected by using pt_BR and then saving. This list of language codes and this list of country codes will help.
Once you've saved your changes, you'll get a message telling you to refresh the page, at which point your localization will be complete!
As you can see, there are a few steps to follow to create your own translations but, once you figure out how it's very easy to do. Hopefully this tutorial will help you get started.